Conexión Vertical - 8 de Septiembre

¿Por qué tienes miedo?
Pero sin fe es imposible agradar a Dios, porque es necesario que el que se acerca a Dios crea que Él existe y que recompensa a los que lo buscan. Hebreos11:6
Al atardecer, Jesús dijo a sus discípulos: "Crucemos al otro lado del lago". Así que dejaron a las multitudes y partieron. Pronto se desató una tormenta feroz y olas violentas entraron en la barca, la cual empezó a llenarse de agua. Jesús estaba dormido en la parte posterior, con la cabeza recostada en una almohada. Los discípulos lo despertaron diciendo: "¡Maestro! ¿No te importa que nos ahoguemos?", gritaron.
Cuando Jesús se despertó, reprendió al viento y dijo a las olas: "¡Silencio! ¡Cálmense!". De repente, el viento se detuvo y hubo una gran calma. Luego él les preguntó: "¿Por qué tienen miedo? ¿Todavía no tienen fe?".
Los discípulos estaban completamente aterrados, "¿Quién es este hombre? -se preguntaban unos a otros - que ¡hasta el viento y las olas lo obedecen!
De este relato de la biblia podemos aprender dos cosas muy importantes:
- La primera, es que Dios les dijo, "Crucemos al otro lado del lago", no les dijo "Crucen". Cuando pasemos un momento difícil en nuestras vidas o cuando Dios nos pida que hagamos algo, recordemos que Él estará con nosotros, que en ningún momento nos dejará ni desamparará y que su gracia nos protegerá de todo mal.
- La segunda, es que a pesar de que veamos que las cosas siguen igual o posiblemente empeoran, no dudemos de lo poderoso que es Dios y que una palabra suya es suficiente para cambiar nuestras circunstancias. Incluso, si en algún momento no llegamos a sentir su presencia o que actúa a nuestro favor, no perdamos la calma, la fe ni la confianza en Él, porque el momento exacto nos ayudará y mostrará la salida a cualquier problema que estemos enfrentando. No permitirá que nada malo nos suceda, porque El solo quiere lo mejor para cada uno de nosotros.
Este día volvamos a creer en Él y en todo lo que es capaz de hacer.
Porque yo Jehová soy tu Dios, quien te sostiene de tu mano derecha y te dice: "No temas, yo te ayudo." Isaías41:13
Brisna Bustamante S.
Sub Coordinadora Call Center
Haz clic aquí para visitar la página de CVC La Voz
Si necesitas oración o consejería, CVC La Voz tiene personas preparados para recibir ayuda. CVC La Voz Radio Cristiana provee contenido dinámico y relevante diariamente para impactar vidas. Tenemos un grupo dedicado de consejeros listo para recibir su petición de oración, comentarios o preguntas.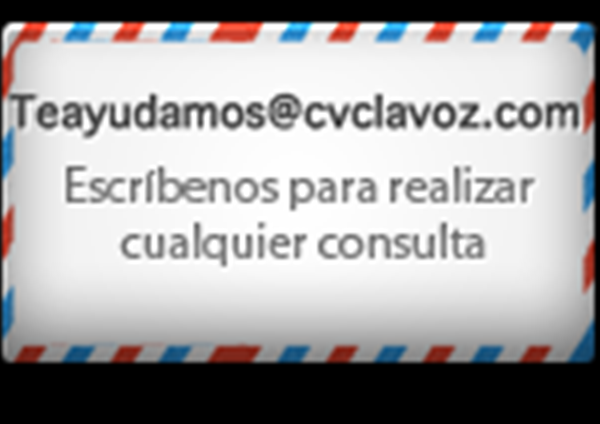 Recently on Conexión Vertical
Follow us on Facebook
Get Conexión Vertical devotionals directly to your News Feed.
Have something to say about this article? Leave your comment via Facebook below!
advertise with us
Example: "Gen 1:1" "John 3" "Moses" "trust"
Advanced Search
Listen to Your Favorite Pastors