Conexión Vertical - 2 de Enero

Como la mariposa
Hay ocasiones en las que las pruebas que enfrentamos parecen interminables. Empezamos con mucha fuerza a luchar contra ellas, a hacerles frente pero al cabo de un tiempo parece que ya no nos quedan fuerzas y pedimos a Dios que nos saque de ellas rápidamente.
Lo cierto es que toda prueba tiene su propósito y tiene un tiempo en el que Dios puede moldearnos. Es como el caso de la mariposa.
Cuentan que un hombre encontró un capullo de una mariposa y se lo llevó a casa para poder presenciar el momento en el que el hermoso ser saliera.
Un día vio que había un pequeño orificio y entonces se sentó a observar por varias horas, viendo que la mariposa luchaba por abrirlo más grande y poder salir.
El hombre vio que forcejeaba duramente para poder pasar su cuerpo a través del pequeño agujero, hasta que llegó un momento en el que pareció haber cesado de forcejear, pues aparentemente no progresaba en su intento.
Entonces el hombre, en su bondad y creyendo que la mariposa se había atascado, decidió ayudarla y con una pequeña tijera cortó al lado del agujero para hacerlo más grande y la mariposa, finalmente, pudo salir del capullo.
Sin embargo, al salir la mariposa tenía el cuerpo muy hinchado y unas alas pequeñas y dobladas.
El hombre continuó observando, pues esperaba que en cualquier instante las alas fueran a desdoblarse y crecieran lo suficiente para soportar al cuerpo, el cual se contraería al reducir lo hinchado que estaba.
Nada de eso sucedió y la mariposa solamente podía arrastrarse en círculos con su cuerpecito hinchado y sus alas dobladas. Nunca pudo llegar a volar.
Lo que el hombre en su bondad y apuro no entendió, fue que la restricción de la apertura del capullo y la lucha requerida por la mariposa, para salir por el diminuto agujero, era la forma en que la naturaleza forzaba al líquido del cuerpo de la mariposa hacia sus alas, para que estuviesen grandes y fuertes y luego pudiese volar.
La libertad y el volar solamente podrán llegar luego de la lucha. Al privar a la mariposa de la lucha, también le fue privada su salud.
Si Dios nos permitiese progresar en nuestras vidas sin obstáculos nos convertiría en inválidos. No podríamos crecer y ser tan fuertes como podríamos haberlo sido.
Dios quiere bendecirnos, tiene grandes planes para nuestras vidas, pero más allá de eso, desea ir moldeándonos, trabajando en nosotros y nunca nos dará una prueba mayor a la que podamos soportar.
"Porque yo sé los pensamientos que tengo acerca de vosotros, dice Jehová, pensamientos de paz, y no de mal, para daros el fin que esperáis". Jeremías 29:11
Haz clic aquí para escuchar a Promesas De Dios
Haz clic aquí para ver videos de Al Punto con el Dr. Jeffrey de Leon
Haz clic aquí para visitar la página de CVC La Voz
Si necesitas oración o consejería, CVC La Voz tiene personas preparados para recibir ayuda. CVC La Voz Radio Cristiana provee contenido dinámico y relevante diariamente para impactar vidas. Tenemos un grupo dedicado de consejeros listo para recibir su petición de oración, comentarios o preguntas.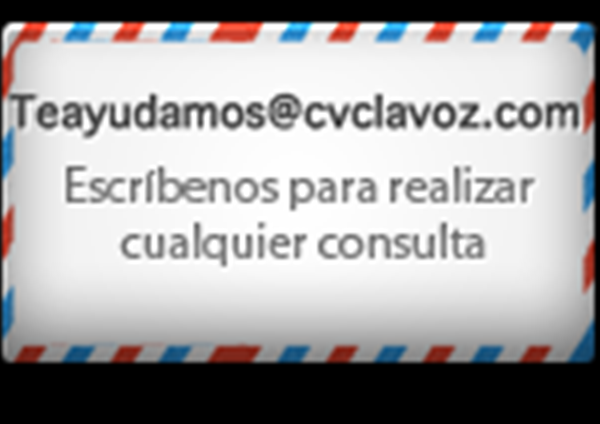 Recently on Conexión Vertical
Follow us on Facebook
Get Conexión Vertical devotionals directly to your News Feed.
Have something to say about this article? Leave your comment via Facebook below!
advertise with us
Example: "Gen 1:1" "John 3" "Moses" "trust"
Advanced Search
Listen to Your Favorite Pastors