Ed Young Television Devotional
We are Family
Dear friend, you are faithful in what you are doing for the brothers, even though they are strangers to you. They have told the church about your love. You will do well to send them on their way in a manner worthy of God. >3 John 1:5-8
Strangers or not, we are all brothers and sisters. And as family, we're called by our Father to help each other.
Has there been a time when a perfect stranger helped you out of a situation? A time when you thought to yourself, "Wow, if they hadn't done that for me, I don't know what I would have done."
Now take that memory and think back to all the people you told that story to. Whether you knew it or not, by sharing, you were spreading the message of God. Someone heard your cry, you were given grace and your prayers were answered.
You can never tell when going the extra mile will allow you to extend your faith and touch someone's life in a way you could have never imagined. Find a creative way to fill the need of someone you don't know. Go beyond the traditional and do something extraordinary. And through this, you will be blessed as you continue to help spread the good news of God.
Dear Father, Please help me to be more considerate of the people around me, because we are all family. Help me to identify someone who has a genuine need that I can fill through my time or talents. And help me to spread your message of love and grace to others. In Jesus' name I pray, Amen.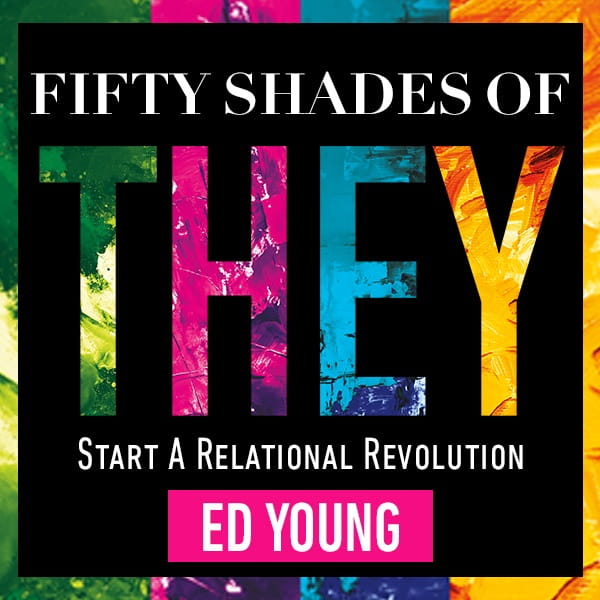 FIFTY SHADES OF THEY From New York Times Best-Selling Author Ed Young
Fifty Shades of They gives you fifty simple, yet profound insights that will help any relationship thrive, from friendships to business partnerships to marriages. Based on biblical standards and the teaching of Ed Young, this book is written for anyone who is looking to give new life to their relationships.
For more information about this and other subjects, visit the Ed Young Television website: www.edyoung.com