A Message for Fathers
 "… 'To turn the hearts of the fathers to the children'… to make ready a people prepared for the Lord.'" - (Luke 1:17)
When the birth of the greatest prophet ever born of woman was prophesied, it was predicted that as he prepared the way of the Messiah to come into this world he would do so by exhorting fathers to prioritize their relationship with their children. The challenging truth by application is that the way of the Lord in the lives of children is prepared when fathers are faithful in their responsibility toward their children.
One example of this reality is when our Lord taught His disciples how to pray, He instructed us to address God as "our Father." What images come into the minds of people when they address God in that way? Their relationship to their earthly father can strongly influence the way they perceive their heavenly Father.
As a pastor I have had parishioners say to me in private "When I address God as my father I experience a spiritual short circuit." When I asked them to tell me about their earthly father I often heard a story about a very dysfunctional father /child relationship.
Professional Christian clinical psychologists and psychiatrists strongly reinforce the hard reality of the profound influence fathers have on the lives of their children. The profound truth that was focused when the life and ministry of this great prophet was profiled is confirmed in millions of lives every day.
As we in America call this Sunday "Father's Day" may the vision statement that was prophesied for John the Baptist raise awareness in all of us who are fathers of the solemn mission objective we have been assigned by God when He made us fathers.

---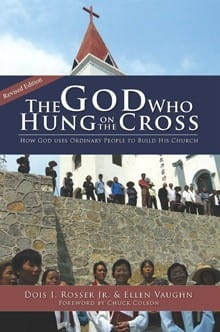 Free Book: The God Who Hung on the Cross
This newly revised paperback edition features reflections on 25 years in ministry by Dois Rosser. The book details the history and vision of ICM, the parent organization for the Mini Bible College, and the vehicle for distributing MBC to congregations around the world. Dois' story is an inspiration, encouraging Christians to give of their time and resources to experience the abundant power of God at work. Journey around the world with Dois and discover that you too can be a part of something bigger than yourself!