Seeds of Suffering
"Those who sow in tears shall reap in joy. He who continually goes forth weeping, bearing precious seed for sowing, shall doubtless come again with rejoicing, bringing his sheaves with him." - (Psalm 126:5-6)
The ancient inspired hymn writer is describing a father who is sowing seeds his family desperately needs because they are hungry. As a provider he knows that if he does not plant these seeds, there will be no food for them and they will starve to death. He therefore sows these precious seeds with tears streaming down his face.
The Holy Spirit leads the author to a beautiful application after he paints this solemn picture for us: sometimes when we are suffering to the point of tears, those tears are precious seeds our heavenly Father is sowing in the soil of our suffering. When that is the case, we will doubtless come again rejoicing and bringing the fruitful results of our suffering with us.
This is a truth that is often shared in the Bible. Sometimes suffering is not the setback it appears to be. It is rather the cutback of our heavenly Father who is like a divine Vineyard keeper. He cuts us back to increase the quality and the quantity of the fruit our life is yielding for Him.
I sometimes think God is more real and works more effectively in the lives of people while they are in the waiting rooms outside the operating theaters of our hospitals than He does in the sanctuaries of our churches. God does not waste our sorrows and we should not waste them either.
Listen to the wisdom of the hymn writer when he tells us our tears are precious seeds that will ultimately rejoice our hearts.

---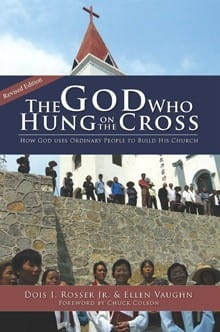 Free Book: The God Who Hung on the Cross
This newly revised paperback edition features reflections on 25 years in ministry by Dois Rosser. The book details the history and vision of ICM, the parent organization for the Mini Bible College, and the vehicle for distributing MBC to congregations around the world. Dois' story is an inspiration, encouraging Christians to give of their time and resources to experience the abundant power of God at work. Journey around the world with Dois and discover that you too can be a part of something bigger than yourself!