Apprenticeship
"He said to them, 'Follow Me, and I will make you.."  - (Matthew 4:19)
In the seventies I attended a meeting where the business executives of a large city asked the vice president of a large shipyard to explain why his shipyard was continuously given the contracts to build large aircraft carriers. They had just been awarded a contract to build a large carrier and the next highest bidder was $38 million above them.
He said that he could answer their question with one word: apprenticeship. He explained that a student in a university absorbs information for many weeks and then is asked to show that they remember and understand that information. After doing that for four years they are given a degree and we declare them educated. But unless they specialize in something that equips them for a specific job they are often educated people who can't do anything. In the shipyard, however, they put a person in the classroom for two weeks and in the shipyard for two weeks and after doing that for five years they build aircraft carriers.
I believe it is helpful to define what we mean when we call ourselves disciples of Jesus Christ. A synonym for the word disciple is "apprentice." A disciple is an apprentice who is learning what they are doing and doing what they are learning. Apprenticeship and discipleship are essentially the same concept.
To paraphrase and summarize, Jesus offers a covenant contract to those who profess to believe in Him.  That contract has two parts. He promised, "You follow Me. That is your part. I will make you. That is My part.  You follow Me. That is your responsibility. And I will make you. That is My responsibility."

---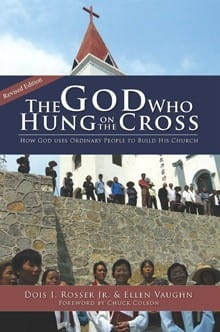 Free Book: The God Who Hung on the Cross
This newly revised paperback edition features reflections on 25 years in ministry by Dois Rosser. The book details the history and vision of ICM, the parent organization for the Mini Bible College, and the vehicle for distributing MBC to congregations around the world. Dois' story is an inspiration, encouraging Christians to give of their time and resources to experience the abundant power of God at work. Journey around the world with Dois and discover that you too can be a part of something bigger than yourself!