Sharing Hope @ Christmas
"And now abides faith, hope, love, these three; but the greatest of these is love." - (I Corinthians 13:13)
Do you know, or do you remember what it is like to live your life, day in and day out, without hope? In the great love chapter of the Bible, the Apostle Paul tells us the three lasting, eternal values in life are faith, hope and love. Love is the greatest of these eternal values because God is love. Faith is an eternal value because faith brings us to God. Hope is also one of the three great eternal values because hope brings us to the faith that brings us to God. In the heart of every human being, God plants hope, the conviction that something good exists in this life and someday that good will intersect our lives. That is what the author of the Book of Hebrews means when he tells us that faith gives substance to the things for which we have been hoping. (Hebrews 11:1).
As followers of Jesus Christ, we must realize that we have Good News that can give hope to the hopeless, and we must not let unbelief silence us. If we never share the Good News of the Christmas that was and the Christmas that shall be, we should ask ourselves if we really believe the essence of the Gospel of Christmas. Because we really believe in the Christmas that was, we should share that Good News with the people Jesus told us He came to seek and to save (Luke 19:10). We show that we really do believe in the Christmas that shall be, when we tell hopeless people that God is going to give us another Christmas.
Like the wise men, we should ask the question, "Where is He?," seek Him until we find Him, and then worship Him and give the gift of our lives to Him. Then, like those shepherds, we should tell everybody the Good News that Christmas has come and Christmas is coming again to this otherwise hopeless world.
Dick Woodward, from A Christmas Prescription

---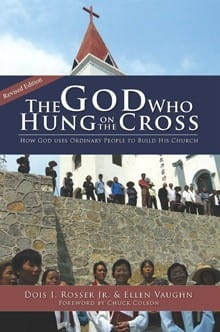 Free Book: The God Who Hung on the Cross
This newly revised paperback edition features reflections on 25 years in ministry by Dois Rosser. The book details the history and vision of ICM, the parent organization for the Mini Bible College, and the vehicle for distributing MBC to congregations around the world. Dois' story is an inspiration, encouraging Christians to give of their time and resources to experience the abundant power of God at work. Journey around the world with Dois and discover that you too can be a part of something bigger than yourself!