How to Preach to a Changing Culture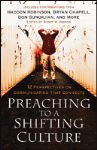 Our culture is changing in ways that present many new challenges to preachers. But if you understand and grapple with these issues, the truth you proclaim can lead your listeners to the One who never changes - Christ.

Here are some ways you can preach with timeless power to our changing culture:

Dust off the Old Testament. Don't neglect the Scriptures that Jesus used. Give the Old Testament equal time with the New Testament in your preaching. Recognize that the Old Testament is still relevant for today. Understand that your listeners need to know the Old Testament in order to put the New Testament in proper context and to see a full concept of what God is like. Connect stories from the Old and New Testaments by using them together to illustrate the big picture of the messages you're trying to convey.

Help people understand Jesus' role as a preacher.  Communicate biblical passages that describe Jesus as a preacher and tell what He preached. Ground your own preaching firmly in Jesus' preaching model - proclaiming the good news of His kingdom in terms that your listeners can understand. Don't preach about people as much as you preach about God - who He is, what He has done, what He is doing, and what He will do.

Confront pluralism.  Don't be afraid to confront the error that all religions are essentially the same with biblical truth. Proclaim that eternal salvation can only be found in Christ alone, knowing that it's not intolerant, but loving, because you care enough not to let people be misled. Emphasize that God wants everyone to be saved and has made it possible for anyone to come to Him through Christ. Affirm that no human effort to earn salvation (as other religions encourage) will ever be enough to merit it, because sinful humans cannot justify themselves before a holy God. Declare boldly that the power of salvation lies in God's work - His loving gift to humans - rather than any human effort. When speaking with people of other faiths about Christianity, treat them with dignity and respect while showing humility and genuine love so their hearts will be open to hear what you have to say.

Let the Bible drive your sermons.  Make the Bible your primary source for sermon texts; don't let other sources (like news stories or psychological theories) dominate the sermon. When using other sources, filter them through the Bible passages you use so Scripture can work its unique power. Explore the Bible's meaning, seek to understand its concerns and gain its perspective, and try to get your audience to apply its truths to their lives. Get your sermon's main idea from the Biblical text you choose. Develop the idea in your sermon the way it is developed in Scripture. Reflect the purpose of the passage in your sermon, aligning your words with the biblical writer's purpose. Also make sure that your sermon reflects the mood of the Scripture you use.

Connect with your congregation.  Strive to demonstrate the Bible's relevance to your audience. Help your listeners adjust to the biblical message without adjusting the message to them. Help your audience understand the sermon's claims, the evidence to support those claims, and how they might best receive the sermon's message. Think through how you would like your listeners to respond to your sermon and apply its message to their lives. Keep that goal in mind as you write your sermon.

Structure your sermon well.  Seek to understand the biblical writer's flow of thought for the passages you're using in your sermon. Retain his natural progression of ideas rather than rearranging them into an arbitrary list of points. Put the sermon's message in a nutshell that succinctly and easily conveys a central truth your listeners can take away with them. Connect the sermon's points to your audience members' everyday lives so they can see how its message applies to them.

Capture your audience's attention.  Realize that many people today are biblically illiterate, so don't assume that they have any prior knowledge of the stories and characters you mention in your sermons. Explain the context of what you say. But rest assured that today's people are similar to the ancient people of the Bible in that they have the same basic needs and desires. Respect personality differences, but know that every human being on the planet needs Christ. Listen carefully to people when they share their thoughts and feelings with you. Help your audience members feel their need for Christ by showing them how their unique needs and desires can only be truly fulfilled in Him. Before writing each sermon, ask the Holy Spirit to guide you in prayer so you'll know what specific goals God wants you to accomplish with it. When you speak, be authentic.

Preach to the whole church.  Don't worry about trying to focus on particular groups of people (men, women, singles, spouses, young people, the elderly, etc.) with different sermons. Realize that every person in your church is looking for the same type of message - one that acknowledges sin and calls for conversion, describes the realities of people's struggles, and motivates brothers and sisters in Christ to love God and each other.

Offer hope for hurting people.  While being careful not to let your preaching become merely a group therapy session of self-help techniques, strive to reach out to people who need counsel and healing. Identify the critical problem the sermon will address (such as the pain of divorce). Speak in a conversational style. Help your audience recognize and take ownership of the problem. Diagnose the problem. Then outline a plan to either prevent or treat the problem.

Adapt your sermon to the postmodern mind.  Seek to understand postmodern people so you can speak their language. Make your preaching personal, holistic, and interactive.  Be open, honest, and vulnerable to establish intimacy with your listeners. Help your audience get to know you, respect you, and like you so they'll open their hearts and minds to your message. Give people opportunities to share their personal testimonies in your worship services.

Preach in a global context.  Take into account the church's dramatic growth in the non-Western world and the decline in orthodox faithfulness among the church in the Western world. Balance both a defensive and offensive role when you preach the gospel. Defend and guard the gospel message, yet also extend it boldly into the world.

Affirm the Bible's authority in an anti-authority age.  Don't be afraid to proclaim an unmitigated adherence to the Bible's authority. Help people discover why the Bible holds authority in every age and culture. Show how its words have the power to change people's lives.

Adapted from Preaching to a Shifting Culture: 12 Perspectives on Communicating that Connects, copyright 2004 by Scott M. Gibson, editor. Published by Baker Books, a division of Baker Publishing Group, Grand Rapids, Mich., www.bakerbooks.com. 

Scott M. Gibson edited this compilation of essays and contributed some writing.  He is the Haddon W. Robinson Professor of Preaching and Director of the Center for Preaching at Gordon-Conwell Theological Seminary, South Hamilton, Mass., where he teaches homiletics.  Contributing authors were Ray Lubeck, Vic Gordon, Bryan Chapell, Haddon W. Robinson, Keith Willhite, Donald R. Sunukjian, David Hansen, Alice P. Mathews, Rodney L. Cooper, Jeffrey D. Arthurs, and Timothy C. Tennent.