Pastor Starting Mosaic Manhattan near Ground Zero
James Dotson

Baptist Press

2004

25 Mar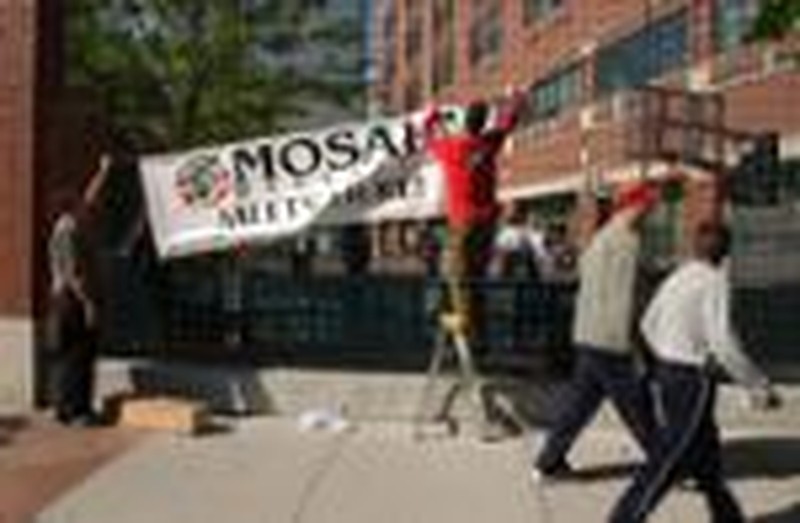 It was Sunday morning in Lower Manhattan, and Southern Baptist pastor Gregg Farah decided to kick off the Sunday morning worship service by strapping on a pair of inline skates and attempting to jump over his worship leader.

It was a decidedly different approach to introducing a sermon about taking risks for God, but there's a lot about this church that's unusual. And the risks Farah and others involved in the church face are far greater than a spill on rollerblades.

This is Mosaic Manhattan, meeting in a school auditorium just two blocks up Manhattan's Westside Highway from Ground Zero. It's an area where evangelical churches traditionally have been near the bottom of most priority lists, and new churches particularly are viewed with skepticism until they have passed the test of time.

"For a culture steeped in Catholicism or Judaism, starting a church is not going to make sense to a lot of people," Farah said. "New Yorkers are going to watch us and just wait and see whether we are going to be here long term, and whether our actions match what we're saying."

Farah and his wife, Janine, became North American missionaries in 2002 and launched Mosaic Manhattan in the spring of 2003 in the school below their apartment building.

The Farahs are among nearly 5,200 missionaries in the United States and Canada supported by the Annie Armstrong Easter Offering for North American Missions. They are featured during the Southern Baptist Convention's 2004 North American Missions Emphasis, which this year focuses on "The World at Our Doorstep."

The Farahs moved to New York from Southern California, where Gregg served on the youth ministry staff of Saddleback Church, known worldwide for its "purpose-driven" approach to ministry. But he grew up a New Yorker, living on the upper west side of Manhattan until he was 10 years old -– then moving to suburban Connecticut and, during his college years, to the West Coast.

"During my 15 years on the West Coast, I knew it was just a matter of time before coming home," Farah said. "And during the last five years God made it clear that this was the time."

The Farahs had been planning to plant a church in metro New York as part of Southern Baptists New Hope New York emphasis in the city. After the terrorist attack on Sept. 11, 2001, those plans began to accelerate. A church was being planned in the Battery Park neighborhood most directly affected by the attack, funded largely through contributions to Southern Baptist entities for long-term relief efforts for those affected by the tragedy. They were asked to consider leading the project. A visit in December 2001 settled the matter.

"We fell in love with Battery Park City," Gregg said. "We started visiting apartment buildings and had a number of spiritual conversations with people. During those walks in the neighborhood, Janine and I knew this was home."

"I remember feeling that God wanted us to come here," Janine said. "The needs were so great. How could we ever meet those needs? But we knew this wasn't about us. It was very much about God -– and God continued to remind us of that."

They actually moved to the city in the spring of 2002 and immediately began getting to know people. Like many church planters, they met other Christians who shared a desire to plant a church, and it wasn't long before they began meeting as a core group in the Farahs' apartment. As their study grew, they moved their meeting into a hotel meeting space before officially launching Mosaic Manhattan in the spring of 2003.

In just one of the ways God has moved in the work, they were able to rent space in the school housed at the bottom of their apartment building -– the first church in the city ever to achieve such a privilege after a court ruling made it possible.

Servant evangelism has been one of their principle avenues of outreach in a city not accustomed to receiving "something for nothing."

"We wanted to meet practical needs, and have fun doing it," Gregg Farah said. "So we do surveys, but we also hand out Krispy Kreme donuts. In the summer we hand out bottles of water and in the winter cups of Starbucks coffee.

"Often those types of interactions stir up questions like, 'Why are you doing this?' and 'What's the catch?'" Farah added. "Those questions lead to great conversations."

Besides being influenced by Saddleback Church, Mosaic Manhattan is modeled after the original Mosaic, a Los Angeles congregation that has grown to thousands of members with its emphasis on experiencing God through the arts and welcoming all segments of a culturally diverse society.

"The word 'mosaic' is a wonderful urban word choice," Farah said. "A mosaic is a collection of tile pieces of all different colors, shapes and forms -– and that's really the city. It's a picture of diversity in all walks of life, but then there's also the spiritual analogy of us as broken people. When God, as the master artist, brings broken people together in a church through His grace and forgiveness, it makes a beautiful picture."

Their slogan "help us redefine church" also has helped attract people who have not found what they're looking for from previous church experiences.

"It's not that we want to come up with a new way of doing church, but we want to redefine in people's minds what church is, what the church can be," he said, "what God originally intended."

Worship services do sometimes include the unusual, like a pastor skating across the stage or an artist interpreting the sermon through a painting as it is being preached.

But people are responding. The church baptized four after a few months of services, and others have indicated on response cards they have made professions of faith before going through baptism or church membership.

Others attend for many weeks and months while considering the claims of Christ. One man sent an e-mail saying, "My wife can't believe I'm so excited about your church, because she knows that I hate church. Your church is different."

Another man received a card in the mail and subsequently visited a service, a small group, and even a new members' class. "He's developing relationships, and we're giving him permission to 'belong before he believes,'" Farah said. "We agreed to read through and discuss the Book of Luke together."

In the Northeast perhaps more than elsewhere, Farah said, life-changing decisions for Christ take time.

"One word that's significant in New York is 'respect,'" he said. "New Yorkers demand that. They will listen to your story if they know that you're open to listening to their story."

Consequently, Farah is realistic about how long it will take to develop the church -– maybe five years, maybe 10. But he also has a bold vision for what it could become if they keep following God's lead. It's all about multiplication, with new churches being started that eventually will multiply themselves. Two staff members already are being groomed to take on future church plants in the New York area.

"Our vision is to provide a church home for the 21 million people of metro New York," he said. "That's going to take thousands of churches, and we want to be a part of a movement of church planting that seeks that goal," he said.

For more about the Farahs' ministry, visit MosaicManhattan.com.
PHOTO: Gregg Farah (center), pastor of Mosaic Manhattan, and Dylan Jackson (left) raise a banner in front of the school near Ground Zero where the new church holds worship services. Photo by Ken Touchton.