Pay It Upward!
Dr. Franklin Kirksey

Pastor, first Baptist church of Spanish Fort, Alabama.

2010

26 Feb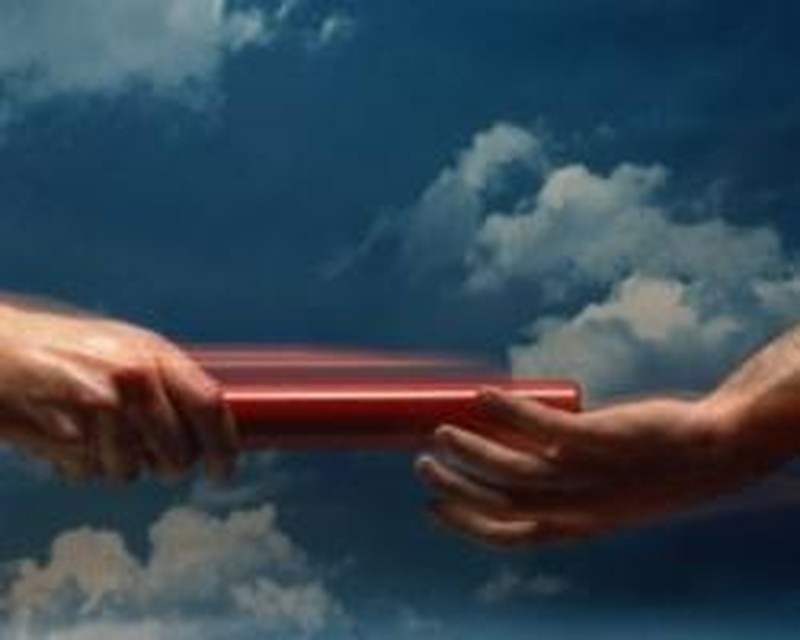 Proverbs 19:17

Benjamin Franklin (1706-1790) sent the following letter to Benjamin Webb:
April 22, 1784

Dear Sir,
I received yours of the 15th instant, and the memorial it enclosed. The account they give of your situation grieves me I send you herewith a Bill for ten louis d'ors. I do not pretend to give such a sum; I only lend it to you. When you shall return to your country with a good character, you cannot fail of getting into some business, that will in time enable you to pay all your debts. In that case, when you meet with another honest man in similar distress, you must pay me by lending this sum to him; enjoining him to discharge the debt by a like operation, when he shall be able, and shall meet with another opportunity. I hope it may thus go through many hands, before it meets with a knave that will stop its progress. This is a trick of mine for doing a deal of good with a little money. I am not rich enough to afford much in good works, and so am obliged to be cunning and make the most of a little. With best wishes for the success of your memorial, and your future prosperity, I am, dear Sir, your most obedient servant,
B. Franklin

Maybe you have heard the phrase "pay it forward." The expression "pay it forward" has come to describe the concept of asking that a person repay a good turn by having it done to others instead of "paid back." When someone does something good for you, in turn you do something good for someone else -- not a bad way to generate a conspiracy of kindness. I understand that some plan to designate Thursday, April 29, 2010, as "Pay It Forward Day."

The believer in the Lord Jesus Christ has an even greater opportunity to "pay it upward." The Bible reminds us, "He who has pity on the poor lends to the Lord, and He will pay back what he has given" (Proverbs 19:17).

Dr. George Lawson (1749-1820), professor of theology, explained, "No pagan moralist could ever produce a motive for any social duty equal to this. It is sufficient to open the closest fist, and to enlarge the most selfish heart. Can we lose anything by lending it to the Lord? God will be sure to repay what is given to the poor at His command with great increase. The greatest usurer on earth cannot make so much on his money as the man that gives to the poor." Our passage reveals three aspects of the concept we call "pay it upward."
I. The practice of giving to the poor.
"He who has pity on the poor. . ." (Proverbs 19:17)
Dr. William Paley (1743-1805) defines a poor man as he, of whatever rank, whose expenses exceed his resources. Dr. D. Thomas explains, "It is very clear from this that there may be poverty which has no claim to our commiseration and charity."

Concerning God's interest in the deserving poor, Dr. Thomas continues, "God's interest in the poor is shown in three ways: 1. In the obligation that is imposed on the rich to help them. He denounces all neglect and cruelty of the poor. "Woe unto him that buildeth his house by unrighteousness and his chamber by wrong, that useth his neighbour's service without wages" (Jeremiah 22:13); 2. In the earthly condition into which He sent His Son; 3. In the class from which He selected His servants."

Dr. Vance Havner (1901-1986) explains, "If they had a social gospel in the days of the prodigal son, somebody would have given him a bed and a sandwich, and he never would have gone home." May God grant us wisdom in our endeavor to pay it upward, lest we assist people running away from Him.

In Proverbs 22:16 we read, "He who oppresses the poor to increase his riches, and he who gives to the rich, will surely come to poverty." Paul exhorts, "Therefore, as we have opportunity, let us do good to all, especially to those who are of the household of faith" (Galatians 6:10). James warns, "What does it profit, my brethren, if someone says he has faith but does not have works? Can faith save him? If a brother or sister is naked and destitute of daily food, and one of you says to them, 'Depart in peace, be warmed and filled,' but you do not give them the things which are needed for the body, what does it profit? Thus also faith by itself, if it does not have works, is dead" (James 2:14-17).

Winston Churchill (1874-1965) quipped, "We make a living by what we get; we make a life by what we give."

II. The privilege in giving to the poor.
"He who has pity on the poor lends to the LORD..." (Prov. 19:17b)
Charles Haddon Spurgeon (1834-1892) exclaimed, "What an honour the Lord bestows upon us when He condescends to borrow of us!" Someone else explained, "This is a remarkable statement. It would lead us to believe the poor are in the special care of the Lord, and He is looking to those who have been blessed to care for His poor; that He borrows from them so He may take care of His family of dependents. We are amazed to think the Lord should count Himself as a borrower from any of His servants that He may feed His hungry and give comfort and cheer to the sick and helpless. How wonderful!"

An unknown poet expressed, "Give as you would to the Master, if you met His searching look; give as you would of your substance, if His hand your offering took!"

We are unaware of the author of this poetic expression, "'Giving is living,' the angel said. 'Go feed the hungry sweet charity's bread.' And must I keep giving and giving again?' My selfish and querulous answer ran. 'O no,' said the angel, his eyes piercing me through, 'Just give till the Master stops giving to you!'"

III. The promise about giving to the poor.
"He who has pity on the poor lends to the Lord, and He will pay back what he has given" (Psalms 19:17).
Someone asked Andrew Jones for help. He had only one shilling and wondered whether to give it or not. He gave it, and walked away with the remembrance of the above promise. As he went, he met a man who said, 'Mr. Jones, I am glad to see you. I've had this sovereign (20 shillings) for a week for a servant of the Lord. You may have it.' Mr. Jones added when telling the story, 'Had I not stopped to give relief, I should have missed the man and the gift.'"

Dr. D. Thomas explains, "Every gift of genuine piety to the poor is a loan to the Lord, and a loan that shall be paid: 1. It often is repaid amply in this world (Deut. 16:17-20; 2 Cor. 9:6-8); 2. It will be acknowledged in the day of judgment. 'Inasmuch as ye have done it unto the least of these My brethren, ye have done it unto Me'" (Matt. 25:40). Remember this thought, "The hand that gives also gathers!"

A. We cannot out-give God.
Jesus said, "He who receives you receives Me, and he who receives Me receives Him who sent Me. He who receives a prophet in the name of a prophet shall receive a prophet's reward. He who receives a righteous man in the name of a righteous man shall receive a righteous man's reward. Whoever gives one of these little ones only a cup of cold water in the name of a disciple, assuredly, I say to you, he shall by no means lose his reward" (Matt. 10:40-42).

Paul shares this with the elders in Ephesus before his departure, "So now, brethren, I commend you to God and to the word of His grace, which is able to build you up and give you an inheritance among all those who are sanctified. I have coveted no one's silver or gold or apparel. Yes, you yourselves know these hands have provided for my necessities, and for those who were with me. I have shown you in every way, by laboring like this, that you must support the weak. Remember the words of the Lord Jesus, that He said, 'It is more blessed to give than to receive'" (Acts 20:32-35).

The psalmist describes the man who fears the Lord: "He has dispersed abroad, He has given to the poor; His righteousness endures forever; His horn will be exalted with honor" (Ps. 112:9). Paul echoes this in 2 Corinthians 9:6-15, as he writes about the cheerful giver, "But this I say: He who sows sparingly also will reap sparingly; and he who sows bountifully also will reap bountifully. So let each one give as he purposes in his heart, not grudgingly or of necessity; for God loves a cheerful giver. God is able to make all grace abound toward you, that you, always having all sufficiency in all things, may have an abundance for every good work. As it is written: 'He has dispersed abroad, He has given to the poor; His righteousness endures forever.'

"'Now may He who supplies seed to the sower, and bread for food, supply and multiply the seed you have sown and increase the fruits of your righteousness, while you are enriched in everything for all liberality, which causes thanksgiving through us to God. For the administration of this service not only supplies the needs of the saints, but also is abounding through many thanksgivings to God, while, through the proof of this ministry, they glorify God for the obedience of your confession to the gospel of Christ, and for your liberal sharing with them and all men, and by their prayer for you, who long for you because of the exceeding grace of God in you. Thanks be to God for His indescribable gift!"

James writes, "Every good gift and every perfect gift is from above, and comes down from the Father of lights, with whom there is no variation or shadow of turning" (James 1:17).

Henry G. Bosch (1914-1995), former editor of "Our Daily Bread" for Radio Bible Class Ministries from 1956-1981, shares, "Charles Haddon Spurgeon came to Bristol for the purpose of ministering there. He hoped to collect 300 pounds to support his work with homeless children in London. At the end of the week of meetings, many people had been blessed, and his financial goal had been reached. That night as he bowed in prayer, Spurgeon seemed to hear a voice saying, 'Give that money to George Mueller [1805-1898].' 'Oh, no Lord,' answered the minister, 'I need it for my own dear orphans.' Yet he couldn't shake the idea that God wanted him to part with it. Only when he said, 'Yes, Lord, I will,' could he find rest. The next morning he made his way to Mueller's orphanage and found that great man of prayer on his knees. The famous minister placed his hand on his shoulder and said, 'George, God has told me to give you this 300 pounds I've collected.' 'Oh, my dear brother,' said Mueller, 'I've just been asking Him for exactly that amount.' The two servants of the Lord then wept and rejoiced together. When Spurgeon returned to London, he found a letter on his desk contained 300 guineas. 'There,' he cried with joy, 'the Lord has returned my 300 pounds with 300 shillings interest!' Bosch adds, "Those who have practiced the grace of giving will tell you God pays wonderful dividends!"

Remember, you only can give what you have. From Acts 3:1-10 we read, "Now Peter and John went up together to the temple at the hour of prayer, the ninth hour. A certain man lame from his mother's womb was carried, whom they laid daily at the gate of the gate which is called Beautiful, to ask alms from those who entered the temple; who, seeing Peter and John about to go into the temple, asked for alms. Fixing his eyes on him, with John, Peter said, 'Look at us.' So he gave them his attention, expecting to receive something from them. Then Peter said, 'Silver and gold I do not have, but what I do have I give you: In the name of Jesus Christ of Nazareth, rise up and walk.' And he took him by the right hand and lifted him up, and immediately his feet and ankle bones received strength. So he, leaping up, stood and walked and entered the temple with them -- walking, leaping and praising God. And all the people saw him walking and praising God.  Then they knew that it was he who sat begging alms at the Beautiful Gate of the temple; and they were filled with wonder and amazement at what had happened to him."

Dr. Donald J. Wilton, Senior Pastor of the First Baptist Church of Spartanburg, S.C., once explained, "The lame man asked for alms but was given legs."  Imagine his surprise as he suddenly moved from disappointment to delight.

Someone poetically penned these inspirational words, "If you can't give in abundance, give a little in His name, for a little given rightly -- with His blessings on the same -- will be bread upon the waters you will find again sometime, multiplied to loaves of blessing that are wondrous and sublime."  
Solomon wrote in Ecclesiastes 11:1, "Cast your bread upon the waters, for you will find it after many days." 
B. We cannot outsmart God.
God knows why we do what we do. Luke reminds us, "If you do good to those who do good to you, what credit is that to you? Even sinners do the same. If you lend to those from whom you hope to receive back, what credit is that to you? For even sinners lend to sinners to receive as much back" (Luke 6:33-34).

God knows why we say what we say. Matthew, Mark and John record the statement of Judas Iscariot: "For this fragrant oil might have been sold for much and given to the poor" (Matt. 26:9); "'For it might have been sold for more than three hundred denarii and given to the poor' (Mark 14:5); "Why was this fragrant oil not sold for three hundred denarii and given to the poor?" (John 12:5).

Remember, on earth Jesus was not rich. Paul revealed in 2 Corinthians 8:9, "For you know the grace of our Lord Jesus Christ, that though He was rich, yet for your sakes He became poor, that you through His poverty might become rich." Allow me to add, properly interpreted this verse does not teach "health, wealth and prosperity."

God knows why we think what we think. David the psalmist wrote in Psalm 139:1-2, 23-24, "O Lord, You have searched me and known me. You know my sitting down and my rising up; You understand my thought afar off...Search me, O God, and know my heart; try me, and know my anxieties; see if there is any wicked way in me, and lead me in the way everlasting."

God knows the meaning of every thought, word and deed.
Conclusion
Henry G. Bosch, once said: "A father once gave his boy a half dollar, telling him he could do with it as he pleased. Later when he asked about it, the little fellow said he had lent it to someone. 'Did you get good security?' inquired the father. 'Yes, I gave it to a poor beggar who looked hungry!' 'O, how foolish you are.  You'll never get it back!' 'But Dad, I have the best security; for the Bible says, "He that giveth to the poor lendeth to the Lord!' Thinking this over, the Christian father was so pleased that he gave his son another half dollar! 'See!' said the boy. 'I told you I'd get it again, only I didn't think it would come so soon!'"

Benjamin Franklin shared the following in his autobiography: "Mr. Whitefield [1741-1770], in leaving us, went preaching all the way thro' the colonies to Georgia. The settlement of that province had lately been begun, but, instead of being made with hardy, industrious husbandmen, accustomed to labor, the only people fit for such an enterprise, it was with families of broken shop-keepers and other insolvent debtors, many of indolent and idle habits, taken out of the jails, who, being set down in the woods, unqualified for clearing land, and unable to endure the hardships of a new settlement, perished in numbers, leaving many helpless children unprovided for. The sight of their miserable situation inspir'd the benevolent heart of Mr. Whitefield with the idea of building an Orphan House there, in which they might be supported and educated. Returning northward, he preach'd up this charity, and made large collections, for his eloquence had a wonderful power over the hearts and purses of his hearers, of which I myself was an instance.

"I did not disapprove of the design, but, as Georgia was then destitute of materials and workmen, and it was proposed to send them from Philadelphia at a great expense, I thought it would have been better to have built the house here, and brought the children to it. This I advis'd; but he was resolute in his first project, rejected my counsel, and I therefore refus'd to contribute. I happened soon after to attend one of his sermons, in the course of which I perceived he intended to finish with a collection, and I silently resolved he should get nothing from me, I had in my pocket a handful of copper money, three or four silver dollars, and five pistoles in gold. As he proceeded I began to soften, and concluded to give the coppers. Another stroke of his oratory made me asham'd of that, and determin'd me to give the silver; and he finish'd so admirably, that I empty'd my pocket wholly into the collector's dish, gold and all."

Benjamin Franklin continues, "Some of Mr. Whitefield's enemies affected to suppose that he would apply these collections to his own private emolument; but I who was intimately acquainted with him (being employed in printing his Sermons and Journals, etc.), never had the least suspicion of his integrity, but am to this day decidedly of opinion that he was in all his conduct a perfectly honest man, and methinks my testimony in his favour ought to have the more weight, as we had no religious connection. He us'd, indeed, sometimes to pray for my conversion, but never had the satisfaction of believing that his prayers were heard. Ours was a mere civil friendship, sincere on both sides, and lasted to his death.

"The following instance will show something of the terms on which we stood. Upon one of his arrivals from England at Boston, he wrote to me that he should come soon to Philadelphia, but knew not where he could lodge when there, as he understood his old friend and host, Mr. Benezet, was removed to Germantown. My answer was, 'You know my house; if you can make shift with its scanty accommodations, you will be most heartily welcome.' He reply'd, that if I made that kind offer for Christ's sake, I should not miss of a reward. I returned, 'Don't let me be mistaken; it was not for Christ's sake, but for your sake.'  One of our common acquaintance jocosely remark'd, that, knowing it to be the custom of the saints, when they received any favour, to shift the burden of the obligation from off their own shoulders, and place it in heaven, I had contriv'd to fix it on earth."

Dr. Dan Nelson, pastor of the First Baptist Church of Camarillo, Calif., shared a chapel presentation of his drama on George Whitefield at Southwestern Baptist Theological Seminary on Nov. 9, 2006. Nelson recently shared by e-mail, "Much is made of Franklin and Whitefield's relationship by all the biographers. A fairly recent bio of Franklin has 7 or 8 pages on this starting with Franklin's coverage of him in the paper. He was to Whitefield what Hearst was to Graham.  We don't know if Franklin trusted Christ, but his epitaph sure reveals an evolution from his supposed deism."

Benjamin Franklin's epitaph reads as follows: "The Body of B. Franklin Printer; Like the Cover of an old Book, Its Contents torn out, And stript of its Lettering and Gilding, Lies here, Food for Worms. But the Work shall not be wholly lost: For it will, as he believ'd, appear once more, In a new & more perfect Edition, Corrected and Amended By the Author."

Horace Mather Lippincott reports, "Whitefield's ministry lasted four and thirty years and during this time he preached eighteen thousand times. His eloquence and the power of his voice were notable, and Franklin wrote of him to a friend, 'I knew him intimately for upwards of thirty years. His integrity, disinterestedness and indefatigable zeal in prosecuting every good work, I have never seen equalled, and shall never see excelled.' He added, Whitefield used sometimes to pray for his conversion, 'but never had the satisfaction of believing his prayers were heard.'"

Paul the apostle writes, "For by grace you have been saved through faith, and that not of yourselves; it is the gift of God, not of works, lest anyone should boast. For we are His workmanship, created in Christ Jesus for good works, which God prepared beforehand that we should walk in them" (Eph. 2:8-10).

Christopher Wordsworth (1807-1885) shares in his poem titled "Giving to God":
        O Lord of heaven and earth and sea,
        To Thee all praise and glory be.
        How shall we show our love to Thee,
        Who givest all?
        The golden sunshine, vernal air,
        Sweet flowers and fruit, Thy love declare.
        When harvests ripen, Thou art there,
        Who givest all.
        For peaceful homes and healthful days,
        For all the blessings earth displays,
        We owe Thee thankfulness and praise,
        Who givest all.
        Thou didst not spare Thine only Son,
        But gav'st Him for a world undone,
        And freely with that Blessed One
        Thou givest all.
        Thou giv'st the Spirit's holy dower,
        Spirit of Life and Love and Power,
        And dost His sevenfold graces shower
        Upon us all.
        For souls redeemed, for sins forgiven,
        For means of grace and hopes of heaven,
        What can to Thee, O Lord, be given
        Who givest all?
        We lose what on ourselves we spend;
        We have as treasure without end
        Whatever Lord, to Thee we lend,
        Who givest all.
        To Thee, from whom we all derive
        Our life, our gifts, our power to give.
        Oh, may we ever with Thee live,
        Who givest all!"

Pay it upward!