10 Ways to Encourage Growth in Your Women's Ministry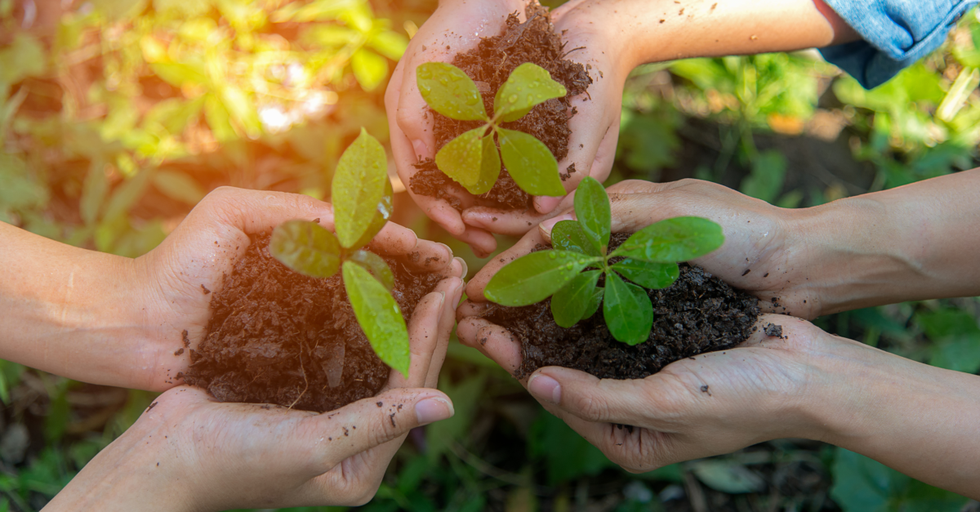 Join us for dinner, a message, worship, and mingling in a room full of women.
Um, no thank you. I'm always up for food. And, sure, I'll listen to an inspiring message and sing worship songs whenever. But hang with ladies I don't know at all, or at least not well? Nope.
This was my internal dialogue when I first contemplated attending a women's event at my church.
For years, I had no desire to spend a night eating and listening to praise music with other females. This was largely because of the stereotype depicting women as guarded, 'judge-y,' and hurtful (though I've found these are usually defense mechanisms due to our insecurities).
When courage finally moved me forward, I found my original apprehension unfounded. I had the best time.
Later, when I was asked to join our women's leadership team, I discovered why our events felt different. Our leaders prioritized certain elements, and it showed.
Here are ten things our women's leadership focuses on to encourage growth:
Photo Credit: GettyImages/Wand_Prapan
1. Protect against cliques.

Slide 1 of 10

Remember high school and the crew you ran with? Those people helped us survive our angsty teenage years. But now we're adults, and cliques are harmful.

Therefore, our women's ministry is intentional about not forming cliques or showing favoritism. Sitting by a best friend at an event or chatting with people we've known since college is fine. It's when we're unwilling to welcome others in that this becomes a problem.

Most women don't do this purposely. But as leaders, we must be on the lookout for this at our gatherings. My mentor has said many times, "Don't just hang with the friend you talk to every day. Branch out. Find those in the room who are new or alone. Bring them over to meet your friends."

Friendships happen naturally, and we can't help those we're drawn to; in fact, God likely has a hand in that. But we shouldn't leave anyone out.

If you want community to develop in your ministry, be intentional about not excluding others in any way.

Photo Credit: GettyImages/DMEPhotography

2. Value and model transparency.

Slide 2 of 10

Let's speak the truth. The more authentic people are, the bigger the impact. We can't discuss addictions or idols without sharing the ones we've either overcome or are currently conquering.

I've been in women's groups that have dealt with heavy topics. In one, the conversations remained shallow. No one told the whole story. They sugar-coated their struggle. But another group discussed real life. This group challenged me to open up and go deeper about the heavy stuff I was dealing with. And, praise God, chains were broken!

However, this didn't happen until my leaders were willing to dish out their own ugly. Now, there's a time and a place for everything, but when leaders speak up about the struggles and hardships they've experienced, spiritual growth occurs. I believe this is a reason 'girls' night out' is so popular. They "dish" and "spill the tea" as my teenage daughter would say.

Let's bring that level of openness and transparency and show our women we aren't perfect, but are being sanctified by Jesus, who is.

Photo Credit: GettyImages/pixelheadphoto

3. Keep diversity in your leadership team.

Slide 3 of 10

Jesus, Creator of the universe, loved diversity. Whenever possible, our leaders should recruit variety. Teams with dissimilar ethnicities, ages, life-stages, and relationship statuses will bring new ideas and backstories to what events you facilitate and also how you pull them off.

An assortment of women who don't all look alike serving your ministry will encourage all types of people to see what you're all about. What they'll find is that you are striving to be like Christ by loving all people and championing the idea that all are uniquely and perfectly made in His image.

Jesus commanded us to, "Go and make disciples of all nations…" (Matthew 28:19). You see, a diverse ministry is what He had in mind when His church began just over 2,000 years ago.

Photo Credit: GettyImages-Rawpixel

4. Have fun.

Slide 4 of 10

Think of when you last attended a boring meeting and watched the clock tick down.

What's the lesson? Add excitement. Seriously, it is okay to have a little fun.

Our women's leadership facilitates classy events done with excellence, but they still involve a few laughs. We relax and let our defenses fall when laughter releases. This helps initiate good conversation.

Truthfully, when we search for speakers, we ask for a video clip or podcast from them, largely to see if they have a sense of humor. A dry, monotone, unengaging message could leave dry and lifeless results. We all have different personalities and won't always think the same people are amusing. But if you diligently seek someone who can have fun, whether on stage or at a table, your events will leave a fresh taste in your ladies' mouths.

And, of course, it helps if the leadership is willing to have a little fun too. Certain functions don't allow for this, but our team has participated in ice breakers and minute-to-win-it games where we were left with pie in our faces or the goofiest pictures posted to Facebook. We've agreed that if no one else volunteers, we should be the first to get up there and look silly in front of our peers.

Find ways to laugh. Your ministry will be better for it.

Photo Credit: GettyImages/simonapilolla

5. Don't resist change.

Slide 5 of 10

 

"We've always done things this way." Have you ever heard someone say this?

Our world changes daily. If we aren't open to allowing God to alter how we do things, we risk not accomplishing our greatest commission—to go and make disciples (Matthew 28:19).

This means every year, your calendar of events may look different from the last. Some gatherings should remain; others need to be canned or maybe just shelved for a time.

Maybe a simple shuffle needs to take place: an event previously held on a Saturday may need to move to a weekday. Maybe you've done something every month, but poor attendance and time constraints suggest quarterly would be better. Be open to adjustments. It'll help you stay current, and your women will appreciate the effort.

Photo Credit: unsplash/joshua-sortino

6. Strive for excellence.

Slide 6 of 10

Every event should demonstrate excellence—striving for the best outcome and presentation possible. We want our women to leave our events and tell others how outstanding they were.

When we set high goals, we encourage excitement for the ministry and the church.

Our desire to be a part of excellence comes from our Creator who is the most excellent of all, and it's contagious. Quality events draw women back to the environment you've created where they can grow spiritually. They'll want to invite friends and family to the next gathering. We won't attain perfection, but we can accomplish excellence.

Photo Credit: GettyImages/kieferpix

7. Debrief after each event.

Slide 7 of 10

Good leadership evaluates everything and encourages continual growth and improvement.

Our team takes surveys once a year to get feedback on our ministry events, which we discuss at great length.

We also hold a debriefing session after each function. It's usually late, and sometimes we're drained, but we still analyze what worked and what didn't because it is that important to us. We talk about the 'wins' and decide if, overall, the event was successful. We discuss if we want to do it again and jot these things down while they're fresh. Then, we think and pray over them until our next meeting. This saves us from forgetting important tidbits of information.

Debriefing is also good for team morale as we congratulate each other on a job well done and revive the drive to serve the women in our congregation.

Photo Credit: Thinkstock/fizkes

8. Do real life with your leadership team.

Slide 8 of 10

Friends laugh, love, and pray together. They are the first ones you text during a crisis and the ones you lean on during hardships. Leadership teams that have a true kinship with one another will seep love into the ministry.

Our ladies' team consists of women in all different stages of life, and even still, we laugh together so much my cheeks hurt after meetings sometimes. We text and chat regularly to update each other on our current struggles and blessings and often carpool to events. Last summer, we did a discipleship curriculum together as our own small group. One member on our team has become my mentor over the years.

Every church runs its ministry team differently. Each also has a unique group of women and a budget. But, no matter the size of your team, try to find ways outside the meetings to build relationships. This togetherness goes a long way toward being on the same page about the direction of your ministry.

Photo Credit: Thinkstock

9. Invite and model camaraderie between friends.

Slide 9 of 10

Fellowship is a special word that evokes such warm and tender feelings in me that I hung it on the wall of my kitchen. It doesn't simply mean companionship. It means community—a godly camaraderie between friends. This kind of relationship is genuine and giving. It means you all make each other better people and better Christ-followers because of the time spent together.

As leaders, we want to model this kind of community to our women by joining small groups, going to dinner with one another just because, giving hugs on Sunday mornings, and serving alongside each other in the kids' ministry. The early church in the book of Acts modeled fellowship. When we do this and invite others to join, spiritual growth is bound to occur.

Photo Credit: GettyImages/noipornpan

10. Develop new leaders.

Slide 10 of 10

If your family had to suddenly move, is there someone in your women's ministry that could take your place? Someone who would possibly do things differently but is capable and trustworthy to take your leadership role? Seriously, ask yourself that question.

In truth, we never want to think about the 'what ifs' and 'whys,' but God may move you around.

I was a children's director for many years and had served with the kids for many years before that. But God still moved and matured me so I could transition into women's ministry in his timing. It became my sweet spot. And you know what? God could, and very well may, move me again, whether by changing my physical location or giving me different desires.

There should always be a leader we're actively working with, growing, and rooting for, who could potentially fill our role—and even possibly do it better! So, who are you bringing up?

---

Kristen Terrette holds a Master's degree in Theological Studies and served as a Children's Ministry Director for five years. She cherishes her Southern roots and currently lives forty-five minutes outside of Atlanta, GA. With the support of her husband and two children, she stays at home writing Christian fiction, striving to allow God take the story where it needs to go. She's also serves on the women's leadership team at her church and writes for Wholly Loved ministries at WhollyLoved.com. You can read her personal blog and check out her novels at www.kristenterrette.com.

Photo Credit: GettyImages/KatarzynaBialasiewicz