When Should I Leave My Church?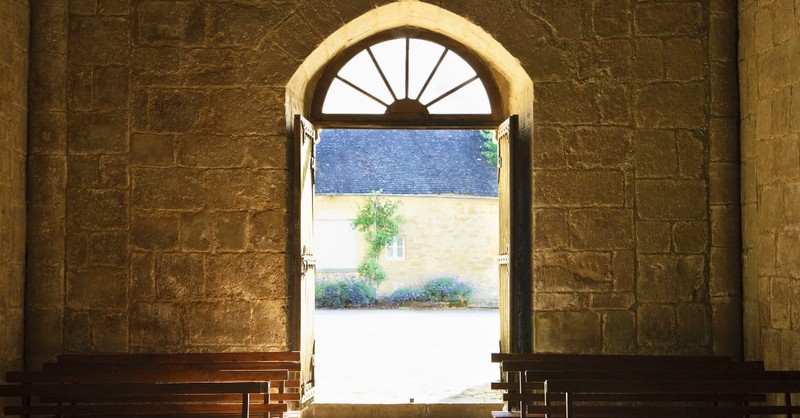 Far too many people leave their church prematurely and without biblical warrant. The evangelical church today is infected with a disease called—church consumerism. People often choose a church based on what the particular congregation can do for them.  In other cases, people are too quick to abandon their church on the basis of unbiblical or superficial rationale. This is not a new problem and it likely will remain a problem until genuine reform happens on a local church level in the area of biblical ecclesiology.
As a pastor, I don't like church hopping, skipping, or jumping (or whatever adjective best fits the situation).  The average church today fosters such behavior by not guarding the front door of the church.  We should be alarmed by people desiring to join our church from another church down the road based on superficial reasons.  Albert Mohler, in his article titled "Should I Stay or Should I Go?" writes the following:
When members leave [the church] for insufficient reason, the fellowship of the church is broken, its witness is weakened, and the peace and unity of the congregation are sacrificed. Tragically, a superficial understanding of church membership undermines our witness to the gospel of Christ. [1]
How do you know if you should stay or go?  What theological and practical guidelines should be considered before moving to another church?  Below you will find a list of considerations, but remember, this is not intended to be an exhaustive list.  Search the Scriptures and make wise, biblically informed decisions regarding church membership.
Are your pastors heretics (Gal. 1:7-9)?
Has your church embraced a false gospel (rejecting the Trinity, denying the deity of Christ, prosperity gospel, or some other false teaching)?
Are your pastors living in unrepentant sin (1 Tim. 5:19)?
Is your pastor a woman or does your pastor fail to meet the other qualifications of an elder (1 Tim. 3:1-7)?
Is your church living in carnal sinful patterns without discipline (1 Cor. 3:1; 5:1-2; 2 Thess. 3:6-14; 2 Tim. 3:5)?
Do your pastors have a low view of Scripture or do they disregard the inerrancy, authority, and sufficiency of Scripture (2 Tim. 3:16-4:2)?
Does your church have what's known as the right preaching of the Word (2 Tim. 4:1-5; Titus 1:9)?
Does your church follow an unbiblical method of observing the ordinances (baptism and the Lord's Supper)?
Not all churches are on the same level of health.  Some are more healthy than others, and the same thing is true for individual believers.  However, it's never permissible to move out and go get yourself a new family just because you're having some problems with your spouse and children at the moment.  The same thing is true regarding church membership.  When (not if) problems arise in your local church, you stay put and deal with it as a mature follower of Christ.
If a person in the church is experiencing sin problems, that's not a valid reason to leave your church.  You're actually called to stay there and help the person in their walk with Christ.  If you have a disagreement with a leader in the church, that's not a valid cause to find a new church to join.  The same thing is true regarding the new building, playground, or exciting ministry offered down the road at another church.  You should never consider leaving a church because of something offered at another church.  That's the definition of church consumerism.  It's a cancer that's eating away many churches today as spiritual immaturity continues to be passed down from generation to generation.
In rare cases, a person will come to faith in Christ as a member within a very unhealthy and unbiblical church setting and question his church membership.  For instance, if Jim Smith is converted while he's presently a member in a church where a woman is serving as the pastor, he doesn't need to pray about leaving the church. The same thing is true for those who come to faith as members of gay affirming congregations.  In such cases, it would be best for the spiritual wellbeing of the individual to move on to find a healthy church—and in such cases, a true church altogether.
In most circumstances, it's not as cut and dry.  In the overwhelming majority of the situations, leaving a church should be done with great caution, with love, with maturity, with clear communication to the leadership of the church, and with a desire to submit to God's Word.  Since we're placed in a community of Christ followers by God and under spiritual authority, to leave a church outside of clear pastoral counsel is to avoid God's will for your life.  This will not only leave the church weak and confused—but it will also do harm to you and your family.  When we make decisions regarding church membership, we must remember that the children are watching and listening.  Don't pass a superficial understanding of church membership on to the next generation.
As you pray and evaluate your present church membership, ask yourself three important questions:
1. Do I have a biblical reason for leaving my church?

2. Have I sought the needed change and reform in my church in a biblical manner, voicing my concerns to the pastors in private?

3. Is my desire to part fellowship with my church based on theological or selfish reasons?
In most cases, if the desire to leave a church is not based on the fact that a church has violated the right preaching of the Word, the administration of the ordinances, or the proper use of church discipline—it should be heavily examined for unbiblical rationale.  Be slow to move churches.  Be wise in choosing a church.  Be a healthy church member and you'll reproduce other healthy church members too.  Over time, your church will become more healthy.
Since God hates those who sow discord and create division, it would not only be wise but necessary for you to leave your church only if you have a biblical reason for doing so (Prov. 6:6-19; 1 Jn. 3:14). Even then, you should leave in a biblical and peaceful manner.  We must remain under authority even in how we leave a church (Heb. 13:17). Alexander Strauch warns against division in the church by writing, "Behind most church fights and unresolved divisions is ugly human pride. And the worst kind of pride is religious pride, the Pharisaical pride of self-righteousness and superiority." [2] Whatever your decision may be, in the end, never leave a church with unresolved division so much as it depends on you (Rom. 12:18).
In the end, there are times to leave a church and you shouldn't feel undue guilt or shame for doing so.  But, it's highly probable that you should stay, pray, worship, work, submit, and serve within your church for the glory of Christ.  You may need to stop searching for the exit sign and start serving Christ within your local church.
---
Albert Mohler, "Should I Stay or Should I Go?" (Tabletalk, September 2009), 19.
Alexander Strauch, Leading With Love, (Colorado Springs: Lewis and Roth, 2006), 167.
This article originally appeared on DeliveredByGrace.com. Used with permission.
Josh Buice serves as the Pastor of Pray's Mill Baptist Church located in Douglasville, Ga. He and his wife Kari have four children (Karis, John Mark, Kalli, and Judson). He earned his M.Div. and D.Min. in expository preaching from the school of theology at The Southern Baptist Theological Seminary. He blogs regularly at Delivered By Grace. DBG is a theology blog that focuses on theology, SBC, preaching, the church, and many issues within the Christian life. You can also follow him on Facebook and Twitter @JoshBuice.
Image courtesy: ©Thinkstock/FredFokkelman
Publication date: March 31, 2017