Worship Goes Mainstream
Natalie Nichols Gilespie

Contributing Writer

2003

17 Jun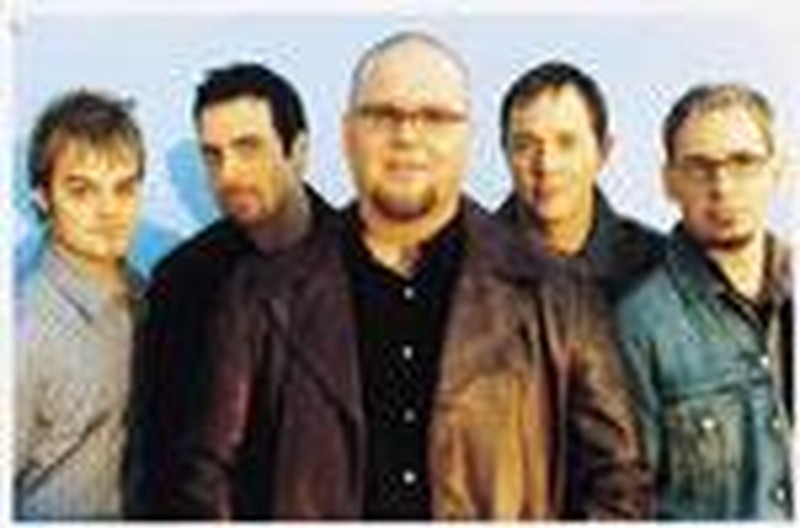 Imagine this: an independent band signs with a new Christian record label and two years later finds its first single - which says the name "Jesus" and talks all about Heaven - now in rotation on mainstream AC and Hot AC radio, sandwiched in between acts like Eminem and Justin Timberlake.
That's exactly what's happening now for MercyMe with the hit song, "I Can Only Imagine."
The song is nothing new to the Christian crowd. It came out on the band's 2001 debut album Almost There on INO Records and went to No. 1, then became the most played song of the year. After that, the song won the 2002 Dove Award for Song of the Year (along with many other Dove Awards) and firmly launched the band into the Christian music culture. MercyMe is now well into its second album Spoken For and is currently in the studio recording their third album, slated for next spring.
Then along came the New 100.3 Wild-FM in Dallas and a morning show called "The Fitz Radio Program." A caller to the show kept requesting "I Can Only Imagine," and at producer Todd Sheppard's urging, the station finally played it - almost as a joke a few months ago. It almost immediately became their top-requested song, and suddenly radio stations around the country began to hear the buzz.
"We were shocked," said Mercy Me lead singer Bart Millard. "If there was a 'Top Five' of songs never meant to cross over, I would have thought this was one of them. It says 'Jesus' and is just blatantly Christian."
After hearing that the song was played on Wild-FM, Millard called the station and spoke with the morning show crew. Sheppard told the singer he is a seminary student who believed that God brought him to the station to make a difference. MercyMe visited the Dallas station and even played "Imagine" live on the morning show.
"It was a surprise, and it wasn't," said Jeff Moseley, president and CEO of INO Records, of the mainstream groundswell surrounding the tune. "We have felt for a long time like there was more to the song than the long run at Christian radio. We thought it could make an impact at mainstream. At the same time, we recognized that we couldn't do it ourselves. Something was going to have to make it happen."
Now INO is helping fan the flames with a partnership with Curb Records, who is pushing the song to stations across the United States. As of May 30, "Imagine" hit the No. 50 spot on R&R's weekly Top 40 and stood at No. 23 on the Adult Contemporary (AC) chart (both with "bullets," which means it is expected to climb). The song has also just been recorded by country artist Jeff Carson, and the Curb/Asylum single was shipped to country stations May 9. As for AC radio play around the country, "Imagine" has hit the countdown lists on stations from Delaware to Montana.
"I think that the time is just right right now for songs with positive messages," said Jeff Scott, operations manager for HOT 96.FM in Evansville, Ind. "There's a lot of angry messages out there. It's a nice break to hear something that isn't like that."
Scott added the single after hearing it on Nashville's The River when he was flying between New Orleans and Indiana. He played "Imagine" the first time with no introduction or announcement, and immediately got several calls and emails.
"That rarely happens with any record," Scott said. "The response is so great that we have now put it in our fulltime playlist this week. It would not surprise me at all to see this record go Top 10 around the country."
"It has shown such strong progress on the charts; that's why we added it," said Catey Hill, music director for WJBR 99.5-FM in Wilmington, Del. "When we think a song has potential to really make a strong showing and not fall off the charts right away, that's when we add it."
Hill said it's the first time in her 16 years at the station that they have added a song with such a blatantly Christian message.
"I think a lot of it has to do with the way the world is now, and I think people are trying to find their spirituality," Hill said. "People got away from that for a while. Then 9/11 happened and people got more in touch with their spiritual side."
Current research shows the song may indeed find its way up the national charts. Research done by Critical Mass placed "Imagine" as the No. 4 "most impactful song among females" and the No. 1 most "net positive record" on all Clear Channel stations. Sales of Almost There are also picking up. The album has picked up "a minimum of 50%, in some cases as high as 300%" in markets where it is receiving mainstream airplay, Moseley said.
"What started out as a Southeastern phenomenon is starting to break on a national basis," Moseley said. "It is probably one of the most impactful songs I've ever worked with, and I've worked with 'Awesome God' and 'Butterfly Kisses.' I just really can't wait to see what happens when this gets heard on an even broader basis."
"I think some stations play it once just to try to prove that it doesn't belong there," Millard said. "Then it takes off. We are now hearing from mainstream deejays who are thanking us because they said they can sleep better at night knowing they are playing something positive."
Now Millard and the rest of the band are waiting to see where God takes them next.
"Unless somebody has a vendetta against God, the song is not a threat," Millard said. "It just makes you ask a lot of questions like 'What's next?' and 'What if this really is real?' We want to assure people that we think it is. We are treating this like our mission field, and we hope that our fans will support us by praying that we will maintain the message and make a difference for the kingdom."
To help support "I Can Only Imagine" at mainstream radio, visit the band's Web site at www.mercymelive.com.