6 Best Christmas Fiction Reads of the Season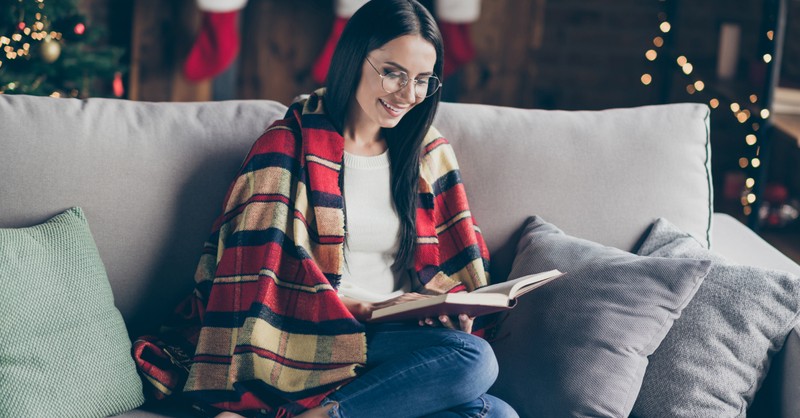 Christmas comes along, and traditional activities move to the top of our priority lists. Decorating the Christmas tree, turning on Bing Crosby and Nat King Cole—to mention just a few favorite crooners—watching those never-ending lists of Christmas movies and BOOKS! Are you a reader? Do you enjoy curling up on a wintery evening with a blanket, a crackling fire, soft Christmas music, and a good holiday tale? So do I! There are a plethora of Christmas stories available to read. The question is, which ones are worth our time, and are there current ones that are filled with Godly Christmas goodness?
It was fun putting together a list of relatively new Christmas reads that I'm calling my best reads of the season. After Dickens', A Christmas Carol, of course. Here are a few you should definitely put on your read list if you want a good Christmas movie-style story in book form:
1. Like A Silver Bell – By Lindsay Harrel, Published by Blue Astor Press, 2021
This Christmas tale has all the vibes of a holiday movie from your favorite cable network. Introduce a heartbroken heroine who has finally taken leave of an abusive CEO husband and throw in a quaint English estate, a young daughter, and a handsome man whose passion is charity work, and you have a winner. Not only will you join the heroine in a search to find healing and redemption, but you will also fall in love over a Christmas tale where the hero is ten times better than Santa and Christmas magic sprinkles down around you like a soft winter's snow. How can you pass that up?
2. Under the Texas Mistletoe – By Karen Witemeyer, Published by Bethany House Publishers, 2021
This book comes with a punch as it delivers three delightful, historical romances all centered around Christmas with a distinctive Texas theme. In novella format, the benefit of a short story is you can finish it in one sitting.
A Scrooge-like bachelor, a rancher, and a wealthy resort owner all play separate heroes in these stories. Of course, being the wilds of Texas, danger mingles with Christmas, broken hearts follow cowboys, and injured heroes are convinced they're not worthy of love. But enter some well-crafted heroines, and you have three love stories with a delicate Christmas flavor that will take you right back to the days of sleigh rides, hand muffs, candles on Christmas trees, and all the nostalgia wrapped up in one collection.
Karen Witemeyer is the queen of western heroes, so if you're a closet John Wayne fan, you will not want to miss these delightful Christmas spins on the age-old American hero-type.
3. It's a Wonderful Christmas: Classics Reimagined – By Julie Cantrell, Lynne Gentry, Allison Pittman, Kelli Stuart, and Janyre Tromp
Another wonderful collection of short stories also brings you Christmas classics reimagined. Need some White Christmas and Miracle on 34th Street in your reading repertoire? Go no further.
Inspired by holiday movies we all love and cherish, these retellings will bring the familiar and the new together in a Christmas package guaranteed to light up your holiday lights. These stories will thrill you with their clean and cozy romance and Christmas nostalgia, written by a gathering of best-selling and loved Christian authors.
With familiar storylines but new takes, it marries the old and the new to create a Christmas treat that will sugar your cookie and top off your gingerbread!
4. The Mistletoe Countess – Pepper Basham, Barbour Publishing
Enter a Christmassy world of romance with this latest from Pepper Basham. Its Edwardian American heroine meets an English aristocrat, wrapped up in an unconventional marriage of convenience and a thrown-in mystery to tie it all up into a beautiful bow. What better equation is that for a Christmas story?
If you love clean but delicious romance, you'll want to snatch this up. The heroine will make your holidays sparkle with imagination and joy and humor, and the hero will make you swoon right along with the rest of the world he touches. Of course, as the title implies, with mistletoe, there's some heart-stopping kisses included and an abundance of Christmas cheer!
Your romantic heart cannot afford to miss this one and make it your new Christmas classic.
5. It Happened at Christmas – Christen Krumm
An "enchanting YA spin" on the Christmas classic While You Were Sleeping, this Christmas retelling will be perfect for you and the young adult in your life. With younger characters appealing to a younger audience, this romance is a delightful girl meets boy story, all while she's supposedly dating the boy's brother. The love triangle can only get everyone into a pickle, and not the sort that you hide on the Christmas tree, but one out in plain sight and quite the dilemma. Readers young and old will enjoy this tale, its witty wording, endearing characters, and most of all, its Christmas romance wrapped up in the soft glow of the holiday season.
6. A Cross-Country Christmas – Courtney Walsh
A female Scrooge whose Type-A personality makes a road trip cross country already a headache will delight you when she must snuggle up next to her impromptu chauffeur and ex-boyfriend. His flirtatious and spontaneous personality is the tinsel to her coal, and suddenly, you'll find yourself not only falling for the hero but completely rooting for our heroine. Besides, she's going to be an aunt, and every new baby needs a devoted relative. This type of devotion takes sacrifice though, and when the journey from California to Illinois starts heating up, one can only wonder if the baby or the boy is our heroine's ultimate Christmas gift. It's a must-not-miss from Christy-Award-winning author Courtney Walsh.
You cannot go wrong with a Christmas read from the inspirational book category! In fact, you'll want to check out the books by these authors that have nothing to do with Christmas. So be prepared that not only will your Christmas reading list grow, but your to-be-read pile may start to rival the Leaning Tower of Pisa. In the meantime, a few things you'll need before you cuddle up for a night's Christmas read are a super cuddly blanket, flannel pajamas, hot cocoa, tea, or coffee, and a whole lot of me-time. If you're really on the ball, you'll get the kiddos their own Christmas reading and make it a family night tradition as you usher in Christmas with words that will warm your soul.
Whether you spend Christmas with a new story or an old classic, just remember, the story will help envelope you in the season's nostalgia and bring you back into the world of joy and peace we all need a little bit of this time of year. And when you've finished your read of choice, rest it on the bookshelf because next year will come, and you, my friend, will have a new, traditional Christmas read to add to your repertoire of holiday events.
Photo credit: ©Getty Images/Deagreez
Jaime Jo Wright is the winner of the Carol, Daphne du Maurier, and INSPY Awards. She's also the Publishers Weekly and ECPA bestselling author of three novellas. The Christy Award-Winning author of "The House on Foster Hill", Jaime Jo Wright resides in the hills of Wisconsin writing suspenseful mysteries stained with history's secrets. Jaime lives in dreamland, exists in reality, and invites you to join her adventures at jaimewrightbooks.com!