Missionaries Speak in New Beth Moore Devotional Book
Jesse Lyautey

Baptist Press

2005

20 Aug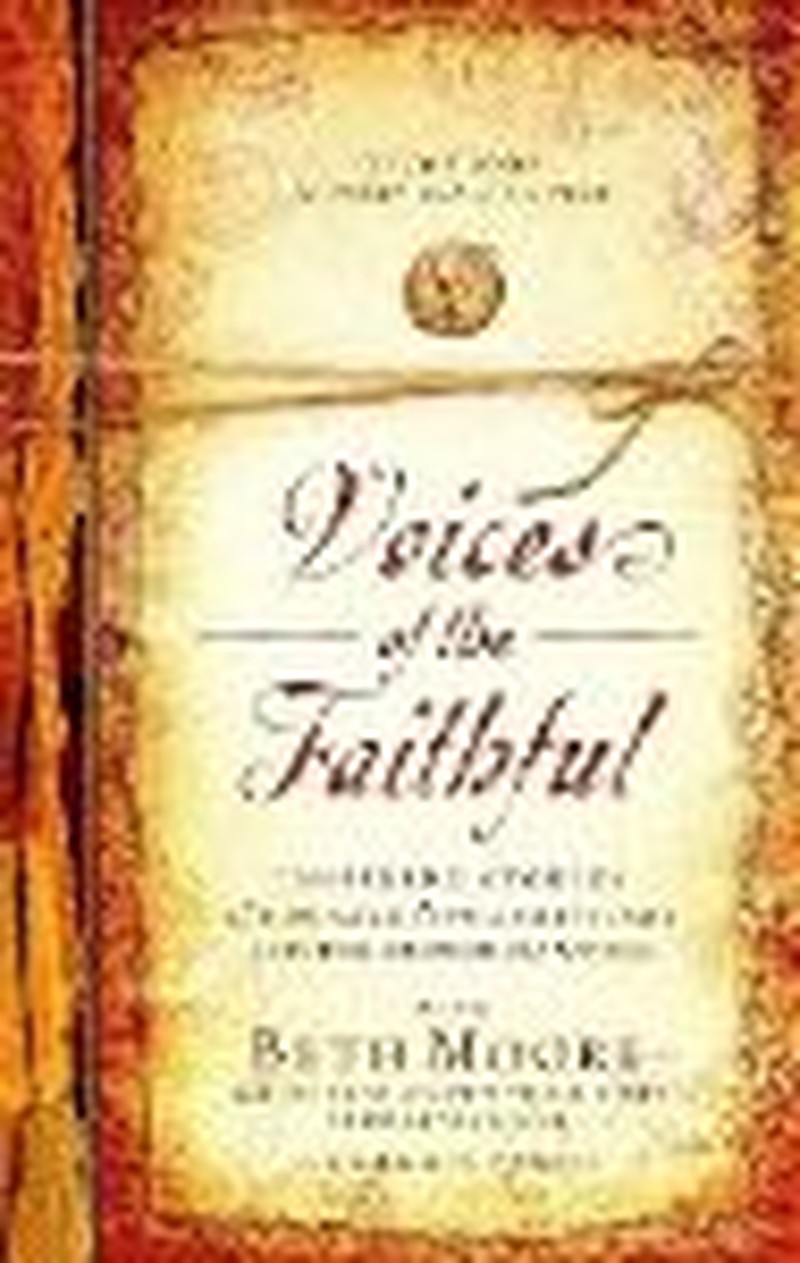 RICHMOND, Va. — Author and speaker Beth Moore calls Christians to unite in prayer for missionaries around the world in her new daily devotional book, "Voices of the Faithful."
Moore and missionary Kim Davis, her partner on the project, collaborated with nearly 300 Southern Baptist missionaries who contributed to the 366-day devotional with stories of sacrifice, hardships and joy in spreading the Good News of Jesus Christ.
"My earnest prayer is that once you feel like you know a handful of missionaries personally, your motivation to remember them, pray for them and support them in any of many ways will explode into a full-fledged partnership," said Moore, who wrote introductions for the book and each monthly set of devotionals.
In addition, the Southern Baptist International Mission Board has developed a new initiative to partner with churches through "Lift Up Your Voice," a year-long prayer emphasis centered around "Voices of the Faithful."
"Lift Up Your Voice is a special invitation for your church to lift up hearts, minds and voices in prayer and devotion in support of missionaries and for lost people around the world," said Jerry Rankin, president of the International Mission Board.
The emphasis encourages individual church members and families to use "Voices of the Faithful" at home each day. Church groups can meet monthly to pray and discuss what God has been teaching them through prayer. Resources include the "Voices of the Faithful" book, from Integrity Publishers; a facilitator's guide; and a companion music CD and worship DVD from Integrity Music.
The idea for "Voices of the Faithful" book was born during a shopping trip in 2002 when Moore was in southern Africa with her husband, Keith, to lead a retreat for IMB missionary women. Davis, a longtime missionary to Africa, accompanied Moore on the shopping trip and the two discussed the possibility of a book of missionary stories.
After a year of prayer, Moore and Davis decided to work together on the book. Davis took the idea to Rankin. With his support, she began to contact missionaries about writing for the project. Within four months, more than 650 devotionals came in to Davis from missionaries all over the world. When she saw the magnitude of the response, she sent a letter to Moore about the importance of the project.
"I am standing in awe of what God is doing here," Davis wrote. "I have wept this afternoon even trying to find words to express what is happening, because I just cannot explain it. Can you imagine the potential awareness of prayer and spiritual insight that can be opened up about God's work around the globe?"
Through the book and prayer emphasis, Rankin said he hopes Christians will understand the significance of praying daily for missions as they read about missionaries' triumphs and struggles – in their own words.
"Those of us who work closely with missionaries have always desired to communicate the inspiring and God-glorifying stories we hear on a daily basis," Rankin said. "Voices of the Faithful has captured the challenges, the passion, the devotion and testimonies of God's faithfulness through the actual experiences of contemporary missionaries."
Through their stories, missionaries urge readers to become involved in praying for the work God is doing around the world to expand His Kingdom.
"By the time you finish the book, you will have traveled the entire world with missionaries. I dare you not to fall in love," Moore wrote in the introduction. "Whether you are called to pray, called to give, called to go on short-term mission trips, two-year mission stints or surrender entirely to career missions, you are all called to the nations."

Voices of the Faithful is available at local retailers and through the International Mission Board at www.voicesofthefaithful.com or 1-800-999-3113. Special pricing is available for bulk orders. After Sept. 1, the facilitator's guide will be available for free download at www.voicesofthefaithful.com.

© 2005 Southern Baptist Convention, Baptist Press.  All rights reserved.  Used with permission.