The Cross & the Pen: "Bored with God" Author Sean Dunn
Eva Marie Everson

Contributing Writer

2004

28 Aug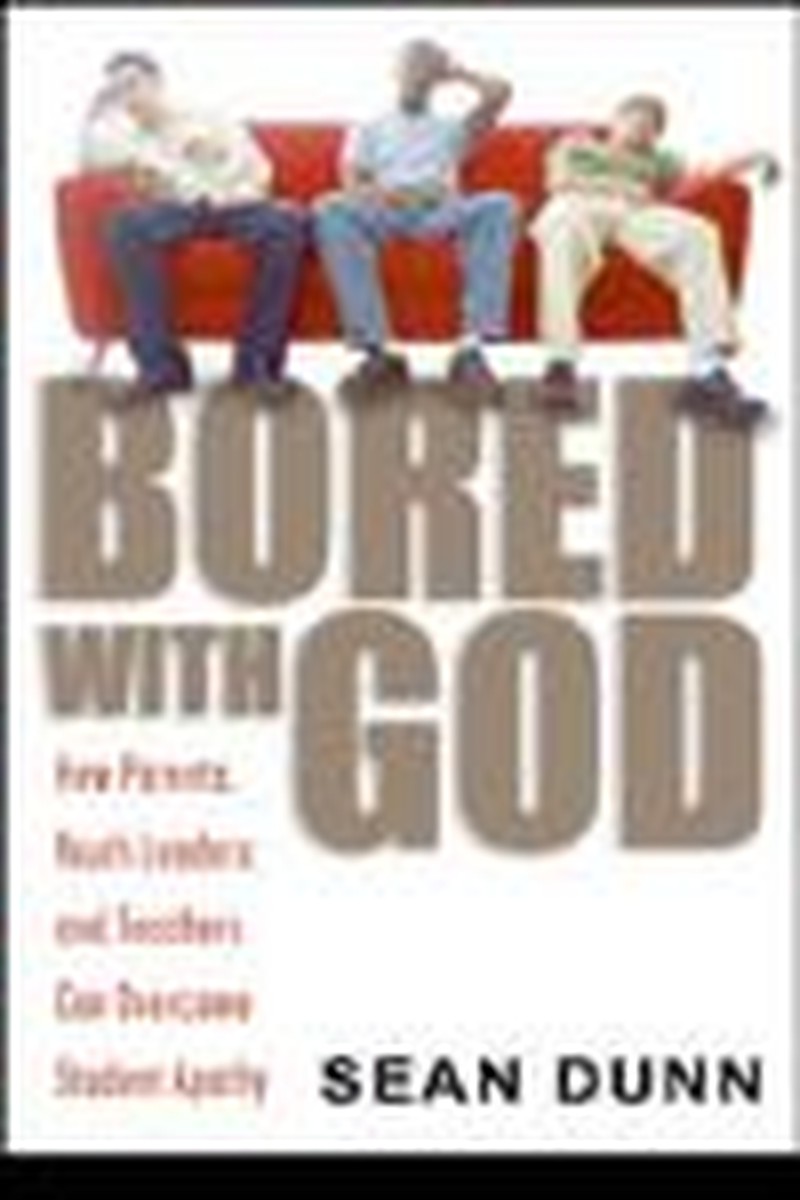 Welcome to "The Cross & the Pen," Crosswalk.com's author-to-author interview column.
When "Bored with God" (InterVarsity Press) came across my desk, so to speak, I was immediately intrigued. As it is, my daughter and I are writing a book together on media's influence on youth culture, so anything to do with our next generation piques my interest. "Bored with God" is a book that informs us on what happens when youth become apathetic toward God. And, it's written by someone who ought to know.
Sean Dunn has been in youth ministry for about a gazillion years (okay, maybe that's stretching it) and before that he was apathetic toward God. Recently we got together for a little chitchat. Wanna listen in?
Eva:  Sean Dunn, tell me about your background in youth ministry.
Sean:  I was one of those freaky kids who, at the age of 14, knew what I was going to do. … I was very focused on youth ministry. I didn't know what form it would take, but that was my focus. I went to Bible college to train … to get some education. My youth pastor said, "Don't be one of those guys who sleeps for four years. Get involved. You'll learn more as you're doing." I've been in ministry for 17 or 18 years now. I've trained youth ministers. God really blessed the ministry … training leaders, providing students with mission experiences, things like that. I started Champion Ministries. For the past seven or eight years I've been traveling full time, writing, and speaking and now we do the radio stuff.
Eva:  What is "Groundwire" and how many stations is it on worldwide?
Sean:  "Groundwire" is an outreach that was more of a shot in the dark. Could this happen? Could we do this? We were approached by Christian station that heard me speak and heard me say that our students are over-entertained and under-challenged. So he said, "That's our audience.  We have kids who love the music, ignore the message. Could you do some spots for our Christian kids?" I said, "Yeah, we can do that." So we started production on those and through that we started to wonder if we could do this on secular stations.
We realized that the average student doesn't listen to Christian radio.  It's an outreach where we just take 60 seconds … one of the statistics that we focused on was that more than 86 percent of the kids believe in God according to George Barna, but what do they believe about Him? Do they believe He's loving? That He has standards? That He wants to be a part of their lives or do they believe that He's a crisis manager who only wants to hear from us when we have a problem?  So, if 86 percent believe in God, but don't know what they believe about Him, we're not going to offend many by going on the air and saying, "God does love you. He does care about you. If you have questions, He has answers. If you're hurting, He will heal you." So, we started that and in ten months we've basically gone from a handful of stations, and now we're in 280 stations in four continents – 210 of those are secular.
How can we read the mandate of "Go" and not do so? And I think that means to go to where kids are developing their attitudes, reminding them in the midst of the darkness that God is here.
Eva:  Wow! That's excellent. You know, some of the buzz words and concerns within youth culture or for those who work in youth ministry today are self-mutilation, high levels of STDs, friends with benefits vs. relationships, hooking up, blogging, etc. Sean, what is going on here?
Sean:  We've bought into the attitude that our lifestyles have no long-term consequences. I do blame the media in many ways. There's a story I tell. There was an artist, a few years ago, named Sisqo, won all these awards on one of the award shows. I was watching in my hotel room and … the first thing he said when he got up there was, "I want to thank my Lord and Savior, Jesus Christ." Well, do you know what he got famous for? The "Thong Song." So, he says this. He thanks Jesus … and then he says, "But most of all I want to thank the one who got me where I'm at," reaches into his pocket and pulls out a black thong. The crowd went crazy. And I got angry, because basically what they're saying is that Christianity doesn't affect your life and there are no consequences. Those words don't disturb me nearly as much as the fact that they're spoken by Christians. They are saying their faith is compartmentalized. Everything else is separate. "My faith is something I do once or twice a week. But it's not my life." That's not the way it's supposed to be.
Eva:  Oh, I know. Just today I was talking about Beyoncé. How can someone say, "Every lyric I've ever written comes from the Lord" and then be known as "bootylicious?" So students today begin to think that God okays the sexual attitudes she portrays on stage.
Sean:  I'll say it again: there's such an erosion of conviction. Adults don't realize that students are looking for someone to lead a charge. To stand up and be strong. They recognize their own hypocrisy but they don't know how to turn it around. It's very disturbing. But, with disturbing news you either get down or you get aggressive.
Eva:  When I say, "contend for a generation," what does that mean to you?
Sean:  I really believe God has called me as an individual to be an authentic voice for attractive Christianity. Students will reject rules, which the church has displayed, but they are drawn to what's attractive. So, I want to say, "Be a part of what He's [God] doing." I want them to see that Christianity is the most fulfilling, the most exciting, thing they'll ever be a part of. "You get to spend time with God!"
Eva:  I'm going to quote something you have said:  "If a young person is passionate about Christ, they are less likely to fall into the devil's traps. If the devil is going to be successful, he has to steal their passion." Let's talk about that for a moment.
Sean:  The word passion means "an overwhelming desire or intense focus." My goal is to help students become so passionate about Christ. … You know, we shouldn't get up in the morning and say, "I should spend time with Christ," but, "I get to spend time with Him." The more passionate we become about Him and for Him, then when the devil walks up and says, "Hey, how about some drugs? How about an illicit relationship?" the more likely we are to say, "That's stupid. What you're offering is counterfeit and it's unfulfilling."
Eva:  You also say, "Spiritual apathy is the doorway through which sin enters and faith leaves."
Sean:  If our posture towards Christ is, "I want to be with you every day," we're not going to put up with sin and our faith will remain strong. But when spiritual apathy creeps in, sin is right there where we leave the door open. Our faith will become questionable, and I believe eventually we'll begin to doubt.
Eva:  Tell me about the moment you thought or said, "I need to write this book about youth apathy."
Sean:  It came in a season when I was watching youth leaders in a camp. They were addressing the issues, but they weren't addressing the core. They were discussing the student who'd been caught with pornography, they were discussing the attitude issues, and I was privy to these conversations because I was the speaker. And I was thinking, "You know, it's deeper than that."
Eva:  Right! If you've got a student who is caught with pornography, the question is, "What is he lacking spiritually that makes him want to fulfill it with something physical?"
Sean:  Yeah! I don't think we, as adults, oftentimes realize what's going on with our students … the posture they have towards God will affect every area of our lives. So I started thinking at that point: what do I have to offer that will address some of these issues. In the midst of that I realized — as much as I hate to admit it — that I'm not perfect either. I also have a tendency to only address the external issues.
Eva:  For parents, what are the signs of spiritual apathy they should look for in their children?
Sean:  That's a loaded question. A lack of holiness that begins with "I don't care what God says," which leads to rebellion. Withdrawal … this means they're afraid to let you know what's going on within their hearts, and they're headed for spiritual apathy.
Eva:  When my daughter was younger and living at home I would watch to see how often her Bible was moved. This told me that she was not only at her most spiritually hungry, but that she was doing something about it to become spiritually fulfilled. But when a Bible only gathers dust. …
Sean:  The statistics are scary. You know, the reason I am who I am today is because at 14 I found myself unable to deal with certain sins in my life and the hypocrisy I saw in myself. On a dare from my youth pastor, I began reading the Bible twice a day, and it changed me. Again, going back to a Barna statistic … only 33 percent of our students are reading the Bible once a week. Once a week. That's a major issue. I really believe that if you are not investing in your spiritual life, you're a train wreck waiting to happen; your faith will go down. But the other statistic is that only 38 percent of adults are reading the Bible once a week.
Eva:  Omigosh, yes. I truly believe that if they don't see us, as their parents, doing the same, if we don't invest in our faith, if they don't see us reading the Word of God … chances are they won't either.
Sean:  Absolutely. A student is only as great as his teacher. That statistic right there proves that is true.
Eva:  What do you hope for your book, "Bored with God"?
Sean:  That it be an encouraging, practical resource … that parents would see that the spiritual climate of their child is very important. If we're to go and make disciples of all nations, it begins at home. My dad used to tell me that his job was to get me to church. And that was it. But I said, "I never see you read your Bible." He said he read it at the office, but as a 14 year-old I needed to see him reading it at home.
Eva:  Sean, will you pray a short prayer for our students, that they might become more passionate for the Word of God … for the parents, that they might be able to recognize the apathy of their children?
Sean:  Lord, I thank you for your love and that it's so much more than we have the capacity. So when our hearts break for these students, it's just a dim reflection of what you feel. I do pray that you will raise up students who are passionate for you. Even though they live in the world, they are not of the world, but have been dedicated and committed to you from a young age. Lord, I pray that you will bring prodigals home, that the seeds which were planted will begin to grow and flourish. Jesus, grab this generation, put your stamp upon them, raise up a generation who knows you, who knows your voice and who is obsessed with your Word. God, I do pray for the parents. What a challenging job, and impossible job, if they don't rely on you. Give them discernment. Help them to see past the masks and to the core issues. Give them wisdom and hope. Father, teach them to pray prayers that will move heaven for their children. And God, I pray that the parents will become even more passionate for you and that across this nation parents and their children will walk hand in hand for You. I pray in Jesus name. Amen.
Eva:  Amen. Thank you! Thank you so much!

The founder and president of Champion Ministries, Sean Dunn has partnered with over forty denominations to minister to more than 200,000 young people and adults. He is the author of several books for youth, including "Velocity: Moving to a Solid Faith." For more information about Sean Dunn and Champion Ministries, visit www.championministries.org.

Eva Marie Everson is the very busy author of fiction works like "Shadow of Dreams", "Summon the Shadows", and "Shadows of Light" and nonfiction works like "Intimate Encounters with God" and "Intimate Moments with God." To find out more about having her come to speak to your group, visit www.evamarieeverson.com.