Petit's Mission Accomplished in Man on Wire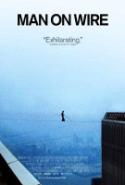 DVD Release Date: December 9, 2008
Theatrical Release Date: July 25, 2008
Rating: PG-13 (for some violence and terror)
Genre: Documentary
Run Time: 94 min.
Director: James Marsh
Starring: Philippe Petit, Paul McGill, Ardis Campbell, David Demato
On August 7, 1974, a French street performer with a fondness for heights walked back and forth between the World Trade Center towers.

Based on Philippe Petit's 2002 memoir, To Reach the Clouds: My High Wire Walk Between the Twin Towers, this documentary by British director James Marsh (Wisconsin Death Trip, The King) details the stunt, which was in the works for close to seven years before Petit finally pulled it off.
It began when the young Frenchman was 18. In the waiting room of his dentist's office, Petit read about the construction of the Twin Towers. His heart aflutter, he ripped out the artist's rendering and took off on his unicycle, completely forgetting his impacted tooth. During the next six-and-a-half years, Petit then prepared his heist (or "coup," as he refers to it).
He gathered a group of French and Australian conspirators, visited the Trade Center and practiced on a 200-foot wire—the distance between the two towers. To mimic the effect of winds at 1,350 feet above the ground, Petit strung a cable across a grassy field back in France and had his friends jostle it, while he walked back and forth.
Petit also practiced on the towers of the Notre Dame Cathedral and the Sidney Harbor Bridge in Australia, before finally heading to New York. Having already been arrested, he knew he probably would be again. So he also watched plenty of heist movies. He had the self-confessed "mind of a criminal," anyway.
Finally, Petit and his ragtag group headed across the pond to the Big Apple, where they began an eight-month stake-out of the World Trade Center, which was still under construction. They spent time on the roof. They made an invaluable inside contact. They practiced. They fretted. They strategized. Then, finally, after hauling more than a ton of equipment to the top floor, undetected, they were ready.
Petit knew he was facing death. It was "almost certain," he said. Yet he could not stop himself. He was, as he said, compelled by a force that he could not understand. So, early on an August morning, just before dawn, Petit climbed to the top of the towers. With his lover Annie shouting and pointing from the ground far below, he began his walk.
History records what happened next. Petit walked back and forth not once, but eight times. He sat, he lay down, he pirouetted—all the while ignoring police officers beckoning from either side of the illegally-strung cable. Finally, Petit stopped and they carted him off to jail. Mission accomplice.
Man on Wire is a fascinating film which won both the Grand Jury Prize and the Audience Award in Sundance's World Cinema. It's a documentary, and it moves somewhat slowly, but it's sure to interest anyone who enjoys heist movies and thrillers. Marsh skillfully mixes archival news footage with personal videos shot by Petit's team, along with some situations that were recreated for the film. It all melds together surprisingly well to form a fascinating character study as well as a brief snapshot of history.
CAUTIONS:
Drugs/Alcohol: A few quick shots of social drinking.
Language/Profanity: A few mild obscenities.
Sex/Nudity: Unmarried couple appear to live together, but no sex scenes.
Violence: Numerous discussions about death and risk of death from tightrope-walking stunts.