Veggie Tales Merry Larry Shines Big and Bright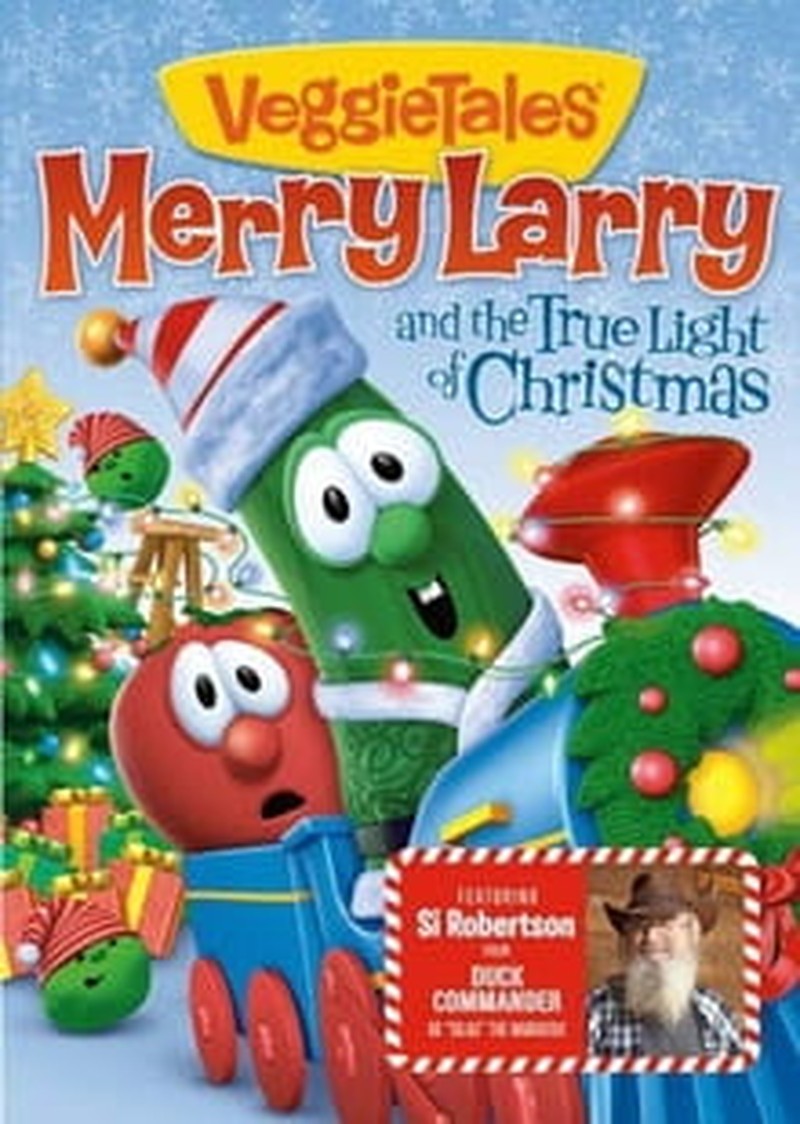 DVD Release Date: October 19, 2013
Rating: G
Genre: Family/Animated
Run Time: 47 minutes
Label: Big Idea
Voice Cast: Phil Vischer, Mike Nawrocki, Lisa Vischer, Si Robertson, Megan Murphy,
There are a lot of things that make Merry Larry and the True Light of Christmas a special edition to the Veggie Tales collection. For one, it marks (roughly) the 20th anniversary since Big Idea first introduced audiences to Bob the Tomato, Larry the Cucumber, and the rest of the vegetable crew. The new video also features music from artists Owl City and TobyMac, while being narrated by the Duck Commander himself, Si Robertson. More than anything though, Merry Larry serves as a fun and poignant reminder of what the Christmas season really about. Behind the lights and the presents and the holiday cheer, the birth of Christ continues to shine brightest of them all.
Our story begins at the Spring Valley Mall, where a wise old janitor (voiced by Si Robertson) narrates the Christmas adventures of two very different individuals. Bob the Tomato and Mr. Lunt star as a pair of decorators hired to give the mall a Christmas makeover. However, their plans hit a snag in the form of "Merry Larry" (Larry the Cucumber), who volunteers at the mall as a Christmas elf. While the two designers think Christmas should be as big and loud as possible, Larry thinks their time would be better spent helping others. In the end, the story of Christ's birth, and the selflessness of one child, help both sides remember what Christmas is really all about.
This is not the first time Veggie Tales has made a Christmas episode, and it's nice to see Big Idea come up with an original story instead of recycling old ideas, as some ministries are want to do. Not only that, but the movies messages are delivered with a soft hand, and never feel forced. Sure, Merry Larry likes to poke fun at a lot of holiday clichés (commercialism, Mall Santas, watching Rudolf 20 times), but it never paints these things as inherently evil. Even Bob and Mr. Lunt's light-show extravaganza can be a good thing when seen in the right context. Above all, Merry Larry makes sure the focus of the story is centered on Christ's birth.
Though the movie does slip in a few messages about giving and being selfless, it holds to its Christian roots by always pointing to Jesus. Bob in particular experiences a touching flashback that parents may enjoy watching along with their young ones. Parents should also know that while there is one veiled hint of drug use, the scene is played mostly as a joke, and the rest of the film is squeaky clean. Aside from that, there's not much more to say. Merry Larry and the True Light of Christmas remains a fun, consistently spiritual entry into the Veggie Tales cannon, and is sure to be great fun for the entire family.
*This Review First Published 10/17/2013