3 Reasons You'll Love Jump Shot, the Latest Film from Steph Curry
In the 1940s, Kenny Sailors' name was well-known among basketball fans after leading upstart Wyoming to a national title and then becoming one of the NBA's top-scoring guards.
Sailors' success was built upon a unique shot he mastered that involved him leaping high off the ground before shooting. You know: the jump shot.
Although most sports fans have forgotten his name, a new movie may help change that.
Appropriately called Jump Shot, the documentary tells the incredible story of how Sailors created a shot that is now a vital part of the game. Sailors also played five years in the NBA, fought in World War II, and became an integral promoter of high school girls' basketball in Alaska.
It is the latest film from Steph Curry's Unanimous Media, which he co-founded to create family and faith-based entertainment. (Sailors' faith is a major part of the story.) Curry is an executive producer. Aspiration Entertainment is distributing it.
It's one of the best sports documentaries I've seen – and that includes the vast catalogue of ESPN's 30 for 30s.
Jump Shot won the audience award at the Heartland International Film Festival.
Here are three reasons you'll love Jump Shot:
Photo courtesy: ©Unanimous Media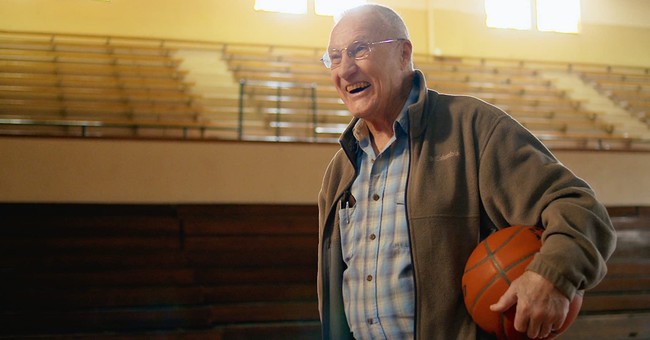 1. It's an Incredible True Story about a Forgotten Time
Basketball without a jump shot seems, well, ancient. As my 12-year-old son asked when discussing the film, "How do you shoot if you don't jump?" Kenny Sailors helped transform basketball from a slow-paced grounded game built on a two-handed set shot to an up-tempo sport where jump shots were the only way to score. And he did it by necessity. Growing up, Sailors often had his shots blocked by his older and much-taller brother during backyard games.
"The standard rule was you'd never left your feet – on defense and especially on offense," Sailors says of the rules of yesteryear.
But Sailors didn't follow the rules. One day, while playing a one-on-one game with his taller brother, he jumped into the air to shoot … and he scored. His brother hadn't left the ground.
Sailors went on to become an All-American at the University of Wyoming, where he led the Cowboys to the 1943 national championship. A picture of his famous jump shot landed in Life magazine, which helped inspire countless other basketball players to change their game, too.
Photo courtesy: ©Unanimous Media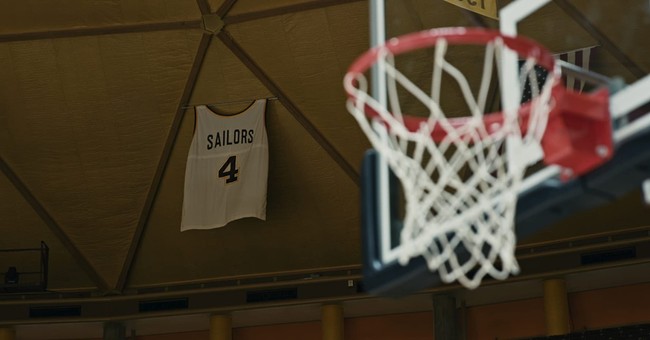 2. It Features Big-Name Talent
Jump Shot may feature black-and-white footage, but it's not a dull documentary. Its inclusion of NBA legends Stephen Curry, Kevin Durant and Dirk Nowitzki will reel in the younger crowd, although it's the story itself that will keep them hooked.
Incredibly, all three men say Sailors' jump shot looks like an NBA jump shot of today. Sailors was decades ahead of his time.
"It really looks like a Russell Westbrook pullup," Nowitzki says when shown the Life magazine picture of Sailors' jumper. Every defender in the photo was standing – as if they didn't realize the game was evolving before their eyes.
Director Jacob Hamilton told Slam Magazine that Durant was so impressed with a video of Sailors' moves that he asked to watch it again.
"When we shared it with KD, in the middle of it, he was just like, Can we pause this? I'm going to rewind this. I'm actually working on this today," Hamilton said.
Jump Shot also includes interviews with Clark Kellogg, Bob Knight, Nancy Lieberman, Lou Carnesecca and Kiki Vandeweghe.
Photo courtesy: ©Unanimous Media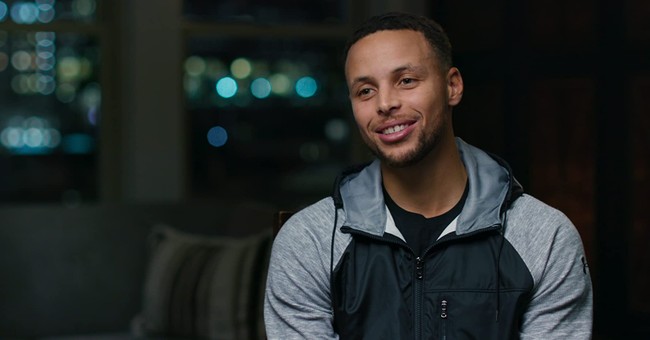 3. It Might Inspire You to Live a Better Life
Jump Shot isn't just a sports documentary. As Sailors puts it, "As I've gotten older, the Lord has shown me that there are ... things more important than just sports or basketball."
Sailors could have built upon his basketball success to become a sports broadcaster or columnist. Instead, he did what was best for his wife, who suffered from asthma and emphysema. He left basketball and moved his family to Alaska – far removed from the cities and the pollution his wife needed to escape.
There, he became a successful high school girls' basketball coach and led his team to four state title games, winning three. He also traveled the state and encouraged other high schools to start their own girls' basketball programs. His leadership was instrumental in launching the state tournament.
But in the world's eyes, Sailors' move to Alaska had a downside. The basketball world forgot about his NCAA and NBA accomplishments – and he never was inducted into the Naismith Memorial Basketball Hall of Fame. Sailors, who passed away in 2016, probably wouldn't care. He was too humble. He also knew the move had benefited his wife. They were married 60 years before her death.
"There are a lot of things I've done that's probably more important than that stupid jump shot," Sailors once said.
Still, his supporters hope the film brings his name back to the forefront of the Hall of Fame voters. He deserves it.
Visit JumpShotMovie.com.
Jump Shot is unrated but should be treated as a PG film. Content warnings: Language includes a-- (2), p-ssed (1), for G-d's sake (1).
Entertainment rating: 4 out of 5 stars
Family-friendly-rating: 4 out of 5 stars
Photo courtesy: ©Unanimous Media
---
Michael Foust has covered the intersection of faith and news for 20 years. His stories have appeared in Baptist Press, Christianity Today, The Christian Post, the Leaf-Chronicle, the Toronto Star and the Knoxville News-Sentinel.
Related podcast:
The views and opinions expressed in this podcast are those of the speakers and do not necessarily reflect the views or positions of Salem Web Network and Salem Media Group.