3 Things to Know about The Mulligan Movie, the Faith-Based Film Starring Pat Boone and Eric Close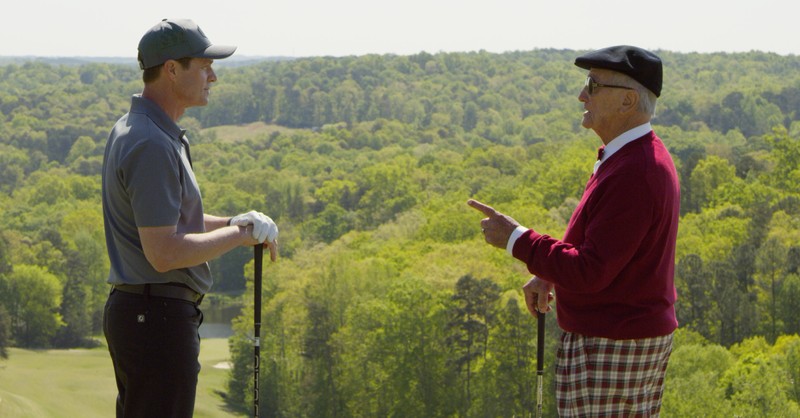 Paul McAllister is a stubborn, middle-aged millionaire who is successful in the business world but a failure in his personal life.
He has been separated from his wife for several years. He abandoned his teenage son long ago, too.
Yet Paul is more concerned about his next business deal – including one involving an Asian corporation that could make his company soar. Paul's next business trip will take him to a televised pro-am charity golf tournament, where he will meet the head of the company and, hopefully, seal the deal.
Unfortunately, though, Paul gets off to a rough start at the pro-am. He even loses his temper and breaks a golf club over his knee – an action that draws national scorn on social media and sports networks. That's when pro golfer Tom Lehman steps in.
"There's somebody here who I'd love for you to meet," Lehman says.
That somebody is a seasoned golfer, "Old Pro" Will Dunn, who has mastered not only the sport of golf but life itself.
Dunn takes a reluctant McAllister under his wing, asking him probing questions about his golf game as well as about his personal life.
Dunn has the answers to fix McCallister's golf game – and his troubled personal life.
But will McCallister listen?
It's all part of the new faith-based film The Mulligan Movie.
Here are three things you should know about it:
Photo courtesy: ©Reel Works Studios, used with permission.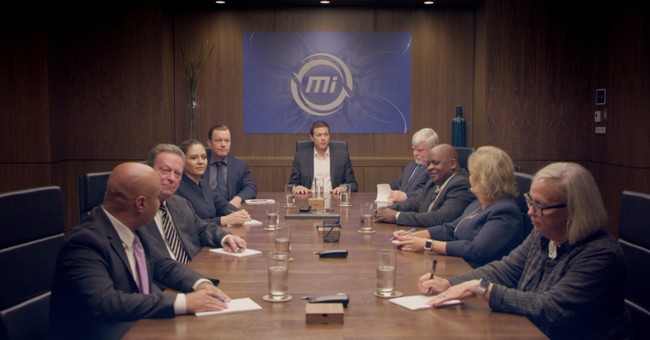 1. It's Based on a Popular Book
The movie is based on the 2007 book of the same name by Ken Blanchard and Wall Armstrong. That book also told the story of a man named Paul McAllister who had made millions in the business world but had failed at life and golf.
The movie gets its name from the golf term that references a do-over after a bad stroke. Although mulligans are not allowed in professional competition, they are common in everyday amateur play.
"Golf and life are much the same," Blanchard said in a promotional video. "If you're having trouble with golf, I bet you're having trouble with your life, which [Paul] really was."
Blanchard calls The Mulligan Movie an inspirational Hallmark movie "on steroids."
You don't have to be a golf fan to enjoy The Mulligan Movie. The sport serves as the backdrop for a film about brokenness, family life and forgiveness.
Photo courtesy: ©Reel Works Studios, used with permission.
2. It Stars Pat Boone and Eric Close
The film stars Pat Boone as "Old Pro" Will Dunn and Eric Close as Paul McAllister. Boone, 87, has been in more than 30 movies and TV shows and was a pop music star in the 1950s and 1960s, selling more than 45 million albums. (His career spans so many decades, in fact, that he starred in a 1969 episode of The Beverly Hillbillies and in the 1959 film Journey to the Center of the Earth.) Close is best known for his role as Teddy Conrad in the hit television series Nashville and as Travis Tanner in Suits. In recent years Close also has starred in and directed Hallmark films.
Boone and Close display stellar on-screen chemistry.
"We know that God is in this – the way He's brought it all together, all of us together, all the cast, the crew, director, producer, everybody in it," Boone told Crosswalk.
Director Michael O. Sajbel and writer/producer Rick Eldridge, Boone said, "would start every day" on the movie set "with prayer" – cast and crew included.
The film also includes Tanya Christiansen (I Still Believe, The Hate U Give), Nancy Stafford (First Lady), Gary Weeks (Outer Banks, Spider-Man: No Way Home), broadcaster Jim Nantz and golfer Tom Lehman.
The movie was a natural fit for Boone, who says he has played golf for 70 years – including with some of the legends of the game: Arnold Palmer, Jack Nicklaus, Gary Player and Sam Snead, among them.
"I just love the game," Boone said.
Speaking of the film's spiritual theme, Boone added, "The most divine mulligan of all is what Jesus did for us."
Photo courtesy: ©Reel Works Studios, used with permission.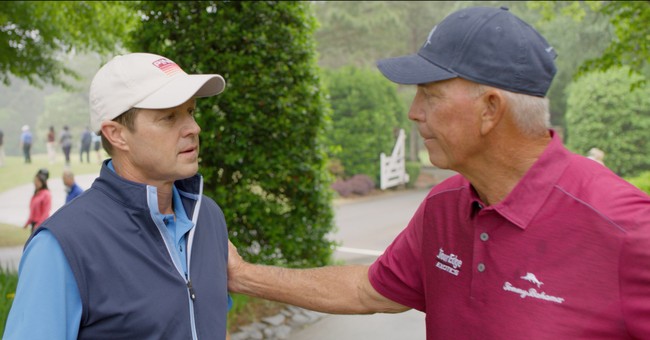 3. It Spotlights Second Chances
The Mulligan Movie is a film parable about second chances. Paul McAllister is a successful businessman but a less-than-successful father and husband.
Although he has seemingly ruined his family, he soon learns that life – as in golf – allows for mistakes and do-overs.
McAllister also learns from the "Old Pro" that God provides redemption in the spiritual realm, too.
"None of us are perfect. We all mess up," Close told Crosswalk, referencing the film's message. "... Sometimes we feel, though, that we don't have a second chance. [But] I have good news for you: We do."
The film reminds moviegoers that relationships can be repaired and healed, Close said.
"There is a chance for redemption, forgiveness," he said. "... I know a lot of people have broken relationships with their kids … or with their spouses. And this movie really points that out and shows that there is a chance – but you need God's grace and help in that."
Learn more at TheMulliganMovie.com
Photo courtesy: ©Reel Works Studios, used with permission.
---
Michael Foust has covered the intersection of faith and news for 20 years. His stories have appeared in Baptist Press, Christianity Today, The Christian Post, the Leaf-Chronicle, the Toronto Star and the Knoxville News-Sentinel.
Related podcast:
The views and opinions expressed in this podcast are those of the speakers and do not necessarily reflect the views or positions of Salem Web Network and Salem Media Group.