4 Things Parents Should Know about Lightyear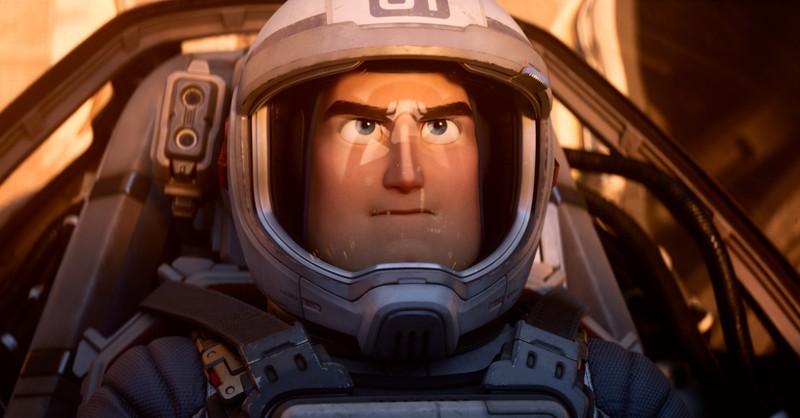 Buzz Lightyear is a young and talented space ranger who never lacks courage.
Most of the time, his crewmates benefit from his determination.
But other times – like when he's flying a rocket near a tall mountain on a hostile planet, 4.2 million lightyears from Earth – his courage places everyone in danger.
That's what happened recently when Buzz ignored the rocket's dashboard warnings and clipped the mountain, sending him and his crew crashing down to the planet's surface. Fortunately, everyone survived. The rocket, though, did not. Even worse: The rocket lost its fuel.
"This was my fault, and these people deserve better," a discouraged Buzz tells his friend and crewmate, Alisha Hawthorne.
Buzz, though, has a plan. He and his team will mine the planet's surface for fuel. They'll repair the rocket. And then they'll head back to Earth.
Will it work?
The new Pixar film Lightyear (PG) tells the story of Buzz and his friends as they team up to fight bug-like creatures and massive robots in an attempt to get back to the one planet they love.
Here are four things parents should know:
Photo courtesy: ©Disney, used with permission.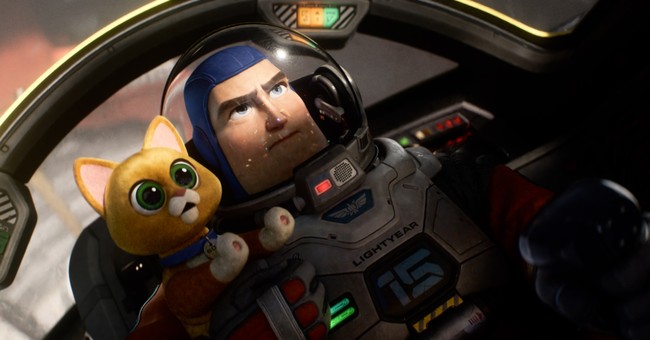 1. It's the Movie Andy Would Have Watched
For months, Lightyear was billed as the "origin" story or "backstory" of Buzz Lightyear, the space ranger from the Toy Story films. That's certainly true, but it also can lead to confusion. After all, wasn't Buzz a toy? And weren't his tall tales about space exploits nothing more than bluster?
Fortunately, the movie's opening moments simplify the plot.
"In 1995," we're told, "a boy named Andy got a Buzz Lightyear toy for his birthday. It was from his favorite movie. This is that movie."
Buzz was voiced by Tim Allen in the four Toy Story films, including the most recent one in 2019. He's been replaced in Lightyear by Chris Evans.
The Buzz Lightyear in the newest film, director Angus MacLane said, is "a little more well-rounded. Technically he's a bit smarter because he's not comic relief. He has to be funny but not too goofy. And that's why we went with Chris."
Photo courtesy: ©Disney, used with permission.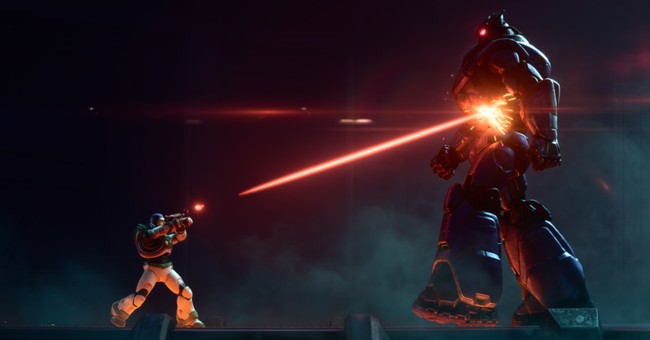 2. It's 'Toy Story' meets 'Star Wars'
None of the scenes in Lightyear take place in Andy's room.
The movie opens with Buzz and crewmate Alisha Hawthorne investigating a hostile planet for life. (They discover dog-sized insects and people-eating plants.) Stuck on the planet, the crew builds a city and begins a new life.
Buzz and the crew enjoy moderate success in rebuilding the rocket, but Buzz's testing of the ship comes with a major tradeoff: Each time Buzz tests the rocket, his age remains the same while his friends grow older and older. That's because a few minutes of "hyperspeed" space travel are equal to three or four years back on the planet. Before long, his best friends are deceased – and he's soon working alongside their grandchildren. (This time-freeze plot, part of Einstein's theory of relativity, has been used in other time-travel movies.)
The Buzz in Lightyear isn't the bumbling space ranger you remember in Toy Story. He's still funny, and he's still overconfident, but he's also brilliant (he's great at math) and complex (he shows a range of emotions). We also watch him grow as a character. (Buzz's robotic cat, Sox, provides the funniest moments.)
It's a Toy Story meets Star Wars plot, with plenty of battles involving laser blasters and spaceships.
As animated movies go, Lightyear isn't the fun, fast-paced, smart movie we embraced in the Toy Story franchise. For the most part, it's only … okay.
Still, it includes plenty of positive messages and thought-provoking moments (see below).
Photo courtesy: ©Disney, used with permission.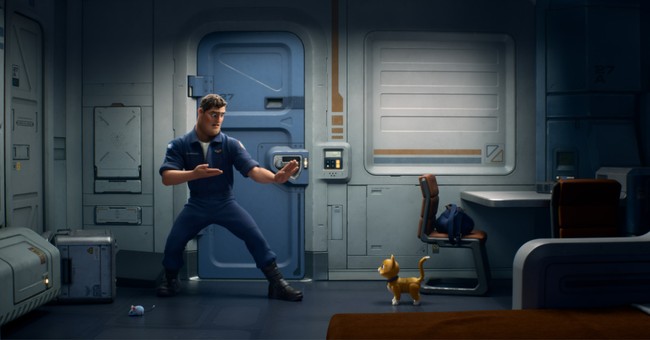 3. It Spotlights Mistakes, Second Chances and Time Travel
Lightyear puts a twist on the time-travel theme with this question: If you could, would you travel back in time and fix your mistakes? Buzz faces this choice late in the film but then encounters a dilemma: By fixing his one big mistake (crashing that rocket), he would erase the history that took place thereafter. (If he hadn't crashed the rocket, then his crewmates would not have built the city and started new lives – and the new friends he has made wouldn't exist.)
Lightyear helps us appreciate the "lemonade" that's the product of our past "lemons." It encourages us to live life in thankfulness, not regret. It's an echo of the Bible's promise in Romans 8:28: God works "all things … for the good of those who love him."
The film also includes solid messages about second chances, redemption, selflessness, courage, humility and teamwork. It urges us to display grace when others make mistakes. (Buzz learns that lesson when his new friend, Izzy, makes a big mistake.) After all, we also have made plenty of mistakes.
Photo courtesy: ©Disney, used with permission.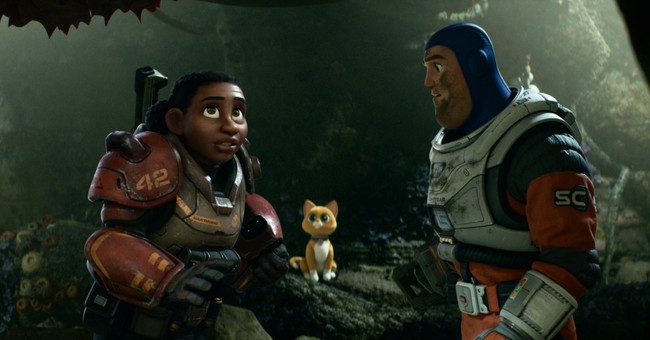 4. It Has a Major LGBT Angle
Lightyear makes history as the first Pixar film – and perhaps the first major animated theatrical title – with a same-sex kiss. That kiss, though, is only part of a major LGBT storyline that begins when Buzz travels back from a mission to learn that his space mate and friend, Alisha Hawthorne, is engaged.
"What's her name?" Buzz asks.
"Kiko," Hawthorne responds. "She's one of the science crew. It's funny – I never would have met her if we hadn't been stranded."
"I'd love to meet her," Buzz says.
Over the next few moments, we see a sequence of Hawthorne's life: her pregnant; her and Kiko raising a young boy; her and Kiko celebrating his graduation; and her and Kiko celebrating their 40th anniversary. It is at that anniversary party that they share a brief kiss on the lips.
The moment is groundbreaking, yes, and it won't be the last time it happens in a major animated movie.
Christian parents today are confronting issues that previous generations never faced – issues that will become more frequent. As believers, we must love our neighbors unconditionally while not being conformed to the culture.
So, what's a Christian family to do with Lightyear? Southern Baptist leader Shane Pruitt this week encouraged families either to abstain from watching Lightyear or to watch it and "use that moment as a teaching opportunity" to talk to your children about "what God's best and original design is for relationships and families." Staying silent on this issue while watching it with your kids, he suggested, is not an option.
That's good advice.
Lightyear is rated PG for action/peril. Coarse language: none.
Entertainment rating: 3 out of 5 stars.
Family-friendly rating: 3.5 out of 5 stars
Photo courtesy: ©Disney, used with permission.
---
Michael Foust has covered the intersection of faith and news for 20 years. His stories have appeared in Baptist Press, Christianity Today, The Christian Post, the Leaf-Chronicle, the Toronto Star and the Knoxville News-Sentinel.
Related podcast:
The views and opinions expressed in this podcast are those of the speakers and do not necessarily reflect the views or positions of Salem Web Network and Salem Media Group.