4 Things to Know about Mass, the Powerful Movie about Forgiveness amidst Tragedy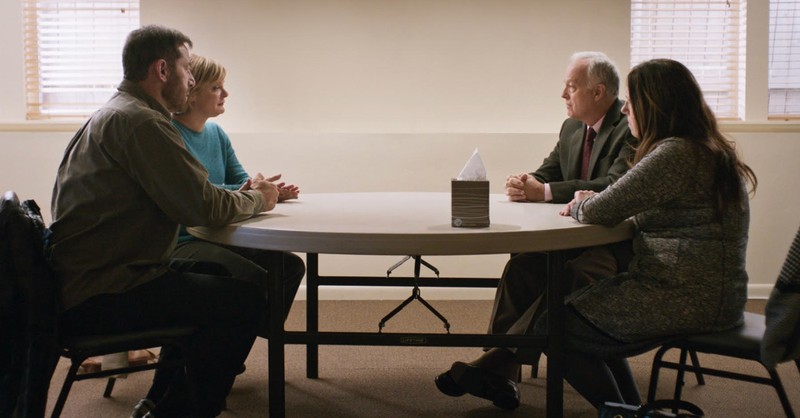 Jay and Gail are a grieving middle-aged couple searching for answers – about the past, present, and future.
Their quest for answers began when their teenage son was killed by another teen boy in a mass shooting that grabbed national headlines. They want to know: Why did it happen? Could it have been avoided? What did the other family know?
They've studied the history of the killer. They've been to court. They've seen a therapist.
Still, they're filled with emotional pain that follows them wherever they go.
And now they're scheduled for a one-on-one conversation with the parents they hate – the parents who raised the boy who ended their son's life.
The unscripted conversation will take place in a room at a church with no one else present. No attorneys. No counselors. Just a table and four chairs.
The meeting will be difficult, yes. But will it lead to the answers and healing they desperately need?
The new film Mass (PG-13) tells the gripping story of this emotional-laden meeting.
Here are four things you should know about the movie:
(Warning: spoilers!)
1. It's not a 'Christian' Movie … But
Mass is not a Christian film – at least, not in the traditional sense. It involves gut-wrenching mature themes ("I raised a murderer," one of the moms says). It includes PG-13 content that rarely makes it into faith-based films (details below). The writer and director, Fran Kranz, told Crosswalk he doesn't consider himself religious, although he was raised Catholic and said he feels "at home in the church."
Despite these caveats, Mass is one of the best movies – much less one of the best faith-centric movies – you'll ever see. The topics – healing and forgiveness – form the heart of Scripture. The film's setting – a quiet church room adorned by a prominent wooden cross – only adds to the movie's spiritual focus. A joyful church worker showers the couple with love and kindness, but then goes to a separate part of the building so they can be alone to talk.
The final 10 minutes of the film includes a gospel-centric moment that is as powerful as any movie scene I've experienced.
Kranz said the church setting "felt necessary."
"I just thought something would be lost if this movie took place in a private home, that something would be lost if it took place in a community center," he told Crosswalk.
He was inspired by the words of South African Bishop Desmond Tutu, who he quoted as saying, "Forgiveness, reconciliation and reparation are not the normal currency of political discourse. … They're far more at home in a religious realm."
2. It's Simple yet Engrossing
Mass succeeds in spite of what it is: a film that largely takes place in one room. It opens with a scene showing one of the couples driving to the church, and it closes with a scene showing the two couples leaving. Stuck between those bookends is a solid hour of heart-warming and heartbreaking discussion that's a painful balm for the soul.
The two couples don't leave the room until they find a resolution. Tension fills the air. No punches are thrown – but the anger is palpable.
The quartet of actors – Jason Isaacs, Martha Plimpton, Reed Birney and Ann Dowd – are excellent. It's a film carried not just by dialogue but by voice inflection and up-close facial expressions.
"I think what these people do is so extraordinary -- to sit in a room or sit across from a table from people that they are at odds with, disagree with, or in this case … hate," Kranz said. "[And they] work through that."
Kranz hopes the movie can inspire today's world – leaders and everyday citizens – to sit down and talk civilly with those they disagree.
"This is something that should be celebrated and seen more," he said.
3. It Asks Tough Questions
The plot of Mass involves a mass shooting, although the questions it raises can apply to most tragedies in our lives: Why did it happen? Could we have stopped it? How do we move on? Some are answerable. Most are not.
The couples celebrate the happy memories from their boys' lives – sharing old pictures and funny stories – although they each know pain is just around the corner.
"I know the world would have been better without him. I can't say I would have," the mother of the teen gunman says.
They want to visit the past and erase everything that happened that day … but they can't. Thus, they forge ahead, searching for peace.
The film urges the viewer to take the subject of mental health seriously, even if it acknowledges there are no easy solutions. (The shooter had seen a therapist.)
"I hope the experience of watching the film gives [moviegoers] permission to feel what they feel [and] to be able to have a conversation," Dowd told Crosswalk.
4. Its Encourages Forgiveness
The best films in Hollywood give us plots with an unfixable problem – and then solve it. Mass does that.
Jay and Gail, the grieving couple of the murdered boy, beat around the bush with a conversation about traffic and weather before they finally demand answers.
"Why do I want to know about your son? Because he killed mine," Gail says.
"He destroyed your lives – all of our lives," Jay says.
Jay's goal is to see the parents of the teen murderer punished. Deep down, though, he knows that won't heal the pain. It also won't bring back his son.
Gail is battling similar emotions.
"I can't live this way anymore," she says through tears.
Both are searching for purpose in their son's death. Both are looking for answers. Jay and Gail want to forgive. They want to enjoy life again. They just don't know how to do it.
The forgiveness and reconciliation in Mass isn't neat and tidy. Angry words are exchanged. Tears are shed. Hearts, though, are at least partially mended – even if the couples walk out of the church with many miles left on their journey of healing.
The forgiveness and reconciliation in Mass is biblical … and real. Toward the end of the film, we hear the hymn Blest Be the Tie that Binds, sung by a church choir that is practicing in another part of the building. The words echo through the walls, offering hope: "Before our Father's throne," the choir sings, "we pour our ardent prayers – our fears, our hopes, our aims are one, our comforts and our cares."
Jay, who was leaving, stops in his tracks to listen. His face lights up. The hope he so desperately needed has been found.
Mass is rated PG-13 for thematic content and brief strong language. Language includes: f-word (1), misuse of "Jesus" (3), s--t (2), misuse of "God" (2).
Entertainment rating: 5 out of 5 stars
Family-friendly rating: 3 out of 5 stars
Photo courtesy: ©Bleecker Street
---
Michael Foust has covered the intersection of faith and news for 20 years. His stories have appeared in Baptist Press, Christianity Today, The Christian Post, the Leaf-Chronicle, the Toronto Star and the Knoxville News-Sentinel.