4 Things You Should Know about Jurassic World: Dominion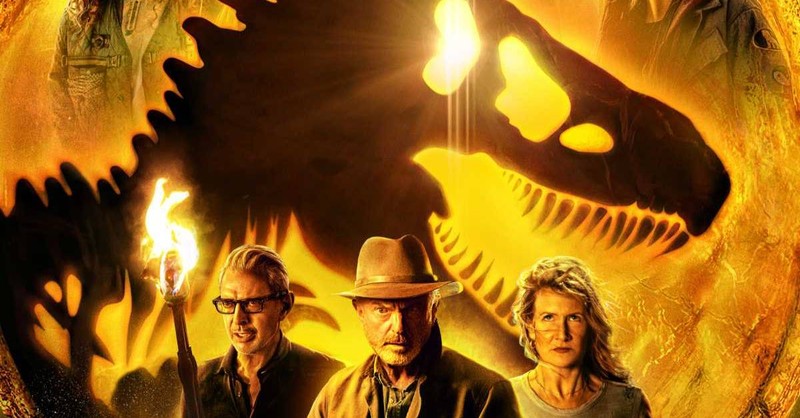 Three decades have passed since the deadly events of Jurassic Park, and as the television news host tells us, humans have yet to find a way for dinosaurs to "live safely among us."
They're roaming the countryside. They're flying over our cities. They're swimming in our oceans.
That's okay, though, because Congress has a plan. It awarded "sole collection rights" to the private company Biosyn Genetics, which collects the dinosaurs and relocates them to the mountains of Italy, where they live safely and are studied by scientists for groundbreaking medical cures.
"At Biosyn, we're dedicated to the idea that dinosaurs can teach us more about ourselves," says CEO Lewis Dodgson (fans of 1993's Jurassic Park might remember that name).
But paleobotanist Ellie Sattler is skeptical. She believes Biosyn may be to blame for an influx of worldwide locust swarms -- swarms that involve giant, genetically engineered insects that eat every plant in sight.
Sattler wants to infiltrate Biosyn and investigate. Will she succeed?
The new film Jurassic World: Dominion (PG-13) is the latest movie in the Jurassic Park/World series, telling the story of a world where dinosaurs and humans are learning to live together.
Here are four things you should know about it:
It's the Final Film in a Landmark Franchise
You likely know all about the Jurassic Park series -- but if you don't, this section is for you. Jurassic World: Dominion is the final chapter in a double trilogy that began with 1993's Jurassic Park, a groundbreaking film directed by Steven Spielberg that told the story of a wildlife park on the fictional island of Isla Nublar with scientifically engineered dinosaurs. (Scientists used dinosaur DNA to bring them back to life). The original story is based on a novel by author Michael Crichton about a park where things quickly go awry. The sequels, 1997's The Lost World: Jurassic Park and 2001's Jurassic Park 3, also were set on islands.
The story was resurrected with 2015's Jurassic World, which told the story of a new wildlife park built on the ruins of the old one with genetically engineered dinosaurs, while in 2018's Jurassic World: Fallen Kingdom, the dinosaurs escape to the mainland due to human hubris and greed (although that doesn't take place until the film's final moments). Now in Dominion, humans and dinosaurs are tenuously co-existing.
The first and third Jurassic World films were directed by Colin Trevorrow (J.A. Bayona handled the middle chapter), a fan of the first trilogy. Kristoffer Polaha, who was his roommate at New York University, said Trevorrow had a concept for the series two decades ago. Polaha has a role in Dominion.
"We saw Jurassic Park 3 in 2001 [in the theater]," Polaha told Crosswalk. "...He turned to me when the lights in the theater came back on. And he's like, 'I know what they should do next.' And I said, 'What?' And he's like, 'They've gotta get the dinosaurs into the real world.' And he had the entire thing in his brain. And he's like, 'And what they can call it is Jurassic World.'"
At the time, Trevorrow was in his mid-20s.
"It's a vision that he's seen," Polaha added.
It's a Mix of the Old and the New
Much like Star Wars: The Force Awakens and Top Gun: Maverick, Jurassic World: Dominion blends the characters from the original story with characters from the new franchise. The three core characters of the first Jurassic Park film are back. Laura Dern reprises her character as Ellie Sattler, the energetic paleobotanist who will risk life and limb to save any dinosaur in danger. Sam Neill is back as Alan Grant, a paleontologist who is pleasantly surprised to learn Sattler is now single (in Dominion, she tells him she recently divorced). Jeff Goldblum returns as Dr. Ian Malcolm, the brilliant, wise-cracking mathematician who believes it was a monumental mistake to bring dinosaurs back into our world. In Dominion, he is working for Biosyn Genetics, serving as its unofficial ethical voice and questioning the company's every move. (Goldblum was the only one of the three who appeared in 2018's Fallen Kingdom).
This trio of Jurassic Park stars teams up with Owen Grady (Chris Pratt) and Claire Dearing (Bryce Dallas Howard), their adopted daughter Maisie Lockwood (Isabella Sermon), and two new characters -- Biosyn's Ramsay Cole (Mamoudou Athie) and journeywoman Kayla Watts (DeWanda Wise) -- to stop Biosyn's evil CEO, who wants to destroy the planet's crops with a swarm of genetically modified monstrous locusts (they're a least a foot long and -- yes -- they're disgusting). The CEO's plan is to sell Biosyn-produced seed that is immune to the locusts.
Meanwhile, Biosyn is searching for Maisie, who lives with Owen and Claire in a remote cabin and who is the world's only cloned human, a biological replica of Charlotte Lockwood, the late daughter of Benjamin Lockwood (played by James Cromwell in Fallen Kingdom), one of Jurassic Park's founders. Biosyn believes Maisie's body holds secrets to scientific advances.
It's a Fun Ending to a Blockbuster Story
Few among us attend Jurassic Park/World movies for complicated plots. Instead, we watch these dinosaur-centric movies for the, well, dinosaurs. Dominion delivers here in a big way, giving fans material that was not included in the first five films.
We watch dinosaurs chase our heroes over the rooftops of Malta's historic buildings and then through its narrow streets. (I often whispered to my seatmate, "I don't see how they're going to survive this"). We see a dinosaur leap out of the sea and snack on a fisherman's massive catch of king crab (hundreds were in the cage). We also chuckle as workers for a logging company "coax" a gigantic plant-eating dinosaur off their property so that everyone can get back to work.
Dominion has plenty of violence, although it remains bloodless and within the boundaries of previous films in the series. We see dinosaurs eat people at least two or three times, although the camera quickly cuts away to limit the on-screen carnage. The film contains no sexuality and a moderate amount of language (details below).
The film's ending leaves the door slightly open for a future film, although none are in the plans. And, no, there are no mid-credit or end-credit scenes.
It's about Ethics, Redemption and Adoption
Dominion may be "only" a dinosaur film, but it has plenty to chew on for critical-thinking moviegoers.
Dr. Ian Malcolm delivers a message antithetical to Scripture, telling a classroom of students that humans "have no more right to safety or liberty than any other creature on this planet."
"We not only lack dominion over nature, we're subordinate to it," he says. (Genesis 1:26 says exactly the opposite).
Yet Malcolm's warning about the ethical boundaries of science is spot-on. The plot of Dominion includes a cloned human. It includes a character whose DNA was altered to eradicate an ailment. It includes a CEO who is willing to threaten the world's food supply for money and power. Of course, it also includes genetically engineered dinosaurs that were created for -- you guessed it -- money. Scientists, Malcolm says, "pressed the button and hoped for the best" even though history tells us there are always unforeseen consequences. That remains true today.
The plot has positive messages about guilt, redemption (Ramsay Cole, Kayla Watts and Dr. Henry Wu all live with regret) and adoption (although Maisie's mother is deceased, Owen and Claire become the parents she needs). It also includes a quick reference to heaven: Owen, believing he is on the verge of dying, tells Claire, "I'll see you again."
Jurassic World: Dominion nicely wraps the franchise up with a bow while leaving room for (potential) future films. If you enjoyed the previous five films, you'll probably like this one, too.
Rated PG-13 for intense sequences of action, some violence and language. Language details: s--t (5), h--l (1), d--n (4), a-- (2), OMG (5), misuse of "God" (1), b----rd (1). We also see Maisie make a crude hand gesture.
Entertainment rating: 4 out of 5 stars.
Family-friendly rating: 3 out of 5 stars.
Image credit: ©Universal Pictures
---
Michael Foust has covered the intersection of faith and news for 20 years. His stories have appeared in Baptist Press, Christianity Today, The Christian Post, the Leaf-Chronicle, the Toronto Star and the Knoxville News-Sentinel.
Related podcast:
The views and opinions expressed in this podcast are those of the speakers and do not necessarily reflect the views or positions of Salem Web Network and Salem Media Group.