Bedtime Stories Brings Imagination to Life
Rebecca Cusey

Crosswalk.com Contributing Writer

2008

23 Dec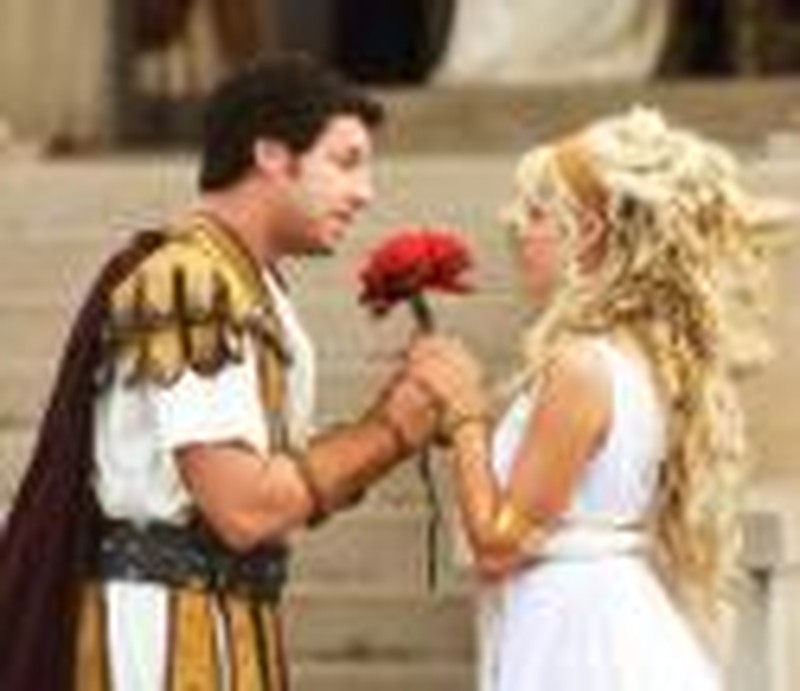 Adam Sandler, star of such movies as You Don't Mess with the Zohan, The Wedding Singer, and Happy Gilmore, is growing up.

Father to a newborn and a toddler girl, Sandler shared his reasons for making Bedtime Stories, a whimsical film about imagination which opens Christmas Day.

"All my friends have kids now. We were all excited to be in something that we could play in the house and feel comfortable with our kids seeing," said Sandler at a recent press event for the movie. The result is a light-hearted, hilarious, and rollicking film that takes kids and their parents everywhere from a hotel to the gladiator's arena to a space fight.

Big Dreams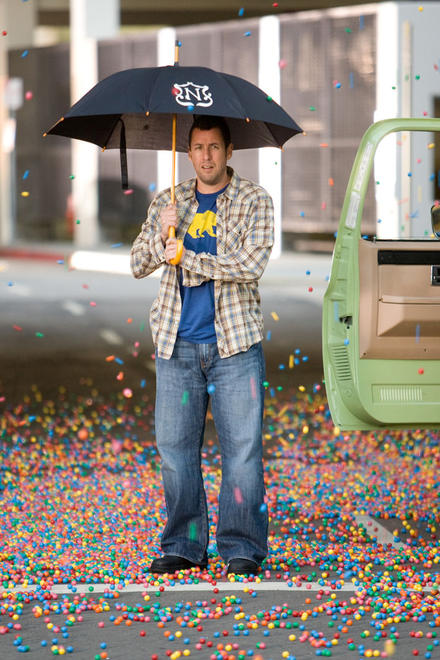 Sandler plays Skeeter, a lowly handyman at the hotel his father founded. His fondest dream is to run a family oriented and magical hotel like his father did before selling to the money-grubbing Mr. Nottingham (Richard Griffiths). However, he is far from that dream and suffers under the thumb of his rival Kendall (Guy Pearce), who never misses a chance to humiliate Skeeter and butter up Mr. Nottingham, even going to the extreme of dating Nottingham's Paris Hilton-like daughter, Violet (Teresa Palmer). When Skeeter's sister Wendy (Courtney Cox Arquette) needs to fly out of town for a job interview, he agrees to babysit her two kids. Patrick (Jonathan Morgan Heit) and Bobbi (Laura Ann Kesling) live a Spartan life, with no TV, no non-Organic food, and little imagination. The film includes a brilliant send up of Bobbi's birthday party in which all the food is organic, gluten-free, and tastes like cardboard, driving hordes of children to descend on Skeeter begging for doughnuts.

Not fully trusting her flighty brother, Wendy enlists the help of her straight-laced friend Jillian (Keri Russell) to keep an eye on both Skeeter and the children. This turns out to be a good idea because Skeeter wastes no time in moving the children and their guinea pig to his pad at the hotel, filling them full of forbidden food, and hanging out with his goofy friend Mickey (Russell Brand). Skeeter, a freewheeling, wild at heart bachelor, calms the kids, and also Mickey, before bed by making up stories as his father had done. Unlike other bedtime stories, however, the Skeeter's yarns start to invade real life.

Skeeter always takes the role of hero in the stories, which are acted out on-screen. He is Sir Fixalot in Medieval times, battling the pompous Sir Buttkiss, and plagued by the shrewish raven Jillian. The children, however, take over the story and change Jillian into a Mermaid and interject a rainstorm of gumballs just for fun. When Skeeter gets caught in a real-life gumball storm, he realizes there's power to the stories. He revises his yarn every night, conjuring up Jeremiah Skeets in the Old West rescuing a lovely lady, Skeetacus the gladiator jumping elephants Evel Knievel style, and Skeeto in space battling Kendallo and a giant booger monster. All the stories have a common goal: To end Kendall's dominance and allow Skeeter the underdog to win, but they all take a wild twist when the children impose their own imaginations on Skeeter's. As time goes on, Jillian's role in the stories, and in life, changes as well. Originally cast as the harpy, she morphs into a Fair Maiden.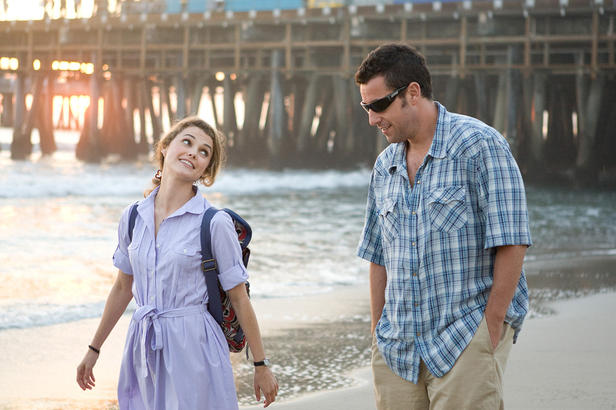 Good, Clean Fun

The film is funny, very funny, without being off-color, which was Sandler's goal. "I do have kids now," he said, "I always wanted to do a family movie. I always loved every Sunday night we'd watch the Disney movie. A lot of times kids see my movies anyway, but their moms yell at me. I wanted to make sure I do one movie in my career that moms hug me for. This might be it." In addition, Russell Brand, known from MTV and other outlets for his outlandishly deviant persona, manages to project a wild innocence which is very child-like and funny.

Sandler shared that, although he made the movie in hopes his own children would watch it, the reaction at home weren't quite what he'd looked for. When he ran it for his toddler daughter and his dog Baboo, the little girl, as toddlers do, decided she wanted to watch it "later." Sandler kept running it despite her wishes, so she turned to the dog and said, "Baboo eat daddy's movie." Sandler quipped, "So, not a great review."

A toddler's whims aside, this movie is fun and full of imagination. It highlights a whimsical quality of childhood, the ability to turn even a hotel room stay into an adventure and the belief that gumballs can rain from the sky. In telling stories, Skeeter connects with and learns to love his niece and nephew, which makes it a story about family and spending time together. However, the interjection of imagination also does something more. The stories contain all their fondest wishes, wishes that perhaps are too dear to pull out in the bright light of reality. In the world Skeeter's builds with the children, anything can and does happen. Then, the hopes and dreams of imagination spill out into real life. They create a world where there are no limits, nothing standing in the way of dreams. Then they work to translate that limitless quality into real life.

Sandler is proud of his family movie and the opportunity it affords for generations to share an afternoon of laughter and adventure. "I loved it and had a great time," he said, "Me and Keri are both new parents. It's bizarre. When kids are laughing in the audience, I tear up and I'm so happy. I think I did a good thing when kids are laughing and it gives a place for parents to take their kids. My mother sometimes takes my kids to a movie and it's so nice for grandma to spend some time with the grandkids."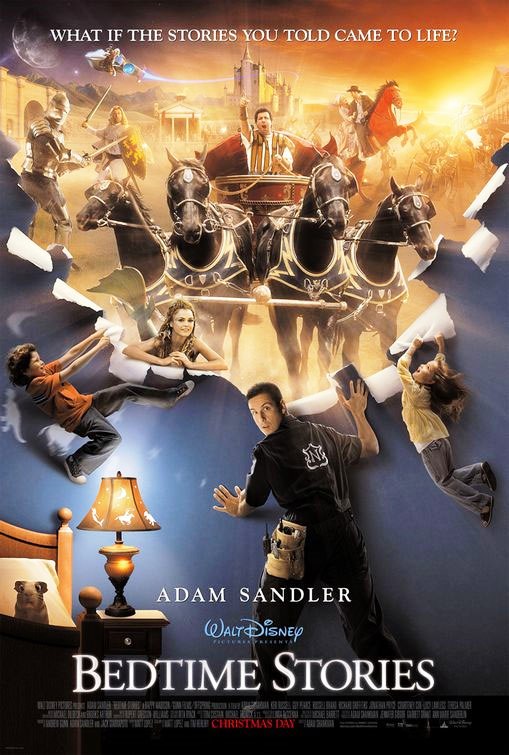 Photos courtesy of Walt Disney Pictures.

Opening nationwide on Christmas Day, Bedtime Stories is rated PG (for some mild rude humor and mild language) and stars Adam Sandler, Keri Russell, Courtney Cox Arquette and Guy Pearce. Click here for more information.