8 Hilarious Comedies That Will Brighten Your Day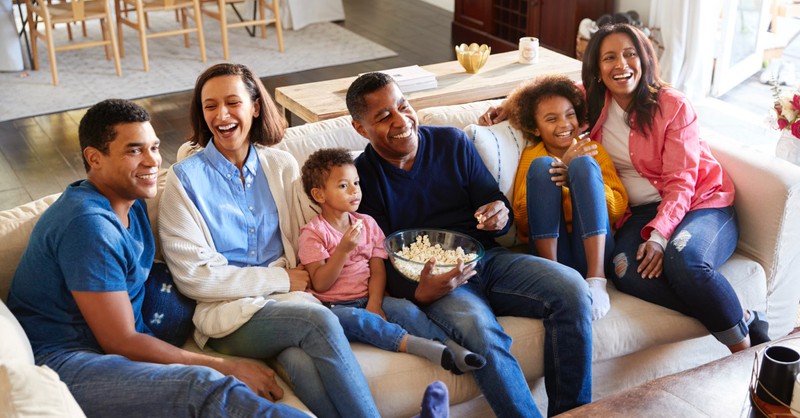 Comedies. Most of us love them, and while finding quality comedies that don't leave us cleaning our ears out may be challenging, the fact remains, we all need a good gut-busting laugh now and then.
I recall growing up on some good ones. Anything with Don Knotts tripped my humorous trigger, and while he was before my time and I was watching reruns from Disney, it didn't change the fact that good humor is timeless.
Humor is also long-lasting, in that it stays with you, if it's done well. I may have squealed when I saw the Apple Dumpling Gang had made its way onto Disney Plus. I could re-watch Don Knotts over and over again, indoctrinate my children to his timeless, slapstick antics, and revel in the fact that I didn't have to plug their ears.
If you're looking for good comedies that will brighten your day and leave you with a smile. Look no further! I've compiled a list of some favorites that hopefully you will enjoy too. While type of humor shifts from movie to movie, you can't deny that sometimes, all we need in life a good laugh over a silly story line, delivered by masters of the comedic trade.
While many of these masters have drifted into the off-color and mind-numbing elements of humor, we can still dig out that old VCR – or just use a streaming service—to find ones that won't disappoint.
1. The Princess Bride – 1987
This list wouldn't even be right if The Princess Bride didn't top it.
Granted, the movie has some nonsensical elements to it. You may need to "prepare to die" of laughing. Don't watch the movie if you want anything to make sense. It wasn't meant to be a literary treasure turned cinematic. But the telling of the story of the princess bride, from a grandfather to his grandson, shows what great storytellers grandpas make.
It's a mix of romance, magic, fantasy, and an overwhelming amount of comedy delivered with straight face and all seriousness.
2. Father of the Bride – 1991
Carrying on the "bride" theme, Steve Martin bursts onto the screen as an anxious, overwhelmed father who is not at all ready to watch his daughter walk down the aisle. The movie is both funny and touching, with lines and emotions delivered only as Steve Martin can.
Clean and fun, it highlights the daddy/daughter relationship, the chaos of wedding planning, the extremism some go to prepare a phenomenal wedding, and all the mishaps that can follow. Prepare to laugh at heart-warming scenes and walk away satisfied.
3. The Muppet Movie – 1979
We're reaching further back into the archives and digging up an old classic that everyone should be introduced to. And this is only the beginning of the Muppet movie empire that leaves us snickering as it draws from the slapstick, old-time comedy style of Laurel and Hardy, to the sarcastic one-liners of Steve Martin, and the funny, nonsensical humor of Chris Farley.
It's hard not to laugh out loud at the characters that make up the Muppets. If you can get past the odd pairing of Kermit the frog and Miss Piggy, you'll be introduced to a wild, head-banging drummer, a weirdo, and a loveable teddy bear (to name a few). My guess is, most of you know who the Muppets are, but if you don't, rush to introduce yourself. You'll laugh. Guaranteed.
4. The Incredibles – 2004
Don't underestimate the power of a great animated flick! The Incredibles is Pixar's humorous take on a retired superhero and his wife, and also their remarkably talented but uninspired children. When a deviant determines to take over the world, retirement is no longer an option.
It's funny to watch the take on middle-aged superheroes as they stuff themselves back into super suits and attempt to reconnect with their younger amazing selves. The humor is clean, family-friendly, and you can't deny Pixar brings cartoons to animated life and makes you forget you're not watching real people.
The lines are delivered with classic comedic talent and the script is worth every moment.
5. Elf – 2003
Not many of Will Ferrell's movies can make the comedic list without a content warning, but Elf pretty much takes the cake as not only a Ferrell classic, but a Christmas comedy classic as well.
Sidestep a few mild cuss words, and you've got a funny telling of "Buddy", raised as one of Santa's elves, but now on a hilarious quest to reunite with his father. Contrast Buddy's ability to find the good in everything with the cynical backdrop of New York, and you can imagine the hilarious Christmas escapades he gets into.
With Ferrell's ability to draw laughs from his exaggerated expressions to his flamboyant personality, Elf will be a comedy you can watch all year. Even if Christmas movies aren't your thing, Elf takes you past Christmas and deep into the land of laughter.
6. Jumanji – 2017
Creators of the new Jumanji reboot did the classic proud by continuing and expanding on its humorous take of a rather terrifying game.
With this new set of players, Jumanji transports its people into a video game setting from which they must escape. Unfortunately for them, they don't get to retain their actual bodies, but instead are placed into the gaming characters' roles. This opens the door for a lot of laughs and many awkward, funny moments.
Even their death scenes are funny, as, being characters, they've been gifted with only three lives. This borders on the Looney Tunes explosions and bombs dropping humor which, if you have even the slighted funny-bone, will made you howl. While there is a little crude language and some potentially off-color implications, overall, it's an enjoyable movie that leaves you smiling long after the credits roll.
7. Instant Family – 2018
You almost can't go wrong with this movie. The fun chemistry between Mark Wahlberg and Rose Byrne brings together a laugh-out-loud story of a married couple diving into the agonies and comedies of foster care.
When they bring home three siblings, the honeymoon period leaves them feeling well prepared and capable as foster parents. But, as life begins to unfold, so too does the humorous and heart-touching moments between parents and children. The humor is delivered in memorable one-liners and fabulous dialogues. It's hard to even press "pause" on this solid family comedy, and aside from some mild language, it's a family movie that everyone will find something hilarious to laugh at.
8. Liar, Liar – 1997
If anyone knows comedies and how to deliver the most exaggerated sense of humor, it's Jim Carrey. In Liar, Liar, we find him wrestling with the curse of telling the truth—all the time.
While at the outset it seems like a no-brainer, as honesty is the best policy, even the viewers begin to wince and giggle as we realize how often we're not completely honest. Being well-versed in painting a rosy picture, or sidestepping the truth, Carrey's character comes face to face with the reality that: the truth hurts.
Both the teller and the hearer. But in a way only Carrey can, he delivers this message with hilarity and side-splitting moments that can only leave us gasping for air. Plus, the added bonus of watching a flubbed-up dad try to make amends and repair relationships with his family, is also entertaining.
I mean, who doesn't enjoy a truth-telling father who can only attempt to glue his mouth shut so he doesn't say something else that will land him in a heap of honest-to-gosh trouble?
It's interesting as you look for a good comedy to watch, how many of today's comedies have crossed the line of well-delivered humor into gross, over-the-top, raunchy stories. When you're looking for a feel-good comedy, you may have to sift through a lot of graphic humor, obscene language, sexual innuendos, and long strings of four-letter words.
But the good news is, good comedies do still exist. Whether they're old 1979 Muppet classics or a more current Netflix original, you can find them if you're willing to look. And don't underestimate some of the other classics hanging out there that make a good rerun. Like, Tommy Boy, Planes, Trains, and Automobiles, Groundhog Day, Opportunity Knocks, and more.
And interestingly enough, if you go into the kid's section of many of the streaming services, you will find "comedies" aimed toward the younger viewer that is just as funny for the older viewer too—and typically far cleaner.
It's a trick we've used often and not come up short. Animated flicks provide a lot of humor, and if you've ever watched Toy Story, you know how entertaining they can be in and of their own right.
Not to mention, there are some great family-friendly shows being made for Disney Plus and even Netflix that are challenging the comeback of the clean to mostly-clean comedies we heralded in the '80s and '90s.
So settle back, find a good comedy, and be prepared to laugh. In this world? We need laughter. More than ever.
Photo Credit: ©Getty Images/Monkey Business Images
Jaime Jo Wright is the winner of the Carol, Daphne du Maurier, and INSPY Awards. She's also the Publishers Weekly and ECPA bestselling author of three novellas. The Christy Award-Winning author of "The House on Foster Hill", Jaime Jo Wright resides in the hills of Wisconsin writing suspenseful mysteries stained with history's secrets. Jaime lives in dreamland, exists in reality, and invites you to join her adventures at jaimewrightbooks.com!