5 Reasons I Still Believe Is One of the Best Films You'll Ever Watch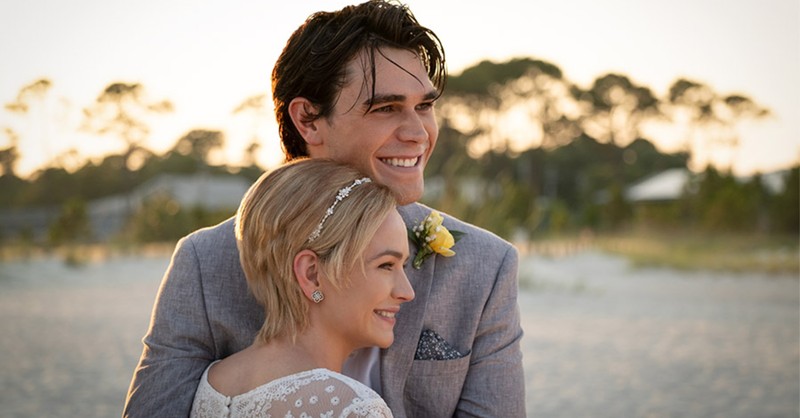 Editor's Note: You and your family can now watch this film on all major streaming services.
Jeremy is an outgoing college freshman with a heart for God and a passion for music. As his father says, it's "a gift." He is also a single man who has fallen for a fellow classmate, Melissa. Never mind that he's known her only for five minutes, or that she's involved with someone else, or that she doesn't yet know his name. 
He's going to pursue her – and perhaps write a song about his feelings, too.
"I'm Jeremy," he tells her, awkwardly, in their first conversation. "I saw you tonight. I mean, I was watching you."
Perhaps that's not the best pick-up line, but Melissa eventually warms to his innocence, his voice, and his faith. She falls for him, too, and soon, their relationship is so close that marriage seems certain. But before Jeremy can propose, Melissa is diagnosed with Stage 3 ovarian cancer and facing a grim prognosis. 
She's scared – yes – but she remains steadfast in her faith.
"If one person's life is changed by what I go through, it will all be worth it," she says.
The new film I Still Believe (PG) is based on the real-life story of Jeremy Camp and his first wife, Melisa Henning, who met one another at Calvary Chapel Bible College in California. 
It stars K.J. Apa as Camp, Britt Robertson as Melissa, Gary Sinise as Camp's father, and Shania Twain as Camp's mother.
Here are five reasons you should watch it:
Photo courtesy: ©Lionsgate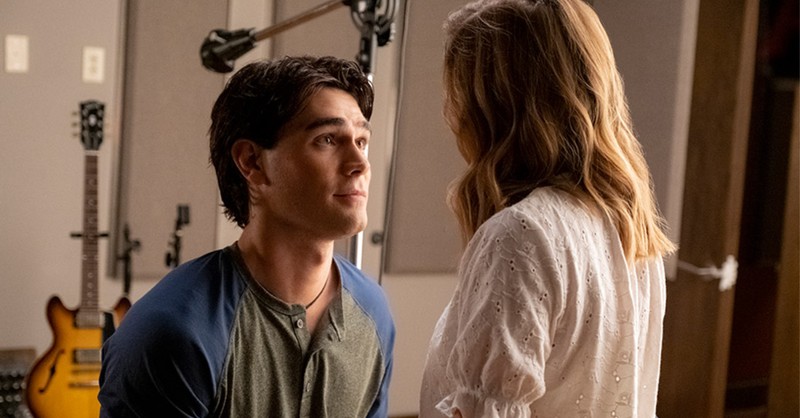 1. It's the Latest Film from the Erwin Brothers
I Still Believe was co-directed by the same tandem, Jon and Andrew Erwin, who also made I Can Only Imagine (2018) and Woodlawn (2015) – two faith-based films beloved by moviegoers and mainstream critics alike. Moviegoers gave the latter two movies an A+ CinemaScore rating, while Rotten Tomatoes critics certified both films "fresh" (meaning that at least 60 percent of critics liked them). Imagine and Woodlawn are the only two faith-based movies ever to acquire an A+ CinemaScore grade and a fresh Rotten Tomatoes rating.
Here's the good news: I Still Believe may be the Erwins' best movie yet.
Photo courtesy: ©Lionsgate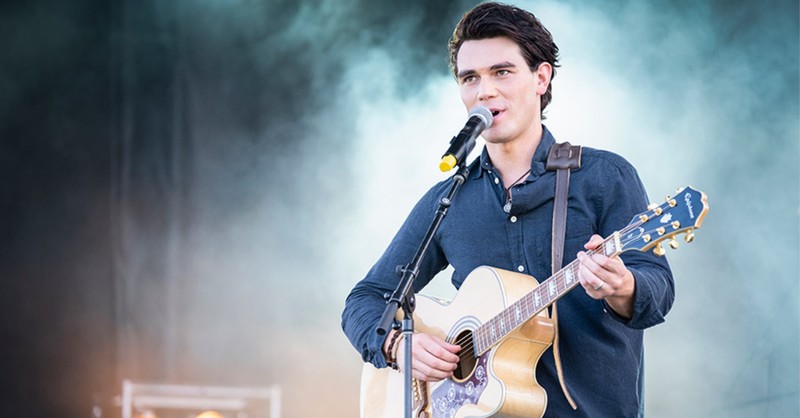 2. It's Uplifting and Gripping
I Still Believe has drawn parallels to I Can Only Imagine, but the two plots are radically different. (The newest film, unlike its predecessor, is a romance.)
I Still Believe is gripping even though many moviegoers know how the story ends. Perhaps that's because we're captivated and inspired by the plot: a young man falls in love with a woman who is eventually diagnosed with cancer, but instead of backing off, he asks her to marry him. She grows closer to God each day until her final breath, and he never leaves her side. He then writes a song, I Still Believe, about his faith in the midst of sorrow.
The story forces us to ask tough questions: Would we face death with such courage? Is our faith strong enough to withstand a similar trial? And is our love for our spouse as deep as it should be?
Photo courtesy: ©Lionsgate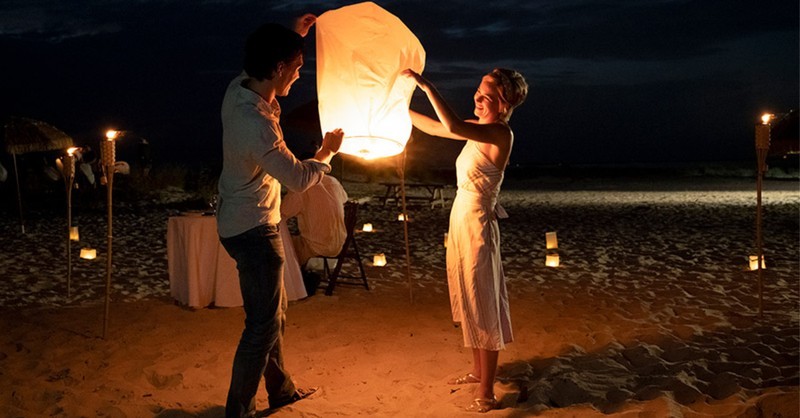 3. It Spotlights Biblical Love … and Till-Death-Do-Us-Part Commitment
Our self-absorbed offers a me-centric, "what-can-you-do-for-me" type of love. That false view of love impacts everything around us: song lyrics, TV plots and – of course – divorce rates.
I Still Believe offers something different … and better. That's because it spotlights a God-authored, Christ-centric love, with self-sacrifice and commitment at its core. It's the love that is patient and kind, that isn't self-seeking and doesn't keep a record of wrongs. It's the love that always perseveres.
"In today's narcissistic culture, where everything is about making me happy, this [film] offers the complete opposite," Jon Erwin told Crosswalk.
The love in I Still Believe, he said, is "love as it should be."
"It's loving sacrificially. It's loving selflessly," he said. "It's laying down your life for someone that you love."
The film addresses other biblical themes, too, including prayer and miracles. Some of Jeremy's prayers are answered the way he wanted. Others aren't.
How do you react when your prayers aren't answered the way you wished? And what happens when the miracle you desired doesn't materialize? The movie doesn't provide all the answers, although it points to eternal truths – and to the providential tapestry of God – that can provide comfort.
"I think this film is going to create a lot of conversations that can bring people hope and healing as they come out of the theater," Jon Erwin said.
Photo courtesy: ©Lionsgate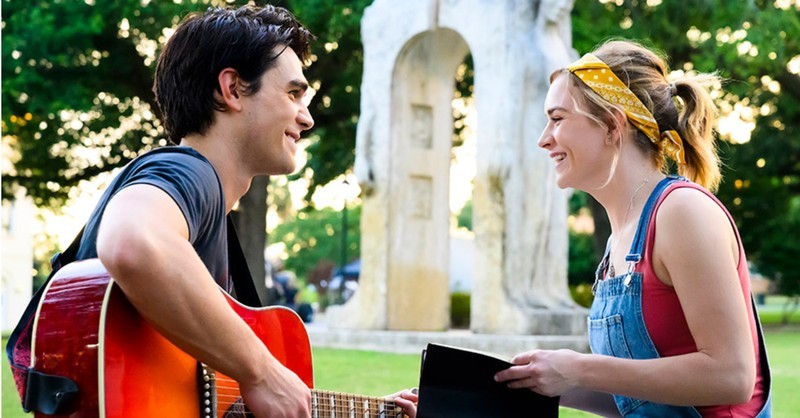 4. It Has Great On-Screen Chemistry
K.J. Apa and Britt Robertson are only acting, but it sure seems real. Their stellar on-screen chemistry pulls you into the plot and doesn't let go until the credits roll.
They previously starred together in another movie, A Dog's Purpose.
Apa recommended Robertson for the role in I Still Believe.
"[He said,] 'Whoever we cast as Melissa has to be somebody I deeply care about. And it has to be real chemistry between us,'" Andrew Erwin told Crosswalk. "And we just said, 'Who have you worked with that you really loved and enjoyed?'"
That person was Robertson.
"So he contacted her on Instagram," Erwin said. "And we started talking to her. She read the script, fell in love with it and said, 'I'll do anything to play this role.'"
Apa plays the guitar and sings in I Still Believe. Erwin estimates that about 80-85 percent of the vocals are from Apa. The rest are from Mike Donehey of Tenth Avenue North.
Photo courtesy: ©Lionsgate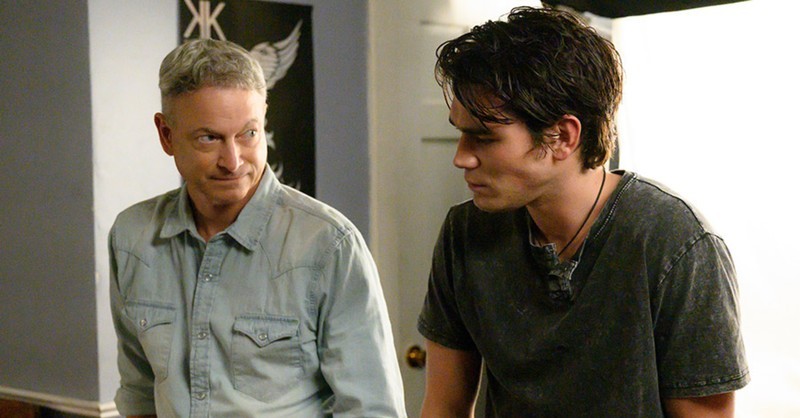 5. It's a Romance for the Whole Family
Perhaps you've never taken the entire family to a romantic film. Frankly, I can't blame you.
I Still Believe, though, is a romance the whole family can enjoy. It's free of the coarse language and sexuality that fills most romantic films, although it has thematic elements – discussion of death and disturbing scenes of a cancer patient dying – that may trouble younger children.
It's a film every teenager and single person needs to see. It's a movie married folks should watch, too. That's because it's a story that models the sacrificial love of Christ.
The inclusion of Apa and Robertson gives the film crossover appeal. Seventeen Magazine, a mainstream publication, named it the most-anticipated romantic film of the year.
"What's interesting is that when teenage girls see the movie, they don't say it's too innocent. They actually say, 'I want to be loved like that,'" Jon Erwin said.
The movie – if you're curious – doesn't end on a down note, but instead brilliantly weaves the next chapter of Camp's life into the plot. You'll walk to the car wiping away a tear, but inspired.
I Still Believe is rated PG for thematic material.
Entertainment rating: 5 out of 5 stars
Family-friendly rating: 4.5 out of 5 stars
You may also like: 4 Inspiring Spiritual Lessons from I Still Believe
Photo courtesy: ©Lionsgate
---