5 Streaming Movies for the Family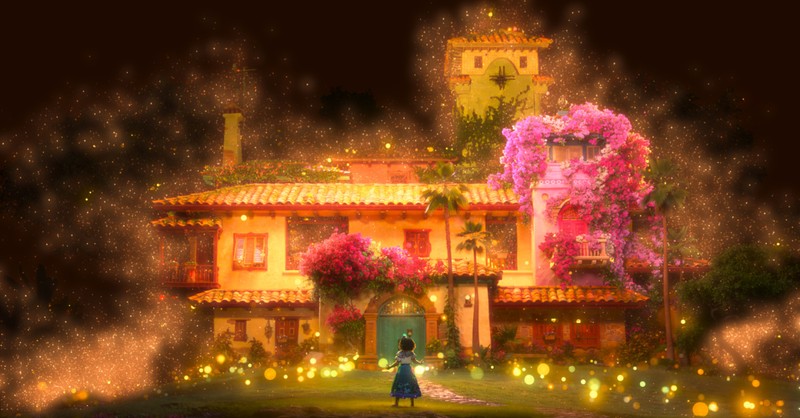 There are so many movies out right now; sometimes, it's difficult to figure out what to watch for family movie night. Granted, there are the classics that rarely steer you wrong. I mean, who doesn't want to introduce their children to The Princess Bride, National Treasure, Jumanji, or Night at the Museum?
With streaming services, the menu just expanded exponentially from classics to the new. Not to mention they're consistently updating with more options and choices almost every week! So, we tried to do some homework on your behalf and give you a list of some fun family movies that fit various styles and aren't so old that they're classics. In fact, some are almost brand new!
We narrowed it down to the Disney+ Streaming Service to help you have a one-source stop for family movie night, and we tested these as a family. See our honest opinions below:
1. Encanto
If you haven't heard of this new Disney release, you may be way more out of touch with cinematic releases than you thought. With music written by Lin Manuel Miranda, who is also responsible for the major Broadway hit Hamilton, we have an animated film based on the culture of Columbia.
The story revolves around a family where each member has a special ability or magical power, except Mirabel, an average person with no unique gifts. Throw in dissolving magic, a missing uncle, and a cast of colorful characters who are all loveable, and you have a delightful musical with culture, wit, and warmth.
Our family especially enjoyed that this Disney film did not have a viciously evil villain. Instead, it was the waning of magic and the why it was waning. Oh yes, we don't talk about "Bruno," and while one song makes him seem as though he will be evil, you will be delightfully surprised. We also appreciated the beauty of the Columbian culture that was pictured and how it was honored and respected through the film.
Encanto was a definite two-thumbs up for every family member in our house.
2. Luca


Photo credit: ©Disney
Travel to the Italian Riviera with this Disney animation that also recently hit the streaming service. The adventures of Luca and his new friend are fun and exciting, a perfect rendition of two boys getting into scrapes and challenges and competitions. Of course, there's a sticky wicket as Luca tries to help his friend hide the fact that he really is a sea monster from the sea, and their worlds aren't supposed to mix.
The colorful film is a delight to watch and a fun family film. Again, Disney dispensed with the magical evil villain that sends children into hiding. Instead, this film—like Encanto—focuses on the struggles of its characters and the coming together to overcome them. This movie is not a musical like Encanto, so if you're loading it up to listen to a great soundtrack, this will not be the film for that. However, it's a pleasant film that we felt was suitable for all ages.
Luca was a definite two-thumbs up for every family member in our house, surpassed by Encanto only because of the musical element.
3. Ice Age: Adventures of Buck Wild
If you are a lover of all things Ice Age franchise, you'll be excited to see a new installment drop onto your menu playlist. This movie is consistent with all the ones before, bringing back familiar characters, similar wit, and a fun adventure involving laughter, chaos, and mayhem.
This animation brings back the character of Buck Wild, who we met in Ice Age: Dawn of the Dinosaurs, and pairs him with Crash and Eddy, who are insistent on striking out on their own. Returning to the Lost World, they must go up against a rogue dinosaur who intends to be in charge of all the creatures. It's a funny film with a steady story. The main drawback for us is the primary characters' voices were replaced with new voice actors for this installment. We thought the replacements did a good job imitating the originals, but you could tell they were different, although they did their best.
We gave this movie two sideways thumbs. There wasn't anything wrong, but it was a probably-watch-once movie. A good choice for movie night for the family overall.
4. Raya and the Last Dragon
This movie breaks some animation stereotypes in that the leading heroine isn't a princess, there is no prince, and a villain, is a fellow, competitive female lead with as much to offer as the heroine.
The gist of the story is that the dragons and humans used to live together in a world of compatibility, but after their world is threatened, the dragons must give themselves up on behalf of the humans so that humans can survive. Years later, when the same threat returns, it's up to Raya to find the last known dragon and restore the world to what it once was. We enjoyed the fact that the warring factions of humanity had to learn to work together. The dragon was colorful and funny, with a creative and awkward personality that defies the stereotypical majestic dragon. Elements of loyalty, trustworthiness, and redemption are laced throughout the film, and it's another win by Disney when it comes to avoiding the terrifying villains with overwhelming yelling and maniacal laughter.
All in all, we watched Raya and the Last Dragon twice in one weekend, with the kids were enthralled in the Asian elements, the beautiful animation, the well-written characters, and the satisfying story ending. Again, this one is void of the typical Disney soundtrack, so it's not to be watched for musical elements or princess/prince stories. It's refreshing to see Disney stepping outside of the perfect princess box into flawed characters and realistic resolutions to relationships.
This was another two thumbs-up for us!
5. Shang-Chi and the Legend of the Ten Rings
If you're a Marvel fan, you'll have already watched this latest release in the Avengers timeline. This is a live-action film and not meant for younger viewers sensitive to elements of warfare, martial arts, and superhero/villain characters.
The movie finds Shang-Chi—or "Shaun"—hiding behind a typical American guy persona as he hangs with his friend Katy doing karaoke and going on car joyrides. But soon, it becomes clear that Shang Chi's past is definitely influenced by something far more unusual and influential. The Ten Rings organization and their influence soon bring Shang-Chi face to face with all he has left behind. Accompanied by Katy, Shang-Chi returns to his roots, reunites with his sister, and must go up against his own father in an epic battle in his mother's magical homeland. With dragons, powers, and Avengers' style impact, this movie is fast action and well done.
You do not need to have watched previous Marvel movies to understand Shang-Chi, although there are definite nods to other Marvel characters and themes. The movie has some language and coarse humor, so watch with some discretion. As for our Marvel-loving family, this movie hit a solid two thumbs up and landed at the top of the Marvel movie franchise for us!
There's something for everyone lately in the movie world. So pop some popcorn and have a look because, by the time you've finished this read, there will be even more out there for you to choose from! Have fun with the family this weekend!
Photo credit: ©Disney
Jaime Jo Wright is an ECPA and Publisher's Weekly bestselling author. Her novel "The House on Foster Hill" won the prestigious Christy Award and she continues to publish Gothic thrillers for the inspirational market. Jaime Jo resides in the woods of Wisconsin, lives in dreamland, exists in reality, and invites you to join her adventures at jaimewrightbooks.com and at her podcast madlitmusings.com where she discusses the deeper issues of story and faith with fellow authors.
Related podcast:
The views and opinions expressed in this podcast are those of the speakers and do not necessarily reflect the views or positions of Salem Web Network and Salem Media Group.