4 Things Parents Should Know about Abominable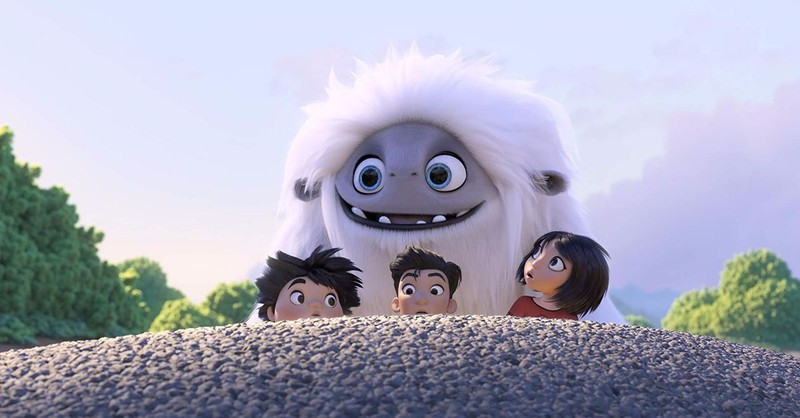 Yi is a pensive teenage girl in Shanghai, China, who can't get over her father's death.Normally, she's outgoing and happy. But lately, she's stayed in her bedroom to ensure she isn't forced to talk to her mother or live-in grandmother. Yi's too sad to think about what happened. "She misses her dad," her grandmother says.Yi also needs a friend. It just so happens there's a creature in the neighborhood who needs a companion, too.
One night, while playing her father's violin on the roof of her apartment building, Yi discovers a large, white, furry creature hiding in the corner. She's scared, yes, but soon realizes this creature is scared and in danger, and is being chased by an armed helicopter.
She helps it get away and then pledges to help this beast get home – wherever that is.
"I don't know where you came from, but you sure don't belong here," she says.
She learns the creature is a yeti – an abominable snowman – and grew up 2,000 miles away, on Mt. Everest. She names it "Everest" and sets out to help it return home.
The film Abominable (PG) opens this weekend, starring Chloe Bennet (Agents of S.H.I.E.L.D.) as Yi; Albert Tsai (Coop and Cami Ask the World) as her neighbor, Peng; and
Tenzing Norgay Trainor (Liv and Maddie) as Peng's cousin, Jin.
Here are four things parents should know:
Photo courtesy: DreamWorks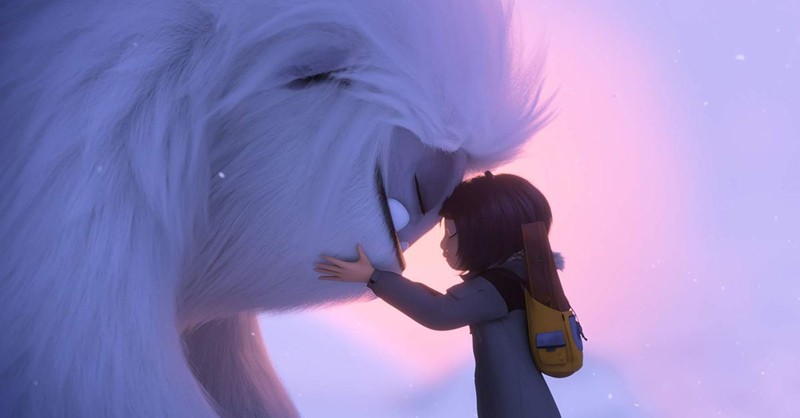 1. It's about Grieving … and the Importance of Family
Yi buries her pain by staying busy, hopping out of bed each morning and dashing out the door to do odd jobs – pet sitting, babysitting and working part-time for a restaurant. She hopes to use the money to travel across China and visit scenic sites her dad always wanted to see. But deep down, her busyness has a purpose: It prevents her from facing her pain.
Yi is emotionally distant from her mother and grandmother. She has – she confesses – yet to cry over her father's death. She doesn't want to think about it. 
Then Everest the yeti enters the picture. He's the companion she needs. Strangely enough, they have a lot in common. He, too, is grieving (he misses home). He, too, is running away from something (the bad guys). They become friends.
Abominable will have special meaning to moviegoers who have recently lost someone. It shows us the important role that family and friends can play. (Her mother and grandmother display great patience with her.) It also spotlights the need to honor the past while moving forward in life. 
It's a good message. Christian families, though, may want to take the lesson to a biblical level: God is "close to the brokenhearted" (Psalm 34:18) and "comforts us in our troubles" (2 Corinthians 1:3-4). God also – as the movie shows – places people in our lives to share in our sorrows.
Photo courtesy: DreamWorks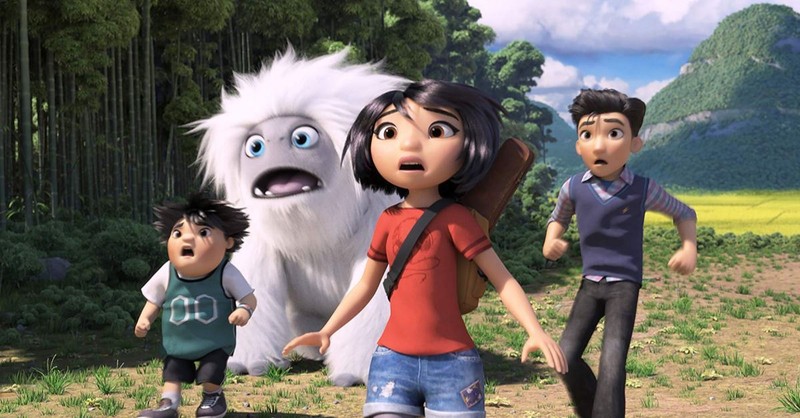 2. It's Cute … but Not Adorable
Abominable is enjoyable – my 11-year-old and I liked it – but it's not on the same level with other movies about a child who matured while befriending a creature. (E.T., the How to Train Your Dragon series and Pete's Dragon come to mind.) 
But even if it's not adorable, it's still cute – and at times, hilarious.  
Everest has an angry side but mostly is a lovable beast who wants to play and have fun. That's because – on the yeti scale of life – he is a child.
Many of his antics mirror that of a puppy (he loves rolling in the fields – and he's prone to making messes). And, like a dog, he has a protective instinct whenever Yi is in danger. He wants to get away from the bad guys and return home, but he wants to ensure Yi is safe, too.
Photo courtesy: DreamWorks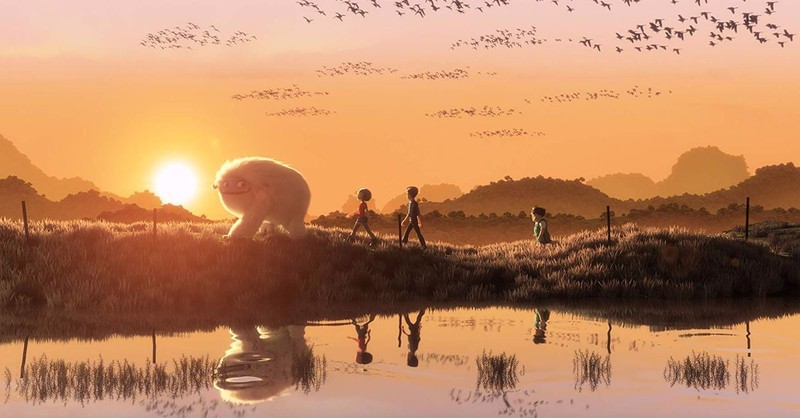 3. It's Beautiful … and Educational
Abominable is packed with awe-inspiring scenes – from the vast, snow-capped mountains of the Himalayas, to the yellow, lush valleys below, to the bright colorful nighttime skyline of Shanghai. It will make you want to book a trip to Asia … until you realize it might drain your bank account. 
The film also introduces children (and parents) to the Chinese culture. We see grandma ("Nai Nai") cooking large dumplings – the type seen in the Pixar short Bao. We experience the tight-knit family structure of the region (Nai Nai apparently lives with Yi and her mother). And we learn about a city and a landscape most have never visited. The film was made in partnership between a U.S. studio (DreamWorks) and a Chinese one (Pearl). 
Christian parents might want to be prepared for a worldview discussion, though. Yi's friend, Peng, says the stars are "ancestors who watch over us." And Li and her friends visit China's Leshan Giant Buddha, a 233-foot-tall structure carved around the 8th century that is important to Buddhists. Religious beliefs are never discussed, but the scene might spark questions.
Photo courtesy: DreamWorks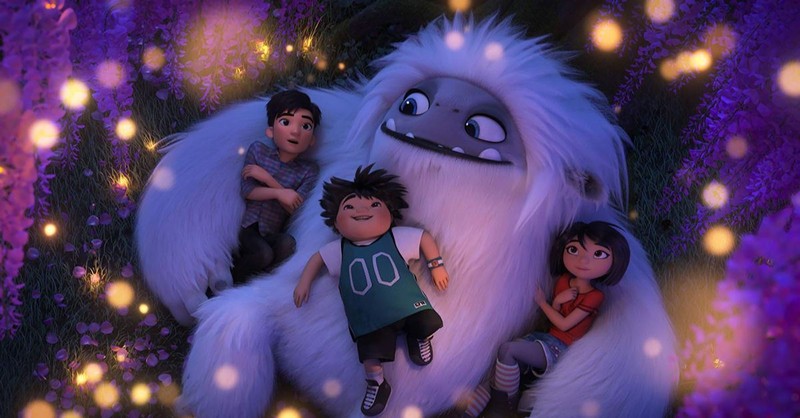 4. It's Mostly Family-Friendly
It's Mostly Family-Friendly
Abominable contains no coarse language (only two instances of "oh my gosh" and one "you idiot"). It has no sexuality or romance (even if Yi's friend, Jin, is popular among teen girls). And the violence is minimal, although it has a few disturbing scenes that might trouble sensitive children. Much of the film involves the bad guys – led by a wealthy man named Burnish and a zoologist, Dr. Zara – chasing Everest and Yi. 
We see Everest escape from a lab before he is chased through the city with dart guns. He climbs a building and a skyscraper, with helicopters hovering overhead. By the time he makes it to the valley base of the Himalayas, Dr. Zara gives orders to get rid of (presumably kill) Yi and to capture Everest, dead or alive. Yi falls off a bridge and is presumed dead, but survives. (The film has a happy ending.)
Meanwhile, Everest's magical powers may trouble some parents. He has the ability to magically grow flowers, plants and trees around him by closing his eyes and humming. ("Everest talks to nature," Yi's friend says.) It's a major element of the film I found to be awkward – yetis are supernatural? – but it comes in handy when he's being chased.
Abominable is rated PG for some action and mild rude humor. 
Entertainment rating: 3 out of 5 stars. 
Family-friendly rating:4 out of 5 stars.
Michael Foust is a freelance writer. Visit his blog, MichaelFoust.com.
Photo courtesy: DreamWorks
---