4 Things Parents Should Know about Jumanji: The Next Level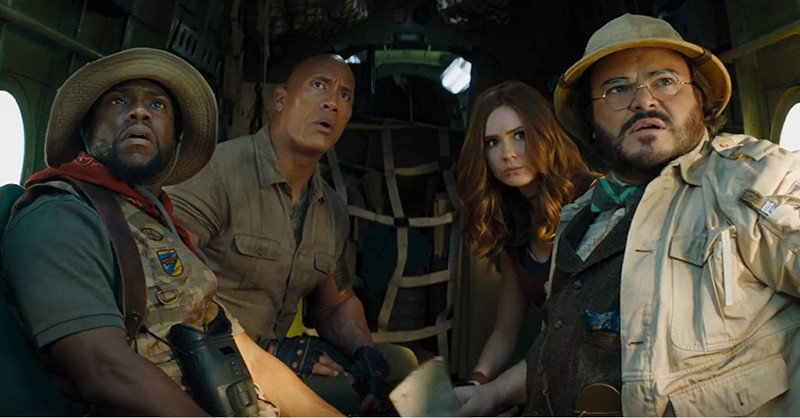 Spencer is a young college-aged man who is looking for a break in life. His boss constantly chews him out. He and his girlfriend recently split. And now his grandfather – who is recovering from hip surgery – has moved into his room.
"We're roommates!" his granddad says.
Spencer wants to be anyone else but the person he was born to be. He wants to – in the words of the airline commercial – get away.
Then Spencer remembers the magical Jumanji video game system in his basement. He and three friends were literally sucked into this game several months ago, and Spencer was transformed into a handsome, muscular male avatar. He loved it. Spencer and his friends eventually escaped, and they subsequently pledged never to play the game again.
Perhaps Spencer could play it just for a few minutes. No one will notice. Right?
It's all part of the new film Jumanji: The Next Level (PG-13), which stars Dwayne Johnson (Moana), Karen Gillan (The Guardians of the Galaxy series), Jack Black (Nacho Libre) and Kevin Hart (The Secret Life of Pets series) as the four primary avatars.
Here are four things parents should know:
Warning: spoilers ahead!
Photo courtesy: ©Columbia


1. It's all about Avatars
The Next Level is a sequel to Jumanji: Welcome to the Jungle (2017), which itself was a sequel to the 1995 film Jumanji starring Robin Williams. All three movies got their inspiration from Chris Van Allsburg's 1981 Jumanji book.
Although the 1995 movie spotlighted a magical board game, the 2017 and 2019 versions focus on a magical adventurous video game, in which real-world people are pulled into a video game world and are given avatars (that is, different bodies). In The Next Level, two elderly men, Eddie (Danny DeVito) and his friend Milo (Danny Glover), instantly become younger men (played by Johnson and Hart, respectively) and begin searching for Eddie's grandson, Spencer, who is lost in the game. They pair up with two of Spencer's friends, Martha (played in the game by Gillan) and Fridge (who was a black college athlete in real life but becomes an out-of-shape, middle-aged white man played by Jack Black). Their goal is to find Spencer but also to locate a shiny jewel that will help them win the game.
The film is at its best during its video-game-like adventure scenes. Eddie drives a jeep across sand dunes, desperately trying to get away from a herd of ostriches. Martha swings through trees, doing her best to solve a puzzle. Eddie takes on several dozen men, whipping each one.
Much like a video game, each character in Jumanji has three "lives."
Photo courtesy: ©Columbia


2. It's about Friendship and Forgiveness
The 2017 film spotlighted a diverse group of four high schoolers – a popular girl, a male athlete, and two quirky teens – who broke down the school's clique-ish barriers to become friends. In The Next Level, this foursome is now in college, but they still have each other's backs. Martha, Fridge and Bethany don't hesitate to help Spencer get out of the game, even though they know they might get stuck in it forever.
Meanwhile, Spencer's grandfather, Eddie, is battling his own relationship issues. That's because Milo – his estranged, long-time restaurant partner – wants to be friends again. Yet they can't decide who should apologize first. The video game forces them to confront their lack of forgiveness.
Photo courtesy: ©Columbia


3. It's about Self-Worth and Contentment
Spencer, a skinny teenager, enjoyed his transformation into a muscular avatar so much in the previous movie that he decides to go back. Unfortunately for him, he becomes a young woman (who's allergic to everything) in The Next Level. (He's not the only character who lands in an unwanted avatar body.)
His grandfather is struggling with his own feelings of discontent. Eddie hates growing old, and he tells anyone who will listen. He hates retirement. He hates his aging body. He hates the thought of depending on someone else.
But by the end of the film, the grandson and grandfather rediscover the simple pleasures in life – friends and family, among them – and they learn to appreciate who they are. They also grow closer to one another.
Photo courtesy: ©Columbia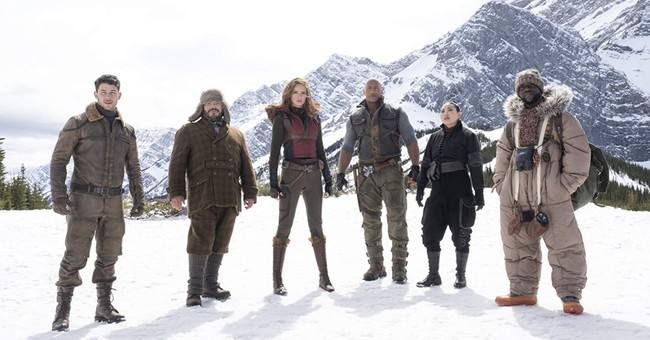 4. It Deserves its PG-13 Rating
The Next Level has a few semi-scary scenes that might frighten young ones – a bad guy named Jurgen the Brutal threatens to cut off peoples' heads, and ostriches nearly eat Eddie and the crew – but most of it is played for laughs. It also has dozens of video-game-like punches to the face. Characters also "die" (but quickly come back to life).
It earns its PG-13 rating with excessive language (including multiple GDs; see details below) and suggestive content (we hear jokes about bosoms and testicles). For a film aimed at families, it's very un-family-friendly. (Also, Gillan wears a skimpy, midriff-bearing outfit for most of the film, while the men wear, you know, clothes. Perhaps, someday, Hollywood will stop sexualizing female characters.)
The film's PG-13 content gets in the way of many positive messages families need to hear: Discover your talents. Don't try to be someone else. Learn to be content. Enjoy life's many blessings. Of course, you don't need a Hollywood film to learn that. But it's nice when a film mirrors what is taught at home.
Jumanji: The Next Level is rated PG-13 for adventure action, suggestive content and some language. Language details: H-ll (24), OMG (12), GD (7), d--n (3), a-- (2), s--t (2), misuse of "Christ" (1), SOB (1).
Entertainment rating: 3 out of 5 stars.
Family-friendly rating: 2 out of 5 stars.
Michael Foust is a freelance writer. Visit his blog, MichaelFoust.com.
Photo courtesy: Columbia
---
Michael Foust has covered the intersection of faith and news for 20 years. His stories have appeared in Baptist Press, Christianity Today, The Christian Post, the Leaf-Chronicle, the Toronto Star and the Knoxville News-Sentinel.