4 Things Parents Should Know about Raya and the Last Dragon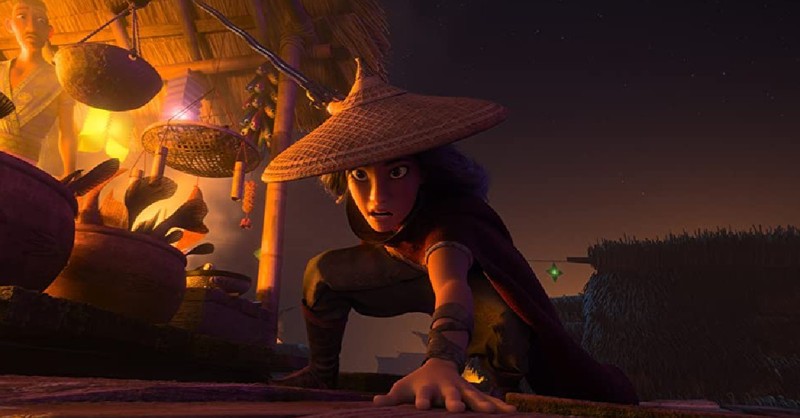 Raya is a courageous, optimistic young woman with an important task.
She and her family are the guardians of the "Dragon Gem," a bright, shining relic of the old world that was created by magical dragons and that protects her Asian kingdom, Kumandra, from evil. Without it, the people of Kumandra would perish.
Unfortunately for Raya, the rest of Kumandra wants it, too. This includes a cunning woman named Namaari, who deceives Raya in order to gain access to the gem with the belief it will bring her and her people prestige and influence.
Then, during a scuffle over the gem, it shatters into multiple pieces, weakening its power and putting the future of Kumandra in doubt.
But Raya has a plan. She will set off to a foreign land in search of the planet's last dragon, Sisu, who supposedly helped create the gem and still has the powers that could save Kumanda.
Will Raya succeed?
It's all part of Disney's new movie Raya and the Last Dragon (PG), which stars Kelly Marie Tran as Raya, Awkwafina as Sisu and Gemma Chan as Namaari.
Here are four things parents should know:
Photo courtesy: ©Disney
1. It's Loosely Based on Southeast Asian Folklore
Unlike the story ofMulan, which was based on a single Chinese poem/folk song written more than 1,500 years ago, Raya and the Last Dragon is an original story that was inspired by stories and traditions from Southeast Asia, a region that consists of 11 countries south of China/east of India. (China is not considered part of Southeast Asia.) According to the Hollywood Reporter, Disney formed a research team for the project that traveled to seven countries: Laos, Malaysia, Indonesia, Thailand, Vietnam, Cambodia and Singapore.
It was directed by Don Hall (Big Hero 6, Winnie the Pooh, Moana) and Carlos López Estrada (Blindspotting, Summertime).
"One of the things that moved [Hall and Estrada] the most and made the team really want to ground the inspiration of the film in Southeast Asia was the sense of community that they encountered, the sense of 'we,' the importance of 'we' over 'I,'" said producer Osnat Shurer. "It was so deep and so complete that they came back and we started diving into also the rest of the beauty, the textures, the fabrics, the food. That became the grounding principle, the inspiration behind this fantasy world of Kumandra."
Photo courtesy: ©Disney
2. It's a Different World … and Worldview
The animated world in Raya and the Last Dragon is colorful and awe-inspiring. But similar to Moana, Mulan and other Disney movies, Raya includes a magical worldview with its own creation-fall-redemption narrative.
"How did this world get so broken?" Raya asks early in the film. She then tells us: 500 years ago, the land of Kumandra was "whole," with people living harmoniously alongside each other – and dragons, too. The dragons were "magical creatures" that brought the people of Kumandra rain, water and peace.
But then the Druun came. It's a mindless plague that "spreads like wildfire" and turns everything it touches into stone. (The Druun looks a lot like a huge swarm of flies, if you're curious.)
The Druun defeated all the dragons except one. The dragons then concentrated all her magic into a gem and blasted the Druun away. The gem brought the people back, but not the dragons, who remained pillars of stones.
People then began fighting in an attempt to possess the gem. They also drew borders and divided into five kingdoms: Heart, Fang, Spine, Talon and Tail.
"We all became enemies," Raya says.
Throughout the film, it is implied that Raya and her people worshipped the dragons. (We see Raya and her father bow down to the gem, and we see people raising their hands to their forehead in an act of reverence each time they see a statue of a dragon.)
Of course, many children's movies include worldviews that differ from the Bible. Additionally, Raya and the Last Dragonhas plenty of positive messages. Still, it's nice to know what you're getting into before you open your wallet.
Photo courtesy: ©Disney
3. It's Original (and that's Good News)
Credit Disney for creating an original story – especially in a movie universe where remakes, sequels and spinoffs dominate the big screen. Since December 2018, nine of the 11 animated/partially animated theatrical films released by Disney and Disney-owned Pixar were either a remake, sequel or a spinoff.
Raya and the Last Dragon includes a fun plot, with a nod to scenes from the Indiana Jones films. It celebrates unique cultures – cultures most of us will never experience. It promotes a heroine whose qualities we can admire: courage, honesty and a desire for peace. It also delivers a cute-and-comical sidekick for Raya in Tuk Tuk, who looks like a cross between a pill bug (roly poly) and a weasel.
Some will compare it to Mulan – another film that spotlights a female Asian warrior – but the two stories have few similarities. That said, I enjoyed Mulan (the remake and the animated version) much more.
Photo courtesy: ©Disney
4. It's all about Trust
Raya and the Last Dragon includes messages about friendship and family, but its primary theme is trust. Early in the film, we learn Raya's father wants the five kingdoms to live together in harmony.
"If we don't stop and learn to trust one another again, it's only a matter of time before we tear each other apart," he tells her.
Raya takes that message to heart, but tragically is betrayed when she places her trust in Namaari, a female peer from another district. That leads to her embracing a cynical view of trust and believing "you can't trust anyone."
By the end of the film, though, she has a change of heart and sees the benefit of trusting others, even if heartache is a possibility. As she teaches us, someone has to "take the first step."
It's a message rooted in Scripture. Yes, the Bible tells us it's "better to take refuge in the Lord than to trust in humans" (Psalm 118:8), but it also encourages us to love and serve those around us. It even tells us to place the interests of others before our own. How are we to do that if we are always suspicious and cynical? Our trust, though, should be grounded in wisdom. Sometimes, we do have to take the first step.
Raya and the Last Dragon has no coarse language or sexuality. The violence, which includes sword fighting, kicking and even punching, could trouble sensitive children.
Raya isn't Disney's best family movie of the year. (For example, Flora and Ulysses, on Disney Plus, is better.) But if you're wanting to eat popcorn while watching a family flick, it may be worth a try.
Raya and the Last Dragon is rated PG for some violence, action and thematic elements. Content details: language (none), sexuality (none), violence (dragons and people turn to stone; Raya engages in a fight with sword-fighting, kicking and punching.)
Entertainment rating: 3 out of 5 stars.
Family-friendly rating: 3.5 out of 5 stars.
Photo courtesy: ©Disney
---
Michael Foust has covered the intersection of faith and news for 20 years. His stories have appeared in Baptist Press, Christianity Today, The Christian Post, the Leaf-Chronicle, the Toronto Star and the Knoxville News-Sentinel.