4 Things Parents Should Know about Tom and Jerry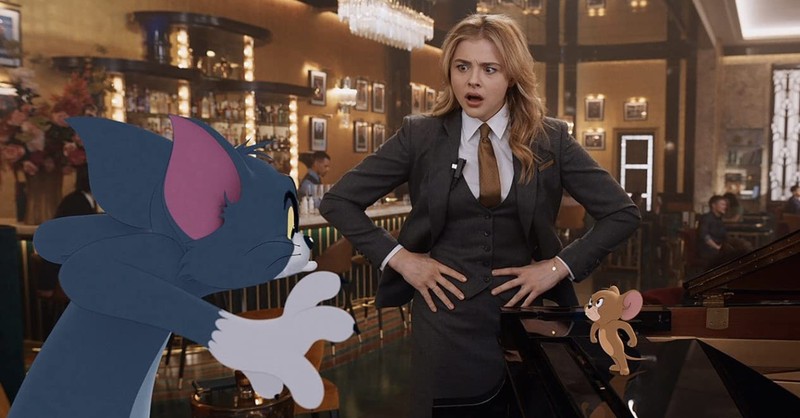 Kayla is a charismatic, go-getter young woman in New York City who is unemployed and badly needs a job.
She's also conniving.
So Kayla steals another woman's resume, puts on a smile, and lies her way into a temporary position within one of the city's high-class hotels.
Her job: assist the hotel's event coordinator in preparation for a high-profile wedding between two well-known personalities.
But things soon get out of control. First, an elusive mouse begins prowling through the hotel's kitchen. Then, the bride loses her ultra-expensive engagement ring. Then, the groom decides he wants elephants – yes, elephants – to take part in the wedding.
Crazy? Yes.
Kayla, though, has a plan. She'll hire a cat to catch the mouse. She'll find the ring. Once all that's done, the wedding schedule will go off exactly as planned. And the hotel will give her a full-time job. Right?
The new family movie Tom and Jerry (PG) follows the journey of Kayla as she befriends two animals — a cat named Tom and a mouse named Jerry — who have a reputation for mayhem.
It stars Chloë Grace Moretz (The Addams Family, The Fifth Wave) as Kayla, Michael Peña (Marvel movies) as her boss, and Ken Jeong (Crazy Rich Asians) as the hotel's chef.
Here are four things parents should know:
Photo courtesy: ©Warner Brothers
1. It's a Mixture of Live Action and Animation
Similar to Space Jam (1996), Looney Tunes: Back in Action (2003) and Pete's Dragon (1977), Tom & Jerry places animated characters in the real world and lets them interact with everyday people. It works marvelously.
Tom and Jerry don't talk to people (or to each other), yet they do communicate to Kayla and others through body language, charades and even writing.
This communicating-without-talking is a welcome change from the last full-length theatrical film about the famous duo, 1992's fully animated Tom & Jerry: The Movie, in which each character regularly spoke – an action that distracted from the characters' distinctive style of slapstick humor.
Photo courtesy: ©Warner Brothers
2. It's True to the Original Cartoons
The first Tom and Jerry cartoon was released in the 1940s by animators William Hanna and Joseph Barbera of the famous Hanna-Barbera tandem. They produced more than 100 episodes.
"I grew up on it," Tom Story, who directed the newest film, told Reel School host Michael Winn Johnson.
Fans of the original cartoon likely will enjoy the movie, which stays true to the look and feel of those classics from the 1940s and 1950s, as well as the ones from the 1960s (which were made under animator Chuck Jones).
All the popular elements of the old cartoons are in the new film, including Jerry floating through the air when he smells cheese and Tom growing hearts in his eyes at the first look of a female cat. Of course, Tom survives multiple brushes with death, too.
To prepare for making the film, Story said he "went back and watched all the original shorts."
The cartoon characters look a lot like traditional hand-drawn animation, even though it's computer-generated.
Story and his team found artists with experience in hand-drawn animation – artists with experience in the "old school" of animation. Those veteran animators then helped create software that mimics hand-drawn cartoons.
The goal was to make sure the characters "looked like" the Tom and Jerry characters of yesteryear. They do.
Photo courtesy: ©Warner Brothers
3. It's Hilarious
It's always best to watch a children's movie with … children. That's what I did. The verdict? It's hysterical – for kids and adults.
Much of the comedy is an echo of yesterday. Tom creates a super-complicated machine involving a string, a clothes iron and a cage — all to catch Jerry. (It sort of works.) Jerry strikes a match and starts a fire inside Tom's mouth in order to roast and eat a marshmallow. (Smoke soon pours out Tom's ears.) And Tom tries breaking into the hotel by scaffolding the outside of the building with nothing but toilet plungers (It's successful, but only temporarily.)
Story said he wanted to be true to the original material while expanding their world.
"They almost always fought in a house," Story said of the classic cartoons.
In Tom & Jerry, Story placed the comedy duo in a massive, high-class hotel.
"You give them a bigger stage, and then, of course, you put that stage inside of the biggest city – the craziest city – you can find. The city that gives you the most opportunity for mayhem. If you're going to have them destroy something, why not New York?"
Photo courtesy: ©Warner Brothers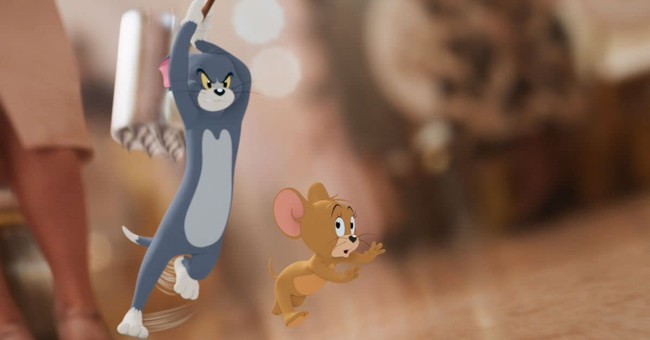 4. It's Family-Friendly … and Includes a Few Life Lessons
Story, the director, said he had his own children in mind when he created the film.
"I just wanted to make something that I could sit down with them and enjoy," he told Reel School.
He succeeded. The film has no sexuality and only minor language (details below). Of course, it has cartoonish violence, but it stays in the kid-friendly, Tom-and-Jerry-type comedic realm. (For example: Tom gets electrocuted multiple times by lightning, but never dies.)
Moretz and Peña shine with great on-screen chemistry.
The movie also includes a few life lessons: stop comparing yourself to everyone on social media (that's what Kayla did); forgive more and listen more (that's what Ben and Preeta, the wedding couple, need to do); and fess up when you've done something wrong (Kayla does that, although nearly too late). The plot even has a lesson about temptation, thanks to the angel and devil over Tom's shoulder.
Tom & Jerry isn't a perfect family film. But it's close.
Rated PG for cartoon violence, rude humor and brief language. Content details: Language includes OMG (2), a literal "OMG" (1) and a person saying "Why the Fi not" — in answering a question about WiFi.
Entertainment rating: 4 out of 5 stars.
Family-friendly rating: 4 out of 5 stars.
Photo courtesy: ©Warner Brothers
---
Michael Foust has covered the intersection of faith and news for 20 years. His stories have appeared in Baptist Press, Christianity Today, The Christian Post, the Leaf-Chronicle, the Toronto Star and the Knoxville News-Sentinel.