3 Things to Know about 12 Mighty Orphans, the Underdog Movie Based on True Events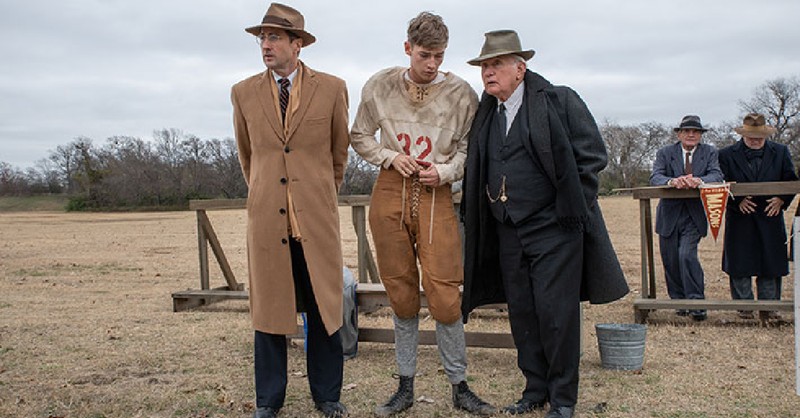 Rusty Russell is a brilliant but reserved man who has a new job and a new task: teach a group of high school-age orphans the game of football.
Russell has moved his wife and children to Fort Worth, Texas, in the middle of the Great Depression with the goal of launching a football program at the Masonic Home and School.
It will be fun, he says. It will teach them self-respect, he says.
It will also be difficult. The players have never played football. They aren't motivated. They have no shoes, no jerseys and no pads. They also don't have a football.
At first, the players push back on his efforts, refusing to learn the game. But then they begin to enjoy it. And then they get pretty good at it. And then they win their first game in a blowout.
Maybe Russell can succeed at the Masonic Home and School after all.
The film 12 Mighty Orphans (PG-13) tells the uplifting story of Russell and the Masonic Home and School, who find success in football and give the town something to cheer about in the midst of discouraging times.
As the narrator tells us, the orphans were the "classic underdog" story that the "common folk could get behind."
Luke Wilson stars as Russell, while Martin Sheen stars as the school's doctor and assistant coach.
Here are three things you should know about the film:
Photo courtesy: ©Greenbelt Films
1. It's Based on a True Story
The plot may sound like an "only in Hollywood" tale, but in reality, it's based on real-life events.
The true story, in fact, is even more impressive than the movie. In real life, the Masonic Home and School in Forth Worth dominated Texas high school football not only for a single year (as in the film) but for a decade, reaching the state semifinals in 1932, 1934, 1938 and 1940 (and the state title game in '32). The 1941 team went undefeated and probably would have won the title that year but was sidelined for the playoffs due to an ineligible player.
The Mighty Mites won games even though they were competing against teams with double and triple their enrollment.
The team's coach, Russell, was an innovator who installed a wide-open spread offense to take advantage of his players' small size and to counter the girth of other teams. Such an offense is a mainstay in modern football. Russell is a member of the Texas Sports Hall of Fame.
The true story was re-told in a 2007 book by Jim Dent, Twelve Mighty Orphans: The Inspiring True Story of the Mighty Mites Who Ruled Texas Football. (Dent also authored the popular book Junction Boys.)
Unfortunately for Masonic Home and School, its dominance ended when the U.S. entered World War II in 1941. They lost many of their best players, and Russell – seeing his hopes for a title dashed – moved to another school, Highland Park (where he coached the legendary Doak Walker).
Photo courtesy: ©Greenbelt Films
2. It's an Uplifting David vs. Goliath Tale
The best sports movies involve underdog stories with a compelling non-sports story as the backdrop. 12 Mighty Orphanshas both.
On paper, Masonic Home and School had no business competing with the best football teams – much less fielding a team. At times, they didn't even have a football. (The female students at the home sewed together a homemade cloth "football" and filled it with flour.) But once they were given uniforms and equipment (thanks to donations), they formed a remarkable bond.
The core of their bond was their shared status as orphans. ("No one cares about us," one of them says.) Shunned by society, they considered each other part of their family.
Russell, in the film, labels it a "David vs. Goliath story."
The uplifting, intriguing plot helps the film overcome a handful of hyperbolic moments. Martin Sheen, who plays the school doctor and also serves as narrator, helps carry the film.
Photo courtesy: ©Greenbelt Films
3. It Has Biblical Undertones
Scripture commands us to care for the orphan and the widow (James 1:27). Even though 12 Mighty Orphans isn't a faith-based film, it nevertheless leaves you shouting "amen" when Russell takes up for his players.
"This is supposed to be a place to nurture the broken and the weak – the ones with nothing left," Russell tells the school's headmaster when the latter is considering kicking out one of the boys.
Russell tells his players they are unique and special. At another moment during the film, his wife tells him there is a "purpose greater than football."
The movie shows the consequences of fatherless homes – most orphans lacked a dad but had a mom – while urging us to care for society's downtrodden.
The film's biggest downside for families is its PG-13 content. It has too much language for a film of this Disney-like genre (details below) and a couple of uncomfortable scenes of students getting paddled (by a character who is later arrested).
But if you can overlook the PG-13 rating, then 12 Mighty Orphans is an inspiring historical tale worth watching.
Rated PG-13 for violence, language, some suggestive references, smoking and brief teen drinking. Content details: Language includes d--n (25), h-ll (13), a-- (5), s--t (4), misuse of "Jesus" 1, misuse of "God" (1). The film includes a couple of jokes about sex and a brief scene (at night) of a nude male player from behind.
Entertainment rating: 3 out of 5 stars
Family-friendly rating: 3 out of 5 stars
Photo courtesy: ©Greenbelt Films
---
Michael Foust has covered the intersection of faith and news for 20 years. His stories have appeared in Baptist Press, Christianity Today, The Christian Post, the Leaf-Chronicle, the Toronto Star and the Knoxville News-Sentinel.
Related podcast:
The views and opinions expressed in this podcast are those of the speakers and do not necessarily reflect the views or positions of Salem Web Network and Salem Media Group.