4 Things to Know about Dude Perfect: Backstage Pass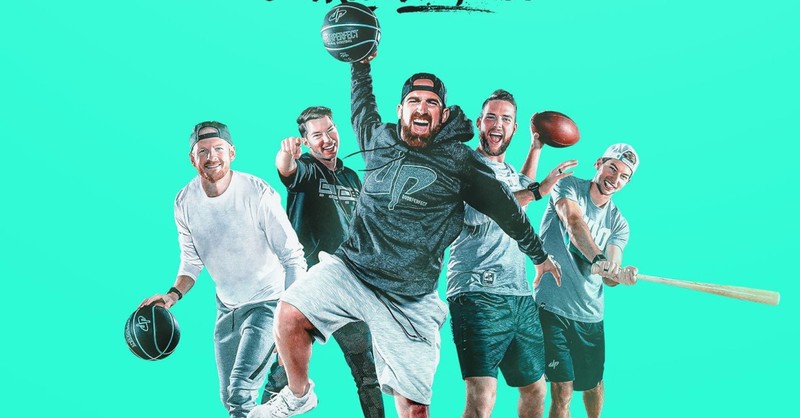 They have 51 million YouTube subscribers, their videos have been viewed 10 billion times, and they have a new documentary that was a must-watch among kids the moment it dropped. 
The quintet known as Dude Perfect didn't invent viral videos, but they were among the first individuals to make a living off them.
The new film gives fans a unique behind-the-scenes look at the group. Called Dude Perfect: Backstage Pass, it is a YouTube Original documentary that shows off their trick shots and comedy routines but also provides a peek at their family life and their strong Christian faith.
(Dude Perfect – if you're new to them – consists of Tyler Toney, twins Cory and Coby Cotton, Garrett Hilbert and Cody Jones.)
Here are four things you should know about the film:
Photo courtesy: ©Dude Perfect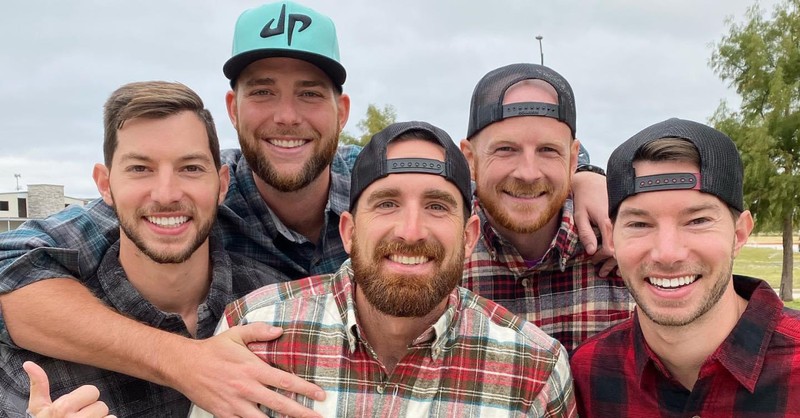 1. It's as Entertaining as Their Videos
Much of Backstage Pass follows Dude Perfect on their 2019 "Pound It Noggin'" tour – the first live acts of their careers. But it also recounts their history. They became friends in college and gained national attention with a basketball trick shot video that went viral and caught the attention of Sports Illustrated. Taking advantage of their surprise fame, they began releasing videos every other Monday.
"Our channel just exploded," Jones says.
They made a basket from an airplane, a helicopter and a blimp. They made one from the top of a skyscraper and the upper deck of a football stadium.
But to expand their base, they had to try something different. They launched into comedy with "Stereotypes" skits, which poke fun at various segments of society. They then started their Overtime episodes, which are similar to the variety shows of yesteryear. Backstage Pass includes samples of their entire routine.
"We do not want to do something you've seen before," Coby Cotton says of their video goals.
Photo courtesy: ©Dude Perfect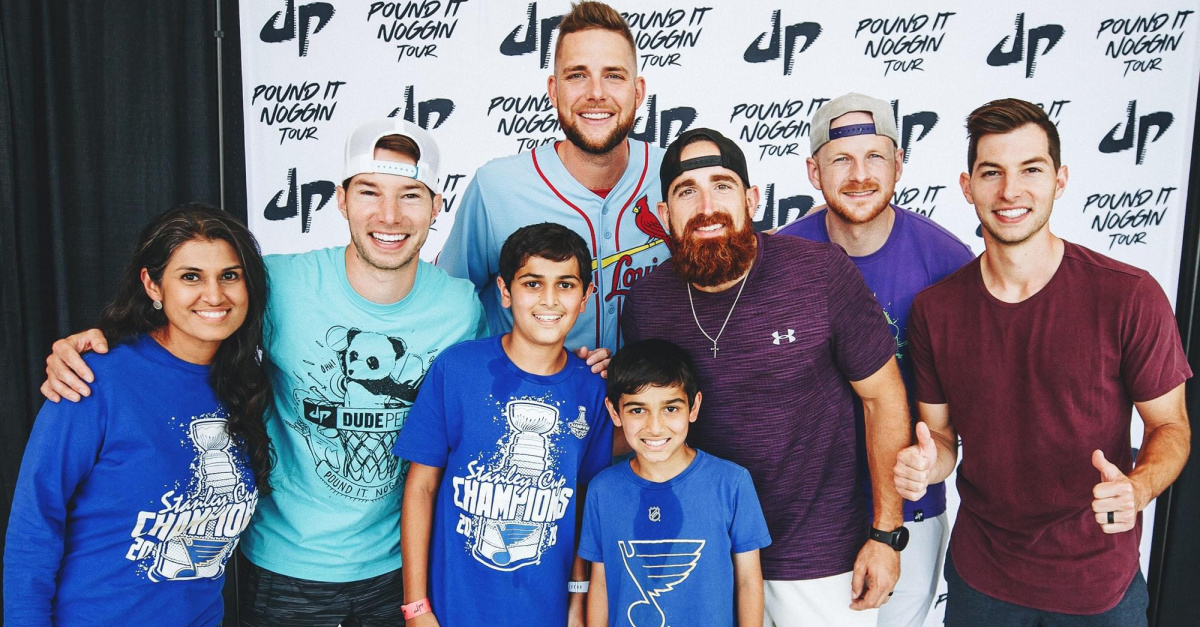 2. It Includes a Few Surprises
Hopefully, you already knew Dude Perfect's trick shocks aren't one-take wonders. If not, you'll learn all that in Backstage Pass.
The film's biggest surprise involves the group's near-split.
After college, they went their separate ways and lived in different cities with brand-new jobs. A few of the men got married.
Back then, the Cotton brothers ran the Dude Perfect YouTube channel on Mondays through Fridays, while on the weekends the five men would get together to film videos. The group followed this exhausting routine for about five years. Toney calls it the "most stressful" time of his life.
"We were about to just pack it up and be done," Jones says
The turning point came one weekend when – during filming – Toney's boss phoned and warned him against missing any more Saturdays.
Toney, Hilbert and Jones quit their jobs. Dude Perfect became a full-time endeavor. Soon, companies started calling. Deals rolled in. Dude Perfect launched a merchandise line.
"The Lord just took it to new levels," Hilbert said.
Photo courtesy: ©Dude Perfect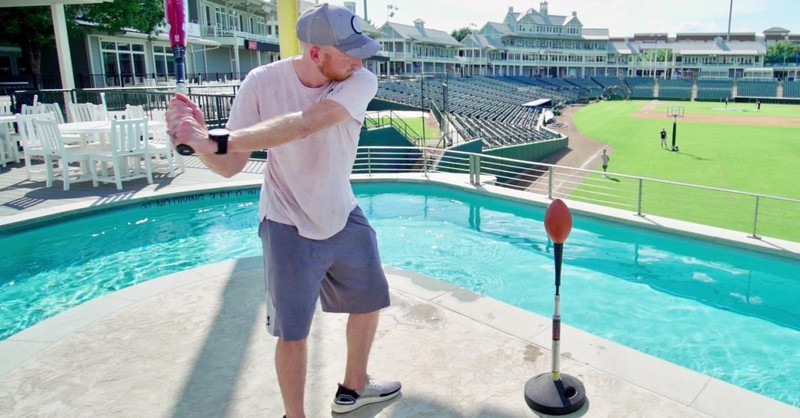 3. It's Safe and Enjoyable by 'Kids' of All Ages
There aren't many television shows and movies the whole family can watch.
But Backstage Pass is one of them. Like Dude Perfect's videos, it's free of coarse language and low-brow humor. Moms and dads can watch and enjoy it without diving for the remote.
It's a combination of jaw-dropping trickery, high-energy adrenaline, and hilarious comedy routines. It's a film you'd let your kids watch unsupervised -- if you didn't want to watch it, too.
In Backstage Pass, we see parents and teachers walk up to Dude Perfect's cast and thank them for keeping their videos kid-friendly.
"I never have to worry about your content," one teacher tells them.
Photo courtesy: ©Dude Perfect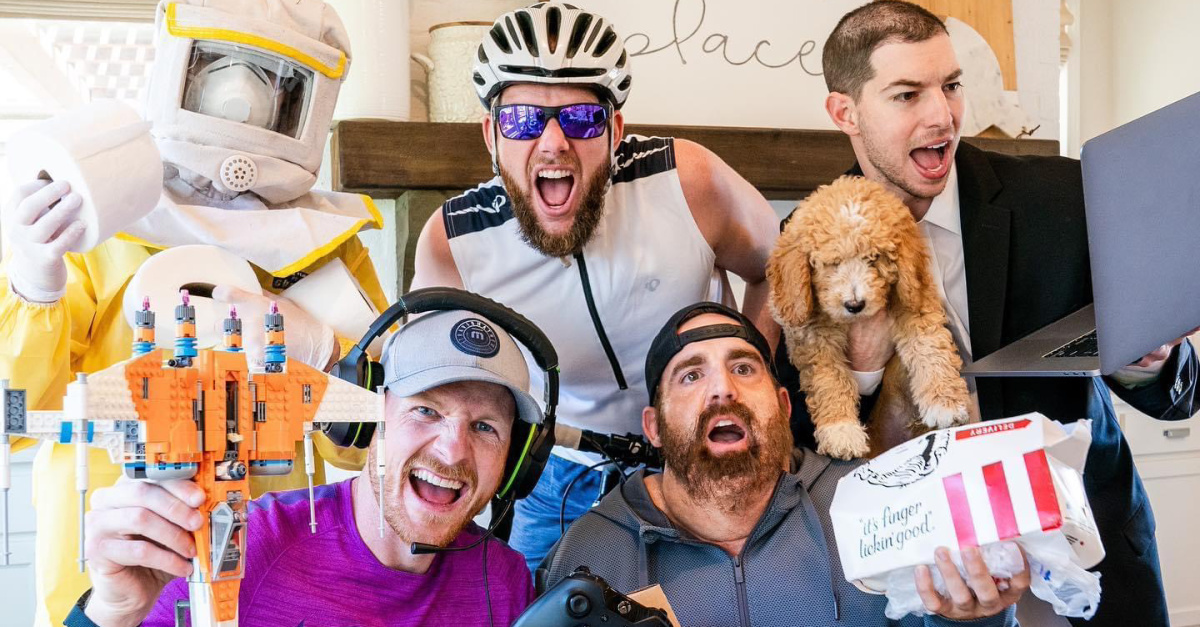 4. It Spotlights their Family and their Faith
Backstage Pass gives us a look at their personal lives. (All five men are married.) We watch them play with their children. We see them Facetime their kids from the road. We hear from their patient wives, who – after all – married men who quit their regular jobs to make a living off YouTube. ("We had to decide as wives … to say yes to this," Bethany Toney says.)
We watch the men visit sick children in the hospital. At one point, they even visit a kid at his home.
We also learn about their Christian faith.
"If we lost everything tomorrow, it doesn't matter. We know that the most important thing we have is Jesus," Hilbert says. "It's very important to the decisions we make and the content we produce."
Dude Perfect's goal of making their videos family-friendly, Coby Cotton says, was driven by their "faith in Jesus."
Faith, Toney says, is "really the underlying principle and theme behind everything Dude Perfect does."
We could use more men in the world like the men of Dude Perfect. I, for one, am glad my children watch them.
Dude Perfect: Backstage Pass is unrated. Treat as "G."
Entertainment rating: 4 out of 5 stars.
Family-friendly rating: 5 out of 5 stars.
Photo courtesy: ©Dude Perfect
---