4 Things to Know about Greyhound, the Faith-Centric WWII Film Starring Tom Hanks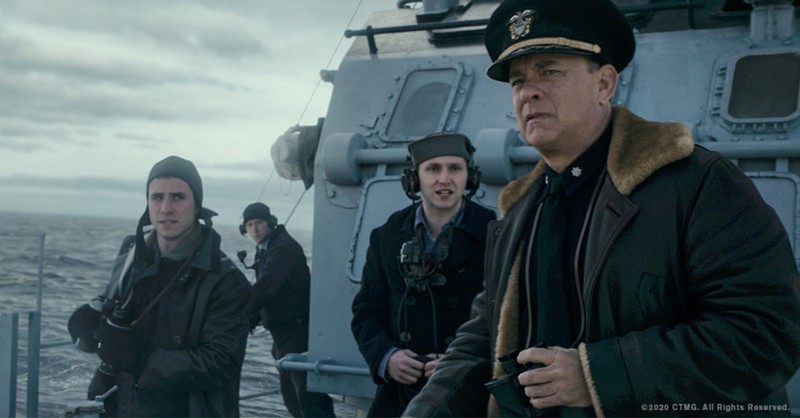 Ernest Krause is a brilliant-but-humble U.S. Navy officer who is set to lead his first warship across the Atlantic Ocean at the height of World War II.
His mission: guard 37 merchant ships from German "u-boats" – submarines that prowl eerily beneath the surface at night with the goal of destroying American ships before they reach British shores.
If he succeeds, then the ships (and their much-needed troops and supplies) will reach Europe and help the Allies push back the Nazis to within German's borders. But if he fails, Hitler will continue his evil march across Europe – and perhaps, the world.
The new film Greyhound (PG-13), now on Apple TV, tells the harrowing tale of Krause as he leads the destroyer Keeling (nickname: Greyhound) and its hundreds of sailors across the Atlantic on a five-day journey fraught with danger.
It stars Tom Hanks as Krause and was directed by Aaron Schneider (Get Low). Both are Oscar winners.
The movie originally was scheduled to release in theaters but went straight to streaming due to the pandemic.
The plot's strong faith elements have sparked above-normal attention among Christian audiences.
Here are four things you should know:
Photo courtesy: ©Apple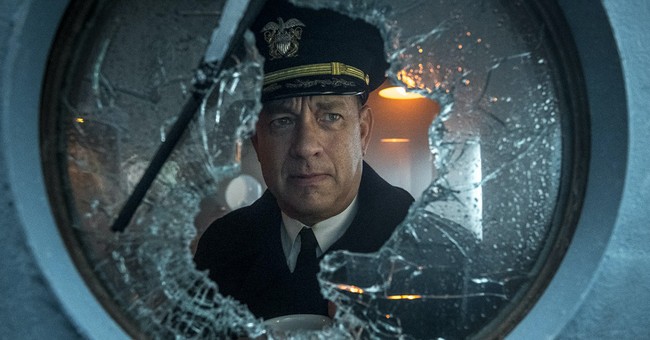 1. It's Based on a Novel
Although inspired by true events, Greyhound is based on a novel by British author C.S. Forester, The Good Shepherd(1955), which was published barely a decade after the end of World War II and was widely praised for its accurate details of the war. Although Forester is better known for his Horatio Hornblower series, Greyhound provided him an opportunity to write about a war he experienced first-hand: During WWII, Forester served as a British envoy to the United States.
Hanks wrote the screenplay. Although the primary character of Captain Ernest Krause is fictional, the story nevertheless depicts the real-life struggles that occurred daily on ships among officers and sailors.
Often, Krause only has one or two seconds to make life-altering decisions.
"There's incredible action as [Krause] fights the external war, but so much of the drama is the internal war: Am I good enough? Can I do this? I'm responsible for these men and this whole convoy. It's all on me," said executive producer Steven Shareshian.
Photo courtesy: ©Apple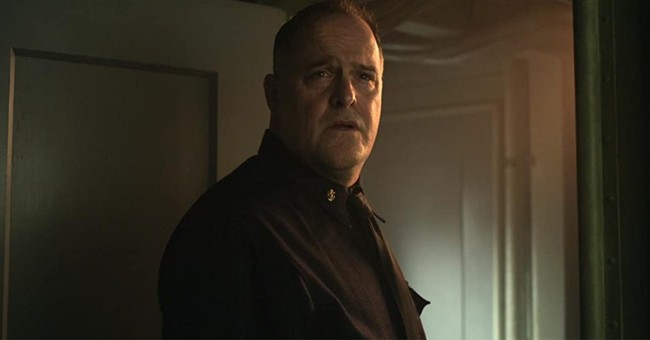 2. It's Faith-Centric, from Beginning to End
It's not hyperbole to say Greyhound has more faith content than some Christian films. Krause is a straight-laced, Bible-believing captain who isn't embarrassed about his faith.
The film's opening scene shows Krause on his knees beside his ship bed, praying for guidance. ("Dear Lord, let your holy angel be with me, that the evil foe may have no power over me.") The movie's final moments include a similar bedside prayer. ("I thank you Lord, my heavenly Father, that you have graciously kept me this day.") His private bathroom mirror includes a card reading: "Jesus Christ: The same yesterday, today, and forever. Hebrews 13:8."
And in between, Krause relies on his faith in daily life. During a tense moment during battle, he quotes Scripture: "Acknowledge him and he shall direct thy path" (Proverbs 3:6). We see him pray before a meal. We also watch as he conducts a burial at sea for three men killed during battle. (The deceased, he says, are looking forward to the "resurrection in their last day and the life of the world to come, through our Lord Jesus Christ.")
Notably, Krause's faith is portrayed as a character strength that gives him peace and wisdom in the midst of chaos. He's respected and loved by the sailors he leads.
Bravo, Hollywood.
Photo courtesy: ©Apple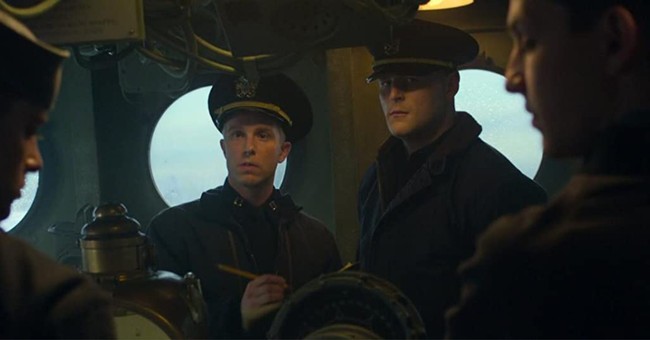 3. It Examines an Underappreciated Part of the War
World War II movies often spotlight heroics on the battlefield, whether in the European theater (Saving Private Ryan, Dunkirk) or in the Pacific (Hacksaw Ridge, Midway).
Greyhound offers us a chance to appreciate an often-overlooked chapter of the war: the treacherous crossing of the Atlantic. After all, the war could only be won by the U.S. and its Allies if ships could cross the ocean between the United States and Europe, safely delivering not only humanitarian relief but also military supplies.
Germany rightly believed it could win the war if it stopped all water traffic from the U.S. To do that, it sent submarines known as u-boats (undersea boats) into the Atlantic, hunting for ships from the U.S., Canada and other Allies.
In Greyhound, Hanks' ship is one of four warships escorting a total of 37 troop and supply ships across the Atlantic. Although the ships had air cover near air bases, they did not in the core of the Atlantic. This section was dubbed the "Black Pit" and took five days to cross.
Greyhound takes place in February 1942, two months after Pearl Harbor.
Photo courtesy: ©Apple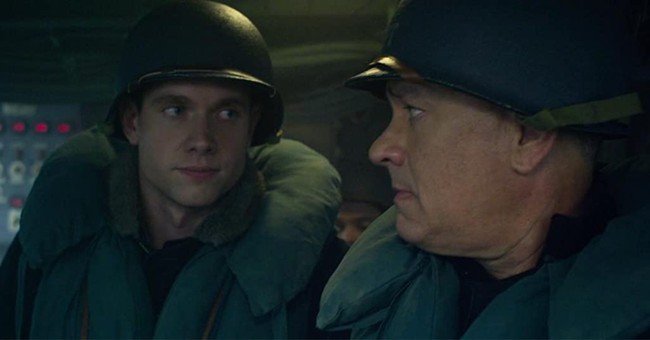 4. It's Marvelous … and Intense
Greyhound is entertaining, gritty and intense. It perfectly recreates a scene too frightening to imagine: sailing across the dark and quiet ocean with submarines hunting you -- thousands of miles from shore. Just like the sailors, you feel a pit in your stomach as a u-boat radio operator hijacks the American channel in the middle of the night, warning: "We hunt you. … We hear the screams of your comrades as they die." When the Greyhound's radar begins malfunctioning, you grow more nervous.
Thanks to smart cinematography, it remains easy to follow.
The film displays the horrors of war without the gore (we see multiple explosions, but few bodies) and without excessive language (outside of one f-word, the language is minimal – see details below).
With a few changes, Greyhound could have been rated PG.
The film also includes plenty of great messages and lessons about life, including ones on humility and compassion (Krause is a model of both), living out your faith (Krause does that) and the importance of great leaders (Krause is that, too).
Hanks said the film checks off the three elements he wants in any film: It entertains, educates and enlightens.
"I want to see myself up there – experiencing stuff I have dealt with or I'm still dealing with," he said. "But I also want to be educated about something I didn't know. My hope for Greyhound is that the audience participates in it from the perspective of, 'Gee, what would I do if I was in this situation?' And then when it's over, the audience has a shared experience the leaves them saying, 'Man, I didn't know it was that tough.'"
Rated PG-13 for war-related action/violence and brief strong language. Language details: f-word (1), d--n (1), h-ll (1), SOB (1).
Entertainment rating: 4 out of 5 stars.
Family-friendly rating: 3 out of 5 stars.
Photo courtesy: ©Apple
---
Michael Foust has covered the intersection of faith and news for 20 years. His stories have appeared in Baptist Press, Christianity Today, The Christian Post, the Leaf-Chronicle, the Toronto Star and the Knoxville News-Sentinel.