4 Things to Know about Jingle Jangle, Netflix's Epic Family-Friendly Musical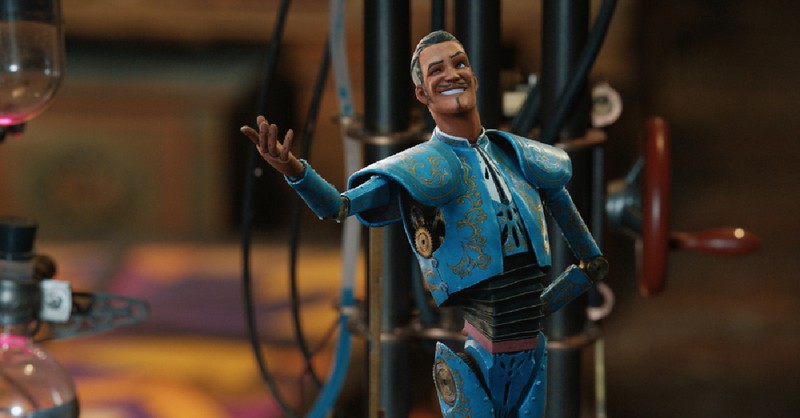 Jeronicus Jangle is a young husband and father who also happens to be the greatest inventor of all time.
He lives in the lively picturesque town of Cobbleton, where citizens flock to his magical shop (Jangles and Things) to gaze at his latest games, gadgets and gizmos.
Everything, we are told, is "alive" in his shop – "even things that shouldn't be."
And then Jeronicus makes his greatest invention yet: a matador doll that can move, talk and think on its own. Jeronicus wants to sell millions of them – an action that would fulfill every dream of his wife and young daughter.
But then Jeronicus' apprentice, Gustafson, steals the doll. Even worse, he steals Jeronicus' "book of inventions," which housed years of thinking, plotting and planning.
Gustafson becomes the richest toymaker in the world. Jeronicus, though, grows despondent – and then downright depressed after his wife dies.
Will Jeronicus ever find joy in life again? Will he ever rediscover his inventive "magic"?
The new musical Jingle Jangle: A Christmas Journey (PG) – now streaming on Netflix – tells the story of Jeronicus, his family and his selfish apprentice.
Here are four things you should know:
Photo courtesy: ©Netflix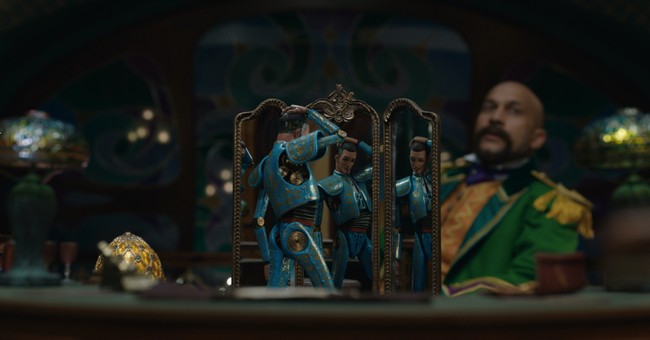 1. It's Worthy of the Big Screen
This isn't your run-of-the-mill Christmas movie. Jingle Jangle is a movie good enough for the big screen. It's colorful. It's entertaining. It's funny. It's wacky … but smart. It's a movie that might make you get up and dance. (Although there's plenty of dialogue in this musical.)
It's a visually "big" movie that sparks memories of children's movies of yesteryear. The film brilliantly blends live action, CGI animation and stop-action puppetry to tell the story – the latter being used to summarize key elements and advance time.
Director and writer David E. Talbert said the movie was inspired by classics he watched while growing up: Willy Wonka and the Chocolate Factory, Chitty Chitty Bang Bang and Mary Poppins, among them.
"I wanted my son to grow up and see these magical wonderful movies like I did, but I wanted him to [see] people in it that look like him," Talbert, who is black, told the Willie Moore Jr. Show.
Photo courtesy: ©Netflix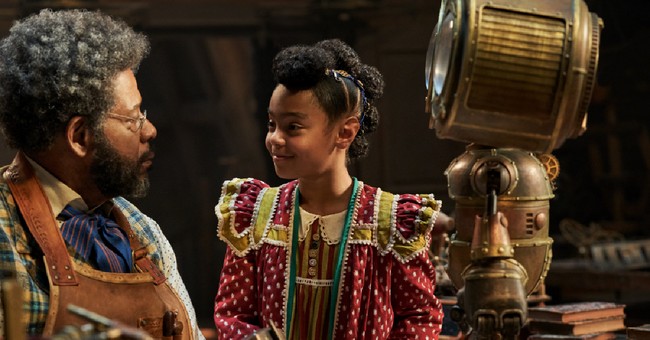 2. It Has Award-Winning Talent
Jingle Jangle is packed with big names. Oscar-winner Forest Whitaker (The Last King of Scotland) stars in the lead role as Jeronicus. Primetime Emmy-winner Keegan-Michael Key (Key and Peele, Tomorrowland) plays the villain, Gustafson. It also includes Hugh Bonneville (Downton Abbey, Paddington series) as the banker, Phylicia Rashad (The Cosby Show, Creed series) as the storyteller/grandmother, and singer/actor Ricky Martin as the toy matador, Don Juan Diego.
With such a star-heavy cast, Talbert said he felt a little like Phil Jackson – the Chicago Bulls coach during the 1990s who balanced the talents of Michael Jordan, Scottie Pippen and others.
"You sit back and you throw them the game plan, and then you let them do what they were created to," Talbert said.
Photo courtesy: ©Netflix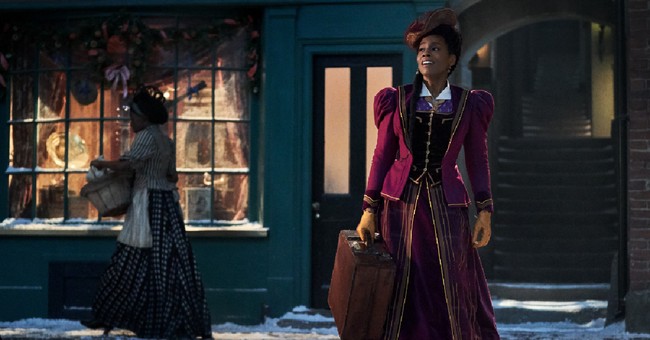 3. It's Netflix's Best Family Film Yet
If Netflix made more films like Jingle Jangle, it wouldn't receive as much criticism from families. It contains no coarse language (the worst is "gosh" and "imbecile"), no sexuality (minus slight innuendo from the widow, Ms. Johnson, toward the widower, Jeronicus), and no violence or scary moments. I watched it with my 5-year-old son (and would do so again). It's Netflix's best family film yet. (Although parents might want to know: The mother passes away shortly after the movie begins.)
For many families, Jingle Jangle will become an instant Christmas classic. It's a movie children can watch again and again, without the parents needing to be in the room.
Photo courtesy: ©Netflix
4. It Has a Great Message
Jingle Jangle offers multiple life lessons, including ones about tragedy (Jeronicus loses his life's work and then his wife), forgiveness and reconciliation (a downtrodden and depressed Jeronicus is estranged from his daughter), reaching out to those who are grieving (his granddaughter does that), and finding purpose and joy in the midst of pain (Ms. Johnson tells him: "the magic isn't just in what you've lost, it's in what you still have"). It also has a solid family-centric conclusion.
The plot is driven by a biblical theme: finding hope after you've lost everything.
"There are Bible stories all through there. Jeronicus is Job," Talbert told Faithfully Magazine.
He added, "You've had everything, you've lost everything and you've lost your faith and you've lost your ability to believe. How do you push past that?"
Of course, Jingle Jangle doesn't explicitly provide the biblical answer (God's faithfulness), but parents can fill in the blanks. Still, the film hints at the answer by focusing on the importance of family, friends and the often-overlooked joys of life.
Jingle Jangle is a must-watch for families this Christmas season.
Rated PG for some thematic elements and peril.
Entertainment rating: 4 out of 5 stars.
Family-friendly rating: 4.5 out of 5 stars.
Related: Listen to our new parenting podcast, Rise Up:
Photo courtesy: ©Netflix
---
Michael Foust has covered the intersection of faith and news for 20 years. His stories have appeared in Baptist Press, Christianity Today, The Christian Post, the Leaf-Chronicle, the Toronto Star and the Knoxville News-Sentinel.