4 Things to Know about King Richard, the Uplifting Movie about Venus and Serena Williams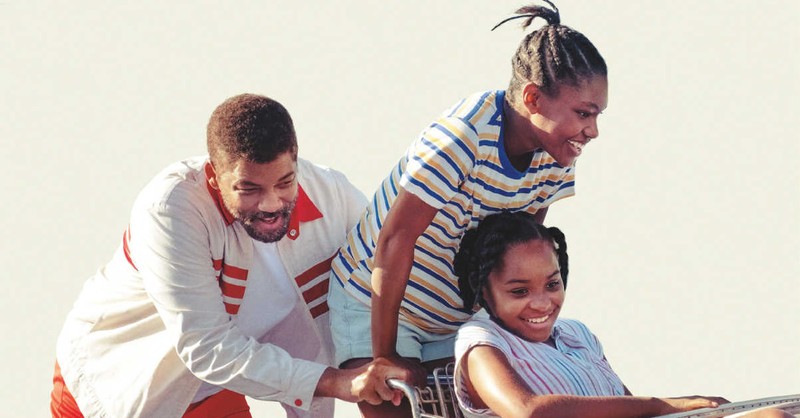 Richard is a hard-working, middle-aged man in Compton, Calif., who has a detailed plan for his children's lives.
They'll learn tennis. They'll become world-famous. And they'll break racial barriers as African American champions in a predominantly white sport.
First, though, he needs to find a tennis coach.
Despite his persistence, though, no one wants to give free lessons to his two athletic daughters, Venus and Serena, despite their raw skill.
"It's like asking somebody to believe you've got the next two Mozarts in your house," one coach tells him. "... Maybe you can prove me wrong."
But then Richard stumbles upon a taker. The same man who coaches Pete Sampras is willing to coach one of the daughters – but only one of the daughters – for free. This means Venus will take lessons in person, while Richard will videotape the lessons for Serena.
It's an unconventional strategy, yes, but Richard believes his two daughters are diamonds in the rough.
Will his plan succeed?
The new biopic movie King Richard (PG-13) tells the true story of Richard Williams, the father and tennis patriarch who raised two of the most talented players in the history of the sport. It stars Will Smith as Richard Williams, Saniyya Sidney as Venus and Demi Singleton as Serena.
Here are four things you should know:
1. It's the Incredible Backstory to the Story You Know
Venus Williams, the eldest, has won $42 million during her career thanks to 49 singles titles, including seven Grand Slam singles crowns. Serena has totaled $94 million on the back of 73 singles titles, including 23 Grand Slam singles championships – the most by any man or woman in the Open era.
Of course, you already knew that Venus and Serena have dominated the women's circuit the past three decades. King Richard is the remarkable story of how two girls who were raised in the middle of drugs and violence in Compton, Calif., grew up to break racial barriers.
Some urged Richard Williams to jettison his tennis plan and place his girls on a basketball team instead. Williams, though, wanted his daughters to make history. He grew up in the midst of racial segregation and – when young – endured a beating for accidentally touching a white man.
As he tells Venus in the film shortly before her professional debut at age 14, "You're not just gonna be representing you – you're gonna be representing every little black girl on earth." (Venus was the first African American woman to be ranked No. 1 in the Open Era.)
Will Smith is excellent as Richard Williams.
2. It's Stirring and Family-Centric
Richard Williams teeters on the edge of insanity and genius for much of the film. He frustrates his wife when, on a whim, he fires a coach the family had loved. He hires a new coach – but then angers him by pushing away a $3 million contract between Venus and Nike.
"$3 million! What's the problem here?" the coach shouts at Richard. (Nine months later, she signed a $12 million contract with Reebok.)
But while Richard's strategy may seem crazy, his love for his daughters is never in doubt. He protects them from gang members. He fills his daughters with confidence. (He hangs "You are a Winner" posters around the court.) He wants them to have the success that most of their neighbors don't. He pushes them to succeed – but not so much that they'll burn out.
Richard Williams searches for the perfect balance. In one of his most controversial moves, he pulls Venus and Serena off the Juniors circuit so they can enjoy childhood. (In the movie, the sisters' coach is dumbfounded, telling him that no pro player has ever succeeded without going on the Juniors circuit.)
"When you push the child too much, you don't give the child confidence," the real-life Richard Williams told Maclean's in 2009. "The reason I took Venus and Serena out of tennis is because I saw kids from the best neighborhoods, like Beverly Hills, with broken wrists. I've seen kids get pushed and damaged. You see kids that are told they're nothing. That's past the extreme. … Is it really worth it to have the fame, the money and lose your child? No. I've seen too many parents out here lose their relationship with their kids."
It's a lesson about parenting every mom and dad should embrace.
3. It's Tragic and Inspirational
King Richard is inspiring, yes, but it's also tragic. Venus and Serena have a father and mother who love and protect them. Many other kids in the neighborhood, though, do not – and a large segment of them end up in gangs.
On two occasions, the film shows gang members brutally beating Richard, punching him in the stomach in one scene and pistol-whipping and kicking him in another. He often comes home bloodied and bruised. (In both instances, he had spoken up and defended his oldest daughter – a daughter who is academically gifted and does not play tennis.)
"Daddy got beat up again," one of his kids says when he enters the door.
Richard, though, remains undeterred, telling them he "didn't have" a father to defend him – but that they will.
"We've got champions in the other room," he tells his wife. "... Venus and Serena are gonna shake up this world."
The film teaches us about hard work, sacrifice, persistence, perseverance and humility (he doesn't want them to brag about their wins). It also urges us to strike a balance in life. We see Richard and his daughters practice at night in the rain. But we also see him pull the reins back on their career when their childhood is at stake.
Faith is referenced several times in the film. (Richard and his family are Jehovah's Witnesses, although that's never made clear.)
4. It's Probably not for Young Children
King Richard is inspiring, but its inclusion of violence, strong language (details below), and racial slurs (the n-word is said at least five times) may keep some families away.
In one scene, Richard watches as a gang member is shot and killed in front of a store by another gang member. In another scene, gang members tell Richard – in graphic language – that the entire gang wants to have sex with his oldest daughter.
For older family members, though, King Richard is well worth watching.
It's uplifting to watch Richard put his life on the line for his children – not only financially but physically.
It's one of the best movies of the year.
King Richard is rated PG-13 for some violence, strong language, a sexual reference and brief drug references. Language details: s--t (3), a-- (2), d--n (1), h--- (3), f--- (1), n-word (5), GD (1)
Entertainment rating: 4 out of 5 stars
Family-friendly rating: 3 out of 5 stars
Photo courtesy: ©Warner Bros. Pictures
---
Michael Foust has covered the intersection of faith and news for 20 years. His stories have appeared in Baptist Press, Christianity Today, The Christian Post, the Leaf-Chronicle, the Toronto Star and the Knoxville News-Sentinel.