3 Things to Know about Small Group the Movie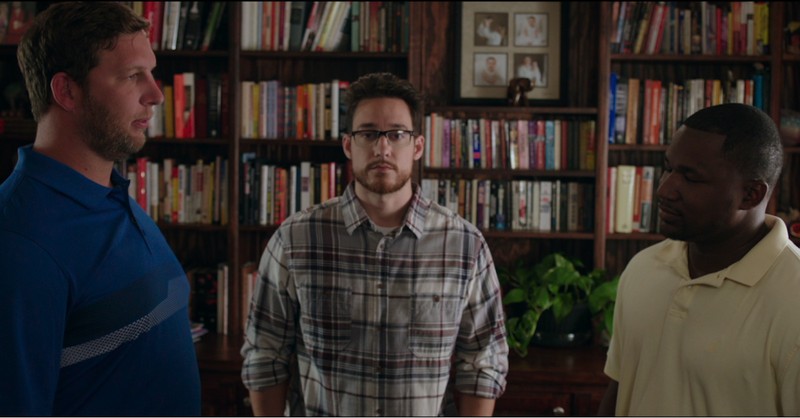 Scott Cooper is a talented young documentary filmmaker who is on a mission to tell the story of evangelicals.
Truth be told, though, it's an assignment he would rather avoid. He wants to be fair in his reporting. By contrast, his producer wants him to go undercover and dig up dirt, at any cost.
With personal funds dwindling and a wife and child to feed, Cooper reluctantly takes the job and begins attending church. He and his wife even join a small group, believing it will offer the best chance to find the truth about evangelicals. He wears spy camera glasses. He wears a spy camera necklace. He asks leading questions, hoping to elicit a quotable response.
In the end, Cooper does discover the truth, but it's not the truth he anticipated.
The new faith-based comedy/drama film Small Group the Movie tells the story of Cooper and his wife, who move from California to the South to tackle an assignment that will change their lives forever.
Here are three things you should know:
Photo courtesy: ©Limesoda Films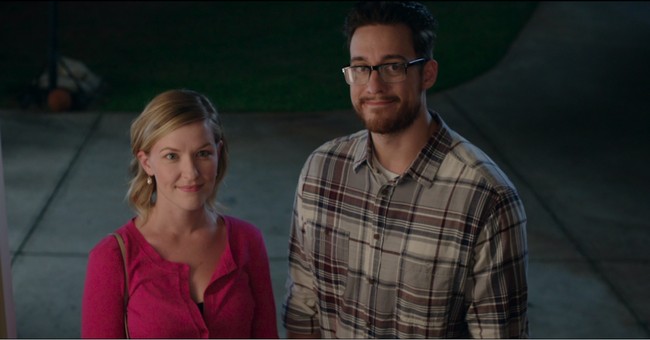 1. It's Convicting
Scott's producer, Ballard, may be a fictional character, but his beliefs about evangelicals are shared by many in our world. They're hypocritical and hate-filled, he says: "Evangelicals are on the ropes now. We are going to deal them a blow." The movie leaves it up to the audience to tackle the "why." Why are Christians viewed so negatively? Perhaps it's because some of us are hypocritical. Some of us aren't walking like Christ.
Fortunately, the Coopers find a body of believers who are living out Christ's commands. In Scott's small group, believers share their burdens, reach out to those in need, and display love each day. They laugh a lot … and they dive into God's Word.
He tries to coax his small group members into giving a judgmental answer, but they never bite. In fact, their lifestyle is so counter to what he expected that Scott changes his mind about evangelicals.
When his field producer, herself a Christian, shares her testimony about the gospel, Scott replies, "I've never heard it put like that."
Photo courtesy: ©Limesoda Films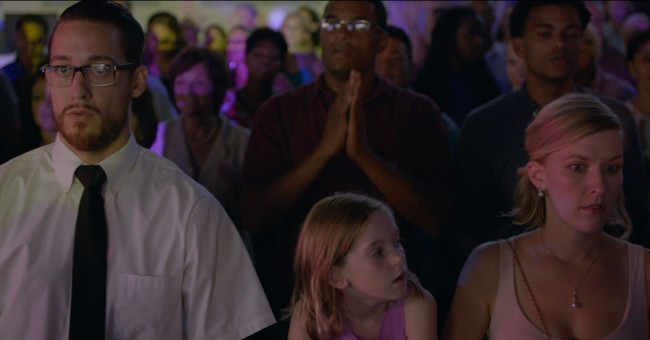 2. It's Hilarious
Small Group is one of the funniest movies you'll see this year. It has its serious faith-centric moments, but it also has comedy gold – especially for Christians who grew up in the church. Its humor is reminiscent of a few scenes in another quirky comedy, Logan Lucky.
We watch the Coopers engage in super-awkward small talk with other Christians in their initial small group meeting. We see Scott give his "testimony" by reciting lines he stole from someone else. We watch him dress in his "Sunday best" – but end up looking like a nerd. Then there is the Coopers' back-slapping, tobacco-spitting neighbor, who is kind-hearted but lacking in social graces. Small Group is funny without being irreverent – a tall task in a faith-based comedy.
The lead actor and actress, Sterling Hurst and Emily Dunlop, shine with great on-screen chemistry. In this faith-based film, acting is a strength.
Photo courtesy: ©Limesoda Films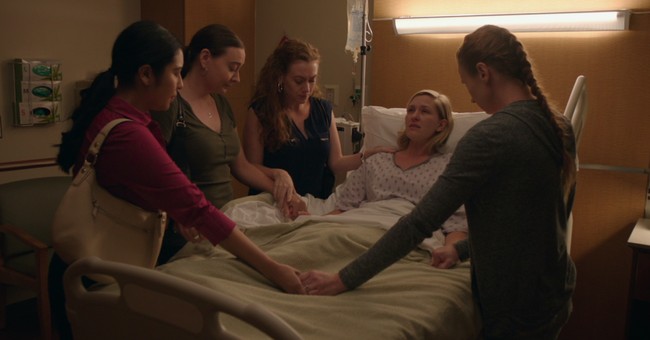 3. It Shows the Power of Community
It's difficult to live out the Bible's commands for Christians by only attending the worship service. Small groups provide what a congregation often cannot: intimacy, interaction and close friendships. You learn names. You learn about others' lives. You drop the facade.
Small Group shows the power of community, kindness and compassion. It urges us to live the same life in private as in public.
Scott hoped to uncover hypocrisy in his small group. Instead, he discovered real Christians – and the gospel. When tragedy hits his life, his small group members stand in the gap.
Director Matt Chastain, who stars in the film, says he got the idea for the movie from his own small group experience: "The less formal, more real and raw nature of small group culture just lends itself to more genuine storytelling that tends to be a bit of a surprise and a huge relief to viewers who are a bit skeptical of the genre."
It's not a typical faith-based film, though. It includes minor language (details below). It also seems to endorse yoga, a controversial topic in some circles. (Scott's wife, Mary, opens a yoga studio.)
But if you can overlook those caveats, Small Group is an entertaining film, with plenty of lessons for the church.
Visit SmallGroupMovie.com.
Small Group is rated PG-13 for thematic material including brief violence and drug references. It includes minor language: h-ll (2), OMG (1), misuse of "God" (3) and an unfinished bull----
Entertainment rating: 3.5 out of 5 stars.
Family-friendly rating: 4 out of 5 stars.
Photo courtesy: ©Limesoda Films
---
Michael Foust has covered the intersection of faith and news for 20 years. His stories have appeared in Baptist Press, Christianity Today, The Christian Post, the Leaf-Chronicle, the Toronto Star and the Knoxville News-Sentinel.