4 Things to Know about The Farmer and the Belle, the Faith-Based Rom-Com about True Beauty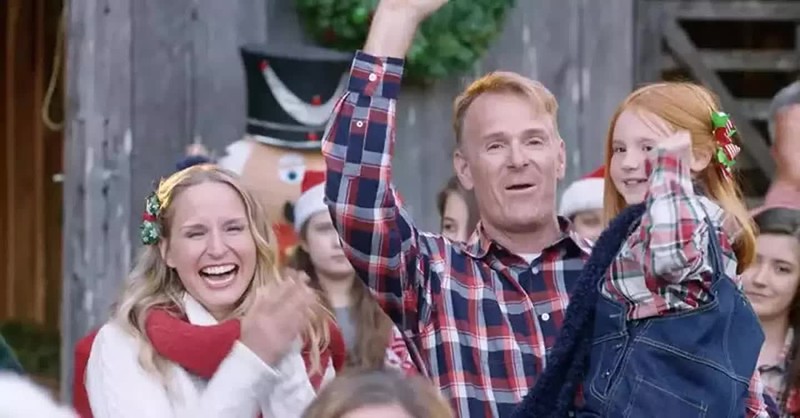 Belle is a famous model who has everything she's ever wanted: money, notoriety and a closet full of expensive clothes.
But for some reason, Belle isn't as happy as she once was. That's because Belle is aging.
Companies are wanting a new, fresh face. They no longer need Belle, who has lost the fresh-out-of high school look that magazine editors crave.
Facing a crisis of identity and purpose, Belle travels back to her small town, hoping to rediscover her childhood joy.
Will she find it?
It's all part of the new faith-based romantic comedy film The Farmer and the Belle: Saving Santaland, which follows Belle as she encounters a widower farmer, Josh, who was her best friend as a child. Romantic sparks fly between the two, who then join forces to save the town's popular Santaland festival.
The movie stars Jenn Gotzon (Frost/Nixon, My Daddy's in Heaven) and Jim E. Chandler (Lodge 49, Inheritance) in the lead roles. Corbin Bernsen (Major League), Sandra Ellis Lafferty (The Hunger Games) Natasha Bure (Home Sweet Home), Robert Amaya (Moms' Night Out) and John Schneider (Smallville) also have roles.
Here are four things you should know about the film, which is available on home video:
Photo courtesy: ©Mill Creek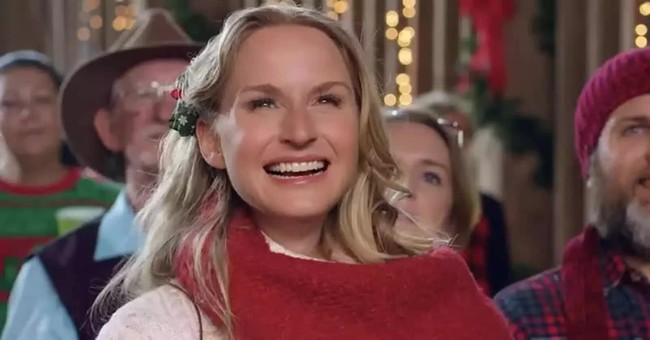 1. It's One of the Best Family Movies of the Year
No, this romantic film isn't a Hallmark film, but it has a similar look and feel. It's Hallmark-like. It's entertaining. It's funny. It's uplifting. The acting is impressive. The script includes plenty of twists, even though you know how it's going to end. It's one of the best family-friendly films of 2020.
The Farmer and the Belle won for best screenplay at the 2020 International Christian Film Festival and was nominated for best picture. At the 2020 Great Lakes Christian Film Festival, it won for best director and best ensemble cast.
Gotzon served as a producer.
"We worked so hard to honor God … and bring the smartest, strongest people who know the art and craft of filmmaking," Gotzon told Crosswalk.
Photo courtesy: ©Mill Creek
2. It's Based on a True Story
The Farmer and the Belle is based on the true story of the lead actor and actress, the husband and wife team of Chandler and Gotzon.
Gotzon, like Belle, had a modeling career. (Gotzon's career was based in China.) Gotzon, like Belle, also struggled with unbiblical thoughts about beauty. The farm-based plot also is rooted in real life: Gotzon knew nothing about pigs, goats and chickens when she met Chandler, who lived on a farm.
Most women, Gotzon told Crosswalk, "struggle with the lie: If I'm beautiful, then I'm worthy to be loved."
"And after I learned how to overcome those lies, I really wanted to help other girls and women of all ages, who feel like they're ugly, or they're fat, or they're worthless," Gotzon said.
Photo courtesy: ©Mill Creek
3. It Has a Much-Needed Message about Beauty
The message in The Farmer and the Belle is countercultural. Society and social media tell us to chase beauty and youth at all costs. Scripture teaches exactly the opposite. God looks at the heart. (Proverbs 31:30, 1 Samuel 16:7).
As a young girl, Belle is raised to desire outward beauty, and she continues that path into adulthood, where she becomes a world-famous model.
But Belle's view on beauty is challenged as she loses her teenage looks. Josh, her romantic interest, helps her discover the biblical truth about beauty.
"When we replace the lie [about beauty], we can truly be like Romans tells us, 'Be transformed by the renewing of our mind.' So when a girl is feeling ugly, she should tell herself, 'I am a magnificent masterpiece. My body and soul are marvelously made' – which are two concepts that come from Scripture," Gotzon said.
Gotzon encourages girls and teens to use their God-given talents to serve others.
"Maybe it's encouragement, maybe it's listening, maybe it's hospitality, maybe it's doing something nice for someone. When we do it with joy, there's a radiant love that comes off of us. And that is more attractive than having beautiful hair."
Photo courtesy: ©Mill Creek
4. It's a Must-Watch for Christian Teens
The Farmer and the Belle is a movie that every family member – especially young girls and young women swimming in an Instagram-crazed culture – should watch. It's a film I want my 8-year-old daughter to see.
"Teenagers right now have increased suicide, depression, eating disorders, because they're looking to social media," Gotzon said. "Then you have the older adult that's aging, and then she feels like she needs to go to different beauty products to feel relevant."
Similar to other faith-based "movies with a message," the movie is accompanied by products that mirror the film's theme: a 30-day devotional (Divine Beauty: Becoming Beautiful Based on God's Truth by Gotzon and Michelle Cox), a children's book (Beautiful Mable, by VeggieTales co-creator Mike Nawrocki and illustrator Sara Jo Floyd), and a bracelet (which includes charms with Scripture-inspired quotes about beauty). All three are featured in the movie.
"There's so much content out there that just completely misses the mark," Chandler told Crosswalk. "There's so many people struggling out there with their value and with their worth. We wanted to be the antidote to some of those negative movies that have come out with young girls and women – to really showcase that there is a better way, there is a better message."
Visit TheFarmerandtheBelle.net
The Farmer and the Belle: Saving Santaland is unrated. Treat it as a G movie.
Entertainment rating: 4 out of 5 stars.
Family-friendly rating: 5 out of 5 stars.
Photo courtesy: ©Mill Creek
---
Michael Foust has covered the intersection of faith and news for 20 years. His stories have appeared in Baptist Press, Christianity Today, The Christian Post, the Leaf-Chronicle, the Toronto Star and the Knoxville News-Sentinel.