4 Things You Should Know about 1917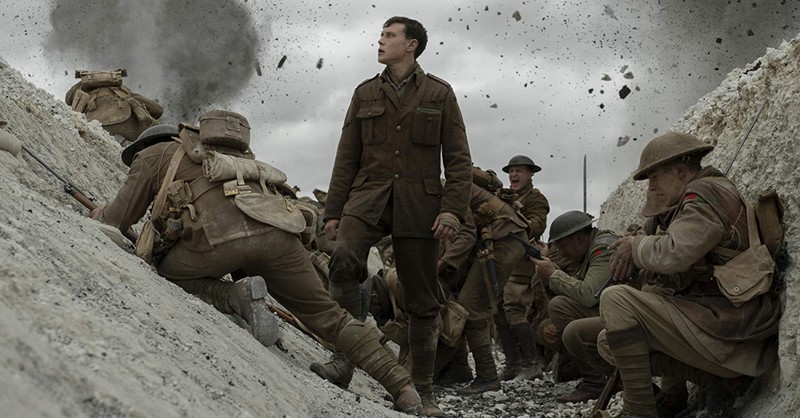 Lance Corporal Blake is a hungry British soldier in the gritty trenches of World War I who simply wants to survive to the next day — and, hopefully, find a meal along the way, too.
But then he gets an assignment that makes him want to leave the safety of his trench and risk life and limb.
His brother and 1,600 other British soldiers — not far from him in France — are on the verge of being ambushed by a German unit. With the phone lines cut, the only way to warn his brother and the other British men is to trek several miles and deliver the message in person.
Blake and a companion, Lance Corporal Schofield, agree to the task. Will they survive?
It's all part of the new film 1917 (R), which stars Dean-Charles Chapman (Blinded by the Light) as Blake and George MacKay (Peter Pan) as Schofield. Director Sam Mendes (Skyfall) helmed it, basing the story off an account told to him by his grandfather, Alfred Mendes, who fought in World War I.
Here are four things you should know:
Photo courtesy: Universal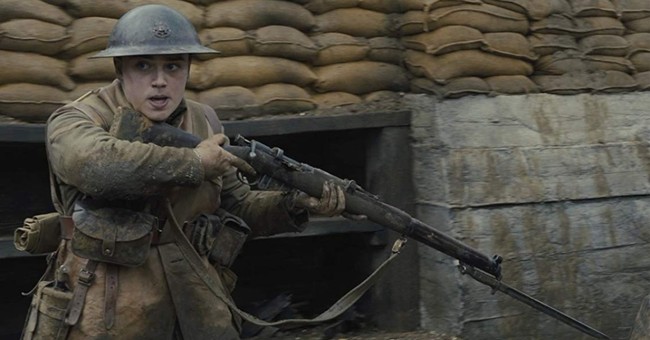 1. It's Oscar-Worthy
1917 is a war movie like no other, giving the appearance of being filmed, live, over a span of two hours. It's like an episode of 24 — but with only one camera and without the cutaways or commercials. The film opens with a scene of Blake and Schofield talking. From there, we follow our heroes down the trench, then to the officer's office, then out of the trench and across the field, then to another trench, then to an abandoned barn, and so on. The camera is either directly in front or behind them the entire time.
It's as if an HD camera and cameraman were teleported back in time, simply to record a slice of World War I life. Of course, it's all due to Hollywood magic — it really wasn't filmed in two hours – but it's nevertheless mind-blowing and spectacular.
Photo courtesy: Universal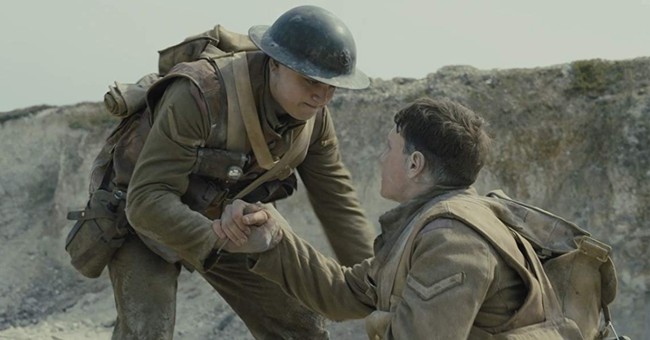 2. It's All about the 'Other' World War
It's safe to say we have plenty of movies about World War II — more than 1,300 by at least one count. There's Saving Private Ryan. And Schindler's List. And Hacksaw Ridge. And Dunkirk. By comparison, there have been only about 130 movies about World War I. More than likely, you can't think of a single one.
1917 puts the often-overlooked and misunderstood Great War back at the forefront. It changed Europe forever. It demonstrated how the failure to resolve the fallout from one conflict (World War I) can lead to another (World War II). It also showed how a single event (the assassination of Archduke Franz Ferdinand) can set off a series of chain events and — if not stopped — result in the death of millions. Finally, World War I was the first major war with aerial combat, machine guns, tanks and radio communication. Of course, 1917 isn't a documentary, but it does show the war's unique attributes. (Armies dig trenches to fight over small pieces of land, leading one soldier to comment with incredulity, "Three years fighting over this.")
Photo courtesy: Universal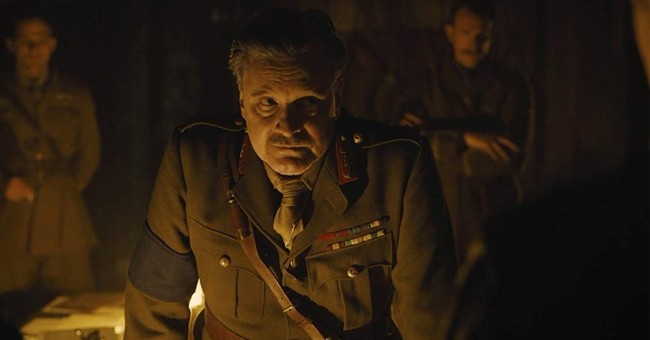 3. It's Realistic … and Makes You Hate War
Too often, war is glorified. In fact, some men in the movie would rather fight and die than obey an order to stand down.
But war is horrific. It leaves children without fathers. It turns wives into widows. Parents bury children, wondering what the future may have held. Yes, war sometimes is necessary, but it did not exist before the Fall. 1917 puts the horrors of war on display without being gratuitous. Bodies litter the battlefield. Corpses float through a stream. At one point, one of our heroes falls and accidentally places his hand inside a corpse's gutted torso, trying to brace himself. Another time, one of our heroes climbs over a dozen corpses to keep from drowning. The R-rated violence and disturbing content in 1917 mostly involves the results of war — men on stretchers with half a leg, for example — than the war's battlefield violence. (Although we see a man stabbed and bleed to death and several men shot and killed.) The film contains quite a bit of coarse language, too, but some of it may be missed by Americans due to British accents. (More on that below.)
Photo courtesy: Universal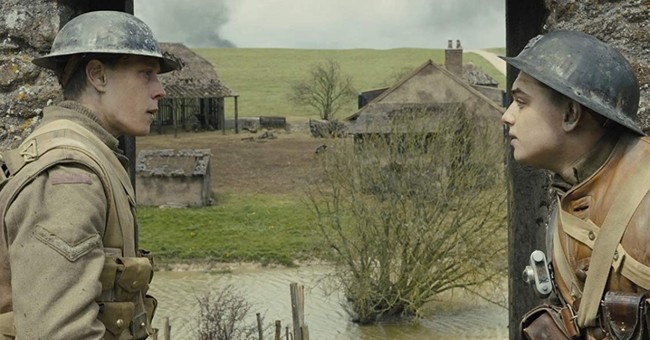 4. It Puts Heroes on Display
Wars aren't won by nations. They're won by heroic individuals who put their lives on the line for the greater good. 1917 spotlights two men who risk their own safety in order to save the lives of 1,600 individuals — and a brother.
"There's nothing to think about." Blake says when he's told to consider what could happen if he leaves the trench. "It's my big brother."
The soldiers in 1917 exhibit the qualities of courage, self-sacrifice and selflessness that are needed to win and end wars. The film also shows how one soldier can grow from a self-serving individual into a man who will die for his countrymen.
We see a soldier die. ("Tell them I wasn't scared [and] I love them," the soldier asks a friend to communicate to his family.)
We also see soldiers preparing to go into battle, readying their souls for what's ahead. (They listen as a single soldier sings the Christian-themed tune Wayfaring Stranger with its lyric, "I'm only going over Jordan" — a reference to death and heaven.)
1917 is rated R for violence, some disturbing images, and language. Language includes about a dozen f-words, and bloody (8), h-ll (7), misuse of "Jesus" (6), misuse of "God" (2), b----rd 5, s--t 2.
Entertainment rating: 4 out of 5 stars
Family-friendly rating: 2 out of 5 stars
Michael Foust is a freelance writer. Visit his blog, MichaelFoust.com.
Photo courtesy: Universal
---
Michael Foust has covered the intersection of faith and news for 20 years. His stories have appeared in Baptist Press, Christianity Today, The Christian Post, the Leaf-Chronicle, the Toronto Star and the Knoxville News-Sentinel.