19 Top Faith Based Movies to Watch with Your Family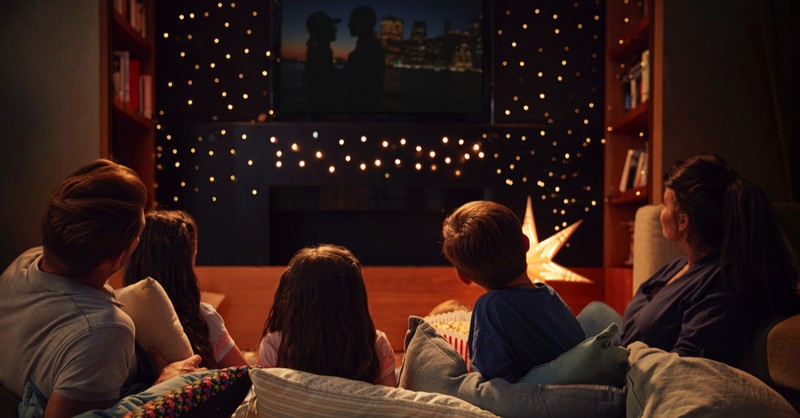 Snuggling up together with a few cozy blankets and a big bowl of popcorn is one of the best ways to enjoy some quality family time. But deciding on a movie that everybody wants to watch isn't easy (cue the sibling bickering).
It can also be tough trying to find a movie that is free of violence, crude language, and sex. Afterall, we want to build their faith in God and honor Him at the same time. So, what's a parent to do when everyone is burned out on Netflix's long list of "clean" movies and everyone also already binged on most movies thanks to the pandemic?
Here is a list of movies with actual stories from the Bible or movies with faith-based undertones. This list will have something for everyone.
Having an actual "go to" list on hand will save you from the groans, complaints, and keep you from fast-forwarding. Plus having a handy family watch list will save you time and energy.
Whether you're looking to dive deeper into your faith, or looking for ways to explore real life challenges, this list has inspirational films like "I Still Believe, to "God's Not Dead" and the film "Greater." It also includes word or word Bible adaptations like "The Gospel of Luke."
So, get the popcorn ready and settle in for a good snuggle while watching movies that will inspire and lift your heart. Dim the lights and enjoy!
Where Hope Grows is a moving faith-based drama that's also likely to appeal to anyone who's interested in a touching story of redemption and friendship. However, this film is for families with kids whose ages are 12 and up as it deals with some heavy themes including substance abuse, unhealthy relationships, and the pressure to have sex.
The movie focuses on an alcoholic former Major League Baseball player who strikes up a friendship with a grocery store produce stocker with Down syndrome. But this powerful film also explores the transformative power of friendship and faith and embraces the idea of redemption. This movie will strengthen your faith for tough times.
A word-for-word film adaptation of The Bible's fourth book in the New Testament, The Gospel of John gives viewers a look into Jesus' life through recreated stories. The motion picture is a word-for-word adaptation of the American Bible Society's Good News Bible. This three-hour, epic, feature film follows John's Gospel precisely, without additions to the story from the other Gospels.
This movie will draw you closer to Jesus as you see the Bible unfold on the screen, it's perfect for those wanting to know more about the Bible, about Jesus, and the Gospels.
If you had to go against your faith to pass a class, would you be able to? Josh Wheaton comes to college and is faced with this decision when he enrolls in a philosophy class taught by Professor Raddison—who just so happens to be an atheist. John's faith is tested after he refuses to agree that God is dead just to pass the class.
This movie is perfect to help prepare teens for challenges they will face in high school and college. They will walk away inspired to walk out their faith!
After an unfortunate chain of events leads aspiring baseball player Milton Young back to his hometown to save his family's farm. Unexpectedly he finds hope, triumph, and a renewed sense of purpose. Once home, Milton faces insurmountable economic and personal hardships, only to be faced with an even greater challenge: defending himself against a tragic crime that could send him to prison for life.
This movie is a is a heart-warming story about perseverance, faith, triumph, and the struggle to never let go of a dream. This film is for teens and adults. It teaches there is hope and faith, and courage bloom in tough life situations.
Let Hope Rise is part documentary, part concert film. It focuses on the 11-member Australian Christian band Hillsong United. The "biggest band no one has heard of" is essentially the touring musical worship team of Hillsong church, an evangelical megachurch headquartered in Australia that has satellite churches around the world.
This documentary film is perfect for the whole family, especially those who love music. It teaches viewers God has given us all gifts we can use for His Kingdom!
Overcomer is a faith-based sports drama from Christian filmmaker Alex Kendrick, who also stars. The story's central theme is forgiveness, which is demonstrated on many levels--the greatest of which is God's atonement of man's sins through Jesus' death and resurrection.
The main character feels tormented by her parents' poor decisions and finds immediate comfort once she's saved. This film is the perfect family film about what family truly means. Those who love cross country or running will especially be inspired by this film.
Grace must find a way to help her mother keep the family ranch from foreclosing after her father dies. But after the death of her military father, she and her mother are in danger of losing their family ranch too. Though more painful losses are on the horizon for Grace, she quickly realizes that even the darkest of times can bring you light.
This move is perfect for families and for those who need encouragement to stay strong and grounded on in their faith in tough times.
Heaven Is for Real is a faith-based family drama inspired by Nebraska pastor Todd Burpo's best-selling memoir about his son Colton's alleged experiences in heaven when he was 4 years old. The movie, like the book, reveals that during surgery, Colton somehow visited heaven, proving that the afterlife exists. Those who hear his story grapple with their own faith.
This film is a fantastic family movie that elements all ages will relate to. It teaches us that faith is believing without seeing or in this case, faith is believing God still uses real life people to carry His message of redemption.
Life can change in an instant, and turn your whole world upside down. This faith-based family drama is based on a true story about a talented high school basketball player who, through faith and family, overcomes a debilitating brain tumor to play the sport again.
One winter's day, teenage son Eric "Hoovey" Elliott collapses at high school basketball practice, is rushed to the hospital, and the doctors find a tumor the size of an orange at the base of his brain. This movie is sure to inspire.
Breakthrough is a faith-based drama based on the true story of a teen boy's miraculous recovery from a near-fatal accident. Three teens fall through thin ice into frigid water. One of the boys, who was adopted as a baby, struggles with feelings of rejection and identity; he describes himself as "unwanted," which could be triggering for families touched by adoption.
With its faith-based message based on a true story, the film's take on the power of prayer may leave some skeptics thinking twice. Those who want a good family movie that teaches miracles are still a part of God's story will love watching this film.
Make room on the couch and let your furry friends watch this uplifting adventure film. Your family will fall in love with Shadow and Chance and kitty cat Sassy as they journey across the country to be reunited with their humans.
While their family goes on vacation without them, they are dropped off at a friend's ranch when Chance decides he wants to go home and go home now. But the trio of furry family members get lost.
This oldie but classic film doesn't talk about God but shows how faith is needed when something unexpected happens in life.
Parents need to know that Catching Faith is an inspirational, faith-based movie about a seemingly perfect family coming apart at the seams. There's the death of a grandparent and a brief scene of underage drinking, the latter of which has strong consequences.
The film is perfect for those who are looking positive role models and a strong message about doing the right thing even when no one is looking.
This inspiring film is based on the life of All-American football star Brandon Burlsworth. It shows just how faith and determination can take even the least expected players and turn them into something much greater. Right on the cusp of becoming an all-star, his brother passes away. Brandon wrestles with God about this brother, his faith, and his purpose.
This film is a must-watch for all sports lovers and shows how God cares about things like football and our dreams.
I Still Believe is based on the real-life love story of Christian rock artist Jeremy Camp and his first wife, Melissa who discovers she has ovarian cancer shortly after they meet. Despite her terminal diagnosis, Jeremy proposes and stands by her side as she fights the illness.
The story's focus on sickness, dying, and death and how God uses it all for our good. This film is perfect for viewers who question their purpose or how God uses pain or the unexpected to make waves for His Kingdom.
Woodlawn is a faith-based drama inspired by true events at a Birmingham, Alabama, high school in 1973. The movie focuses on how a chaplain helped convert nearly the entire Woodlawn High School football team to born-again Christianity after it was desegregated. He helped the players deal with racial strife on and off the field.
This film shows us God moves and still loves for us and provides in the hardest of circumstances. Those who watch it will walk away inspired and encouraged.
Parents need to know that Risen is geared towards ages 13 and older. There's lots of violence, in both battle scenes and of course in the crucifixion sequences. However, it is a Biblical drama set during the days before and after the death of Jesus Christ; it focuses on Clavius, a Roman soldier who tries to make sense of seemingly impossible events. Will he believe in Jesus?
Risen will strengthen your faith, draw you deeper into the Bible, and helps Scripture come to life.
Parents need to know that this inspiring true story is about a promising young surfer who was attacked by a shark. The film gives your tween and teen lots to think about, from trying to figure out their purpose in life, to trying to come to terms with adversity. The young girl who could've become bitter and resultful instead focuses on grace.
This family film teaches viewers that even in tough times and through unexpected circumstances, God still has a plan and He will use us if we are willing.
An FBI agent becomes trapped between heaven and hell. After a terrorist bomb explodes, US senator Jonah Thomas is forced into an epic battle fought somewhere between life and death, Heaven and Hell. While FBI agents and terrorists fight for his life in one world, angels and demons wage war for his soul in another.
This film is perfect for those who are curious about what happens in heaven as war is waged here on earth for our souls.
This faith-based film from the makers of God's Not Dead and is geared towards ages thirteen and older. When a local pastor is shaken to the core by the visible faith of an old street-corner preacher, he is reminded that true belief always requires action. His response ignites a faith-fueled journey that powerfully impacts everyone it touches in ways that only God could orchestrate.
This film will inspire viewers that it only takes one willing soul to make an impact for God. He can use you at school, at work, or in your own neighborhood.
Keep this list on hand for the next time your family wants to watch something wholesome, inspiring, AND entertaining together!
Photo Credit: ©Getty Images/monkeybusinessimages
---

Heather Riggleman is a believer, wife, mom, author, social media consultant, and full-time writer. She lives in Minden, Nebraska with her kids, high school sweetheart, and three cats who are her entourage around the homestead. She is a former award-winning journalist with over 2,000 articles published. She is full of grace and grit, raw honesty, and truly believes tacos can solve just about any situation. You can find her on GodUpdates, iBelieve, Crosswalk, Hello Darling, Focus On The Family, and in Brio Magazine. Connect with her at www.HeatherRiggleman.com or on Facebook.