Christian Themes Deliver Devil 
Richard Abanes

Crosswalk.com Contributing Writer

2010

20 Sep

COMMENTS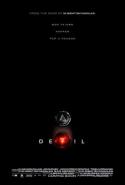 DVD Release Date: December 21, 2010
Theatrical Release Date: September 17, 2010
Rating: PG-13 (for violence and disturbing images, thematic material and some language including sexual references)
Genre: Horror, Suspense, Thriller
Run Time: 80 min.
Director: John Erick Dowdle
Actors: Chris Messina, Logan Marshall-Green, Bojana Novakovic, Geoffrey Arand, Bokeem Woodbine, Jenny O'Hara

A good horror movie is hard to find. A good horror movie full of Christian themes and spiritual teachings that validate the reality of God is virtually non-existent—and yet this is precisely what audiences get with Devil, conceived and written by suspense/mystery/horror specialist M. Night Shyamalan (The Sixth Sense, Signs, The Village).

This little shocker, directed by John Eric Dowdle (Quarantine), begins interestingly with a series of extremely disorienting upside-down shots of Philadelphia—a possible foreshadowing of one of the film's best lines: "When he is near, everything goes wrong." The "he," of course, is the Devil, who according to the movie's storyline, periodically manifests himself to small groups of individuals/sinners that he is going to personally terrorize before killing them and taking their souls to hell. Such a premise is certainly unbiblical. However, a number of godly truths are presented as Shyamalan's urban-legend-like plot develops.

The story is simple: When for no apparent reason an elevator stops between floors, five strangers become trapped. Like several of Shyamalan's movies, Devil is cursed with a slow beginning marked by drab dialogue and a plot that is seemingly going nowhere. But once his characters are put in place and his main scene is set, the terror begins to unfold rapidly. One by one the five trapped passengers start dying horrible deaths whenever the elevator lights flicker off. Unlike other horror films that usually show the gory violence taking place, Devil allows one's own imagination to create the specifics of what occurs in the dark. We are only treated to the frightening sounds of Satan's assaults. Then, when the lights come back up, we see the results—and they are gruesome.

As the bodies pile up, we are left wondering which of the passengers must be the Devil in disguise. That is the same question facing police detective Bowden (Chris Messina, Julie & Julia; Away We Go) who, along with the building's security staff, can only watch the carnage unfold via the elevator's security camera. Confusion about what is happening only clears after a Christian security officer explains that what they are witnessing is the "Devil's Meeting"—an event precipitated by a suicide, which enables Satan to enter our realm to personally claim the souls of sinners destined for eternal torment.

There are plenty of moments here to keep the heart racing and pulse pounding. And much to Shyamalan's credit, he does not resort to cheap scare tactics. There is no gratuitous violence, no overly-dramatic music crescendos, no horrifying images of demons. Instead, Shyamalan builds the tension using the psychological stress of the victims and our identification with them as helpless souls in a hopeless situation.

Most admirable about this film are the biblically sound messages that Shyamalan weaves into the script using various observations about sin, the nature of evil, Satan, sacrifice, repentance, and most pointedly, the need for all of us to take responsibility for our actions. For example, we are told that Satan makes us doubt everything; that the lies we tell ourselves introduce us to him; and that the choices we make bring Satan near. All of these messages conclude with a statement totally unexpected: "If the Devil is real, then God must be real, too."

In this film, predictably, there is a standard M. Night Shyamalan plot twist. Fortunately, it works well, which is something that cannot be said for the various turns taken in some of Shyamalan's other films. And it is not only a twist that catches the audience, but it is one that serves to also advance one of Christianity's most foundational tenets—forgiveness. An entire series of Bible studies could be planned around this film.

CAUTIONS:
Language/Profanity: Utterances of sh--, a--, d--n and h-- in scenes of high stress. God's name taken in vain.
Smoking/Drinking/Drugs: None.
Nudity: None.
Sex/Sexual situations: None.
Violence: The movie opens with a suicide that shows a body falling rapidly past a window and hitting a parked van. The rest of the movie includes six very gruesome deaths/murders. Although none of the deaths/murder are actually shown taking place, the results of the deaths/murders are gory and likely too strong for young children (or perhaps even young teens). A man is electrocuted, a women is hung, another man has his neck broken, a third man is stabbed through the neck, a fourth man falls to his death in an elevator shaft, and another woman is stabbed to death.
Spiritual messages: The basic premise of the film is unbiblical—i.e., Satan manifests himself to terrorize people before killing them and taking their souls to hell. However, this is used only as a backdrop to present several biblically sound themes and spiritual truths.