"Cold Mountain" – Movie Review
Holly McClure

Movie Reviewer

2003

24 Dec

COMMENTS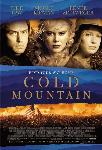 Genre: Drama, Romance
Rating: R (for violence and sexuality)
Release Date: December 25, 2003
Actors: Jude Law, Nicole Kidman, Renee Zellweger, Jen Apgar, Eileen Atkins, Kathy Baker, Lucas Black, Emily Deschanel, James Gammon, Brendan Gleeson, Philip Seymour Hoffman, Charlie Hunnam, Jena Malone, Taryn Manning, Mark Jeffrey Miller, Robin Mullins, Natalie Portman, Giovanni Ribisi, Ethan Suplee, Donald Sutherland, Melora Walters, Ray Winstone, Jack White
Director: Anthony Minghella
Plot: In a small North Carolina town, a preacher's daughter named Ada (Kidman) falls in love with a shy, but willing, man named Inman (Law). As their romance begins to blossom, so does the Civil War and soon all Confederate men are asked to join the cause. With only a kiss to remember each other and a book with a photo of Ada, Inman heads for war. Immediately he is embroiled in one of the darkest battles in Civil War history, and after a serious injury he vows to return to the woman he loves. As the wounded soldier makes his way across the war-ravaged South, he faces incredible trials and tribulations: bounty hunters, Yankee soldiers, a man and a group of twisted women drug Inman and his traveling companion then try to sexually assault the two and sell them back to the Confederate army. As Inman treks across the land, he is helped by unexpected friends (Hoffman, Portman) along the way. Meanwhile, Ada suffers the loss of her father and sees the farm deteriorate because she lacks practical skills to manage it. As Ada's predicament becomes more drastic, along comes a mountain woman named Ruby (Zellweger) who lends her skills for farming and her friendship and bravery to Ada. As the women fend for themselves and fight off a local sheriff who wants to marry Ada, Inman steadily makes his way back home, dreaming of the moment he can reunite with his true love.

Good: I appreciated the magnificent scope of what it took to make this movie. Director Anthony Minghella ("The English Patient") has recreated a visually stunning movie to watch, and even though some teased Minghella early on about this being his "Heaven's Gate," in the end, this is a beautiful looking movie with gorgeous scenery, Civil War battle scenes that are unique and unlike anything you've ever seen before, an amazing score with haunting and original songs and several interesting characters and relationships. Ada and Ruby are the most fun to watch, as are other characters: the strolling musicians (that include Ruby's estranged father), next door neighbors and all of the people Inman meets along his journey. All make for an interesting and compelling story, if not a satisfying one. Despite all of the Oscar buzz and accolades this movie is getting, I have mixed emotions about this epic adaptation based on the 1997 Charles Frazier novel. Filmed in Romania, the story takes us back to a 19th century America that spans from gorgeous mountains and a small town to amazing Civil War scenes that are violent and eccentrically executed because of the unusual battle that took place in 1864. Inman's perilous journey, while filled with interesting performances by Hoffman, Ribisi and Portman, is scary. Throughout his journey, there is always a heavy and depressing mood that accompanies him. Law is an able leading man and is intriguing to watch. The love scene between the "self-married" couple is intimate and full of chemistry as it represents the union both have dreamed about. Kidman's character goes through the biggest metamorphosis. In the end, she's convincing as an admirable and self-sufficient woman. But it's the friendship between Ada and the hick-sounding, loudmouthed Zellweger that provides most of the humor and entertainment for the story. The women's relationship lends warmth, charm and true grit to a story that relies heavily on a romance between the two star-crossed lovers who never see each other throughout the entire story. For all of the epic aspects that work in this film, there's still something that left me a little cold when it was over.

WARNING: THE FOLLOWING CONTAINS INFORMATION THAT MAY SPOIL THE PLOT.

Bad: This is clearly an adult story with scenes from a specific Civil War battle that was particularly bloody and frightening. Body parts are shown being blown off, men are stabbed with bayonets and others are shot or bludgeoned. In other words, it's war in its most brutal form as it was realistically back then. Language and crude dialogue are woven into a portrayal of a rough way of life. A couple of sexual situations take place that are graphic in nature. One happens when Inman and a friend are drugged by women who scheme to turn them in for reward money. We see full nudity of several women and partial nudity of the man. Another situation takes place between Inman and Ada when they reunite for their wedding night. We see both characters nude and in sexual positions. Another brief scene shows Inman laying beside a woman (both fully clothed) but nothing sexual takes place. Perhaps the biggest disappointment to the story — and quite possibly the reason the movie is leaving some feeling cold — is the lack of screen time our two stars spend together. After wading through a long movie filled with situations and people who try to keep the lovers apart, it is extremely frustrating to finally see the two reunited for only one night. For those who have read the New York Times best seller, you already know what happens to Inman. But for those who aren't familiar with the story, the ending will probably frustrate, disappoint and almost irritate you.
Bottom Line: The one thing that would have made this movie more compelling would have been for Ada and Inman to wind up together. Whether artsy, independent Hollywood filmmakers want to admit it or not, audiences root for the good guys and cheer for star-crossed lovers. When you have a movie about two people who are kept from each other until the very end, the result better be a happy ending that will give the audience something to cheer about and create a positive buzz about the movie. I have a feeling that after the word gets out about "Cold Mountain" and its depressing ending, some may end up giving it a cold reception at the box office. For those who don't mind the less-than-happily-ever-after ending, this is a fascinating study in human behavior and the power of love between two people who hardly knew each other.