Good Acting Can't Save The Air I Breathe
Annabelle Robertson

Crosswalk.com Contributing Writer

2008

29 May

COMMENTS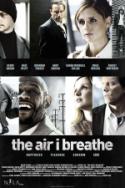 DVD Release Date: May 27, 2008
Theatrical Release Date: January 25, 2008
Rating: R (for violence, language and some sexual content/nudity)
Genre: Drama/Thriller
Run Time: 95 min.
Director: Jieho Lee
Actors: Kevin Bacon, Julie Delpy, Brendan Fraser, Andy Garcia, Sarah Michelle Gellar, Emile Hirsch, Forest Whitaker
Happiness, pleasure, sorrow, love—according an ancient Chinese proverb, these are the tenets of a full live, and without them, we will never be complete. In service of this belief, novice screenwriter-director Jieho Lee has created four stories, interwoven Robert Altman style, to represent each one.
Forest Whitaker is Happiness, a clerk whose life ticks by, one day at a time, without any joy or meaning. In search of something, he knows not what, he takes out a bookie loan and bets on a losing horse, after overhearing a tip. He ends up paying a heavy price for his folly, laughing his head off in a moment of great crime and tragedy. Happiness.
Brendan Fraser is Pleasure, a hit man with a childhood trauma and a periodic conscience. He works for "Fingers," a mobster played by Andy Garcia. Fingers earned his nickname by cutting off other people's digits, and he does this (or threatens to do it) throughout the film. This is just one kind of the disturbing, brutal violence featured in the film. These savage acts are often unexpected as well, even though they are cliché. Weak stomachs beware. Pleasure.
Sarah Michelle Gellar is Sorrow. A Britney-like pop star, she finds herself at the mercy of Fingers, after her manager embezzles all her funds and "gives" Sorrow to Fingers as payment. Fingers is not an easy boss. He's even less so when she gets involved with one of his men. Sorrow.
Kevin Bacon is Love. In love with his best friend's wife (Julie Delpy), he'll do anything to save her life, after an accident which leaves her in want of a blood transfusion for her very rare blood type. Love.
These characters eventually meet or cross paths, directly or indirectly, and the decisions they all make affect one another with varying outcomes. It's not clear what message the Korean-American Lee is hoping to send with this hodgepodge of a story, however. It's dark, depressing and extremely violent, with little redemption in the end. Nihilism seems to be the dominant worldview, with strong synchronistic overtones. We are all one, Lee seems to be saying, and at one with one another as well. Fleeting moments of pleasure with other people are, in fact, the only hope we have in this lonely, gloomy world.
The acting here is good. Whitaker, in particular, is extremely sympathetic in his role—a feat that is all the more outstanding after his turn as the evil dictator in The Last King of Scotland. It's just sad that there isn't more for him to work with, in terms of dialogue or plot development. His story ends far too soon, as well.
Fraser is taking a walk on the serious side here, too, and although he doesn't have much to do besides looking tough, as Finger's right-hand hit man, he does it well. Likewise, Gellar gives a great performance as the pop tart on the verge of a breakdown. Bacon, though good, has even less in the way of content, however. Garcia is as creepy as always. Delpy, however, is a bit of a wallflower.
Unfortunately, the acting isn't enough to save this film, which views like an off-kilter copycat of Crash with lesser production values. Not really worth the effort, even if you can stomach the violence.
DVD EXTRAS:
Commentary featuring director/co-writer Jieho Lee, director/co-writer Bob DeRosa, director of photography Walk Lloyd and editor Robert Hoffman
Deleted scenes
Outtakes
Theatrical Trailer
CAUTIONS:
Drugs/Alcohol: Characters drink and smoke throughout film; some references to illegal drug use as well, which is possibly seen in the background of two scenes.
Language/Profanity: Numerous strong profanities and obscenities throughout film.
Sexual Content/Nudity: Upper female nudity in the context of a strip club as well as additional brief nudity when a young man hires a prostitute; one sex scene between an unmarried couple who has just met; multiple crude sexual references.
Violence: Brutal. Characters are savagely tortured, beaten, murdered and assaulted throughout film, often unexpectedly, which substantially heightens the psychological effect of the violence on the viewer. To name just a few: in three different scenes, someone is hit by a moving car; a woman is bit by a dangerous snake; a man cuts off another man's fingers—and threatens to do the same to others, several times throughout the film; several characters—some sympathetic—are unexpectedly shot at point blank range; a character insists that a woman have an abortion, although this is referred to in oblique terms ("take care of it").