Paddington Continues to Delightfully Defy the January Odds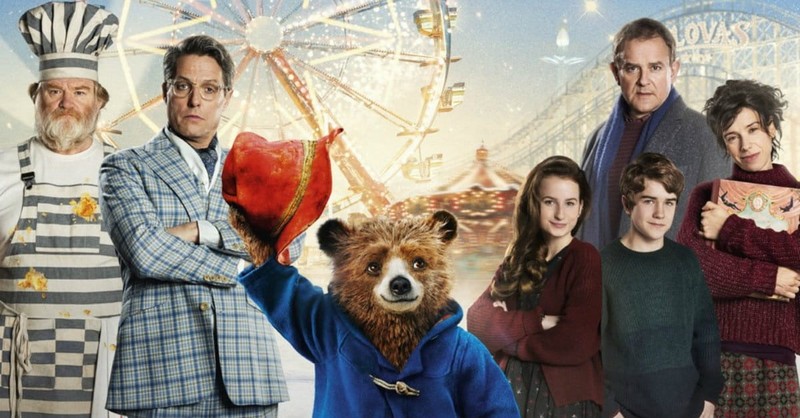 A sequel that's even better than the original. As sweet as marmalade, Paddington 2 is a welcome antidote to the daily news (real or fake). In Paddington's world, a kindhearted bear can always find the good in people. We can't live there but it sure is a nice place to visit. 4 out of 5.
RELATED: Paddington Earns an Honorable Mention on Our 2015 Movies of the Year List
 
Synopsis
It's not every day a bear turns 100, so when Paddington's Aunt Lucy nears the century mark he needs to find her the perfect gift. And find it he does—only to be falsely accused when it's stolen right under his nose by a half-crazed actor (Hugh Grant) on a diabolical mission. With their bear behind bars, the Brown family (Hugh Bonneville, Sally Hawkins, Julie Walters, Madeleine Harris and Samuel Joslin) sets out to prove his innocence while Paddington (Ben Whishaw) begins a new life in prison.
 
What Works?
Grant shines as aging, self-absorbed actor Phoenix Buchanan, who was probably never as good as he thinks. Grant looks like he's having a ball, especially when he talks to "himself" as various characters. He sings, he dances, he swans around in outrageous outfits, and still he's a more believable villain than the wackos Paddington encountered in his last outing. Buchanan's casual unconcern for anyone but himself makes an excellent foil for both Paddington and the upright—and often uptight—Mr. Brown (Bonneville). Mrs. Brown (Hawkins) is the action hero this time around, a job she does with her usual flair.
As in the first Paddington, there are moments of exquisite animation that take the experience to another level; it feels old-fashioned in the most magical way. More such moments make use of the kind of steampunk contraptions that made the first movie such fun. While you're admiring those, don't miss all the newspaper headlines. And do stick around through the credits for an over-the-top finish in classic Hollywood musical style.
It's lovely to see a family united, and the Browns (and their feisty housekeeper, delightfully played to the hilt by Walters) make a formidable team where each member has the opportunity to play to their strengths. Plus, you can't beat this movie's emphasis on grace and kindness. If you don't have a tear in your eye at the end, eat more marmalade and come back for a second viewing, because you're clearly short on sweetness.
 
What Doesn't?
Early on, especially during Paddington's adventures in window-washing, I thought the pace dragged just a bit. Peter Capaldi is back as the Browns' vengeful neighbor, Mr. Curry, and he's still too over-the-top for my taste. In a movie that includes Grant wearing pink bell-bottoms in a kick line, that's saying something.
 
Christian Worldview Elements / Spiritual Themes
Paddington lives by the words his Aunt Lucy taught him when he was just a cub, "If you're kind and polite, the world will be right." He offers grace and kindness wherever he goes, only rarely punctuated by a "hard stare." By treating others as he'd like to be treated himself, Paddington is not only a living example of the Golden Rule, he makes a difference in the lives of people around him.
 
CAUTIONS (may contain spoilers)
MPAA Rating: PG for some action and mild rude humor
Language/Profanity: None noted.
Sexuality/Nudity: A male security guard describes a man disguised as a woman as "unusually attractive." There's a mild romance but nothing sexual.
Violence/Frightening/Intense: Several characters are in momentary jeopardy but there's never any doubt they'll pull through. The credits assure us that "No bears were harmed in the making of this film."
Drugs/Alcohol: A couple attempts to drink champagne on a train (it does not go well).
 
The Bottom Line
RECOMMENDED FOR: Anyone who needs a brief vacation from reality.
NOT RECOMMENDED FOR: Cynics, sophisticates, and others who've forgotten how to enjoy simple pleasures (but given the 100% fresh rating currently at RottenTomatoes, that's not very many of us).
Paddington 2, directed by Paul King, opens in theaters January 12, 2018. It runs 103 minutes and stars Ben Whishaw, Hugh Grant, Hugh Bonneville and Sally Hawkins. Watch the trailer for Paddington 2 here.
 
Susan Ellingburg spends most days helping to create amazing live events and most nights at the movies, at rehearsals, or performing with vocal ensembles in the Dallas area. This leaves very little time for cleaning house. A natural-born Texan, Susan loves all things British, Sunday afternoon naps, cozy mysteries, traveling with friends, and cooking like a Food Network star (minus the camera crew).
Publication date: January 11, 2018
Image courtesy: ©WarnerBros.