"The Number 23" Simply Doesn't Add Up
Christa Banister

Contributing Writer

2007

23 Feb

COMMENTS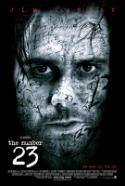 Release Date: February 23, 2007
Rating: R (for violence, disturbing images, sexuality, language)
Genre: Psychological thriller/Drama
Run Time: 95 min.
Director: Joel Schumacher
Actors: Jim Carrey, Virginia Madsen, Logan Lerman, Danny Huston, Lynn Collins, Rhona Mitra
In "The Truman Show" and "Eternal Sunshine of the Spotless Mind," rubber-faced funnyman Jim Carrey proved that he could convincingly play a character that didn't require his over-the-top comedic hysterics to be memorable.
But in what's being billed as a "psychological thriller," Carrey doesn't fare as well as a dog-catcher named Walter Sparrow (a nod to his work in "Ace Ventura," perhaps?) with an adoring wife, Agatha (Virginia Madsen), a cute son, Robin (Logan Lerman) and a bone to pick with a certain grave-watching dog that bites his arm for no particular reason.
In fact, this dog bite is the catalyst for a chain of events that forever changes the course of his life. While waiting for Walter to return from work, Agatha browses at a local used bookstore and happens to pick up a well-worn copy of "The Number 23," a mysterious book that ends up becoming an obsession for Walter once he starts reading.
While Agatha's content to enjoy the book for what it is to her – fiction – Walter almost immediately believes that it's the story of his life when he discovers plenty of eerie parallels to his past and present. And before long, Walter begins to see the book's "cursed" number – 23 – everywhere he goes. His birthday is February 3 or "23." The numbers on his alarm clock add up to "23." Significant world events like Hiroshima and the death of Hitler all involve the number "23." And before long, (gasp) he's convinced that "23" has something to do with his own mysterious past as flashbacks starring the book's protagonist Fingerling (also played by Carrey) reveal a past predilection for murder.
Director Joel Schumacher does his best to set up the story in creepy, blood-red splendor, but not even Carrey's obvious ode to Jack Nicholson's chilling performance in "The Shining" can make the film's premise come off as anything more than just plain silly.
As if to punctuate the ridiculous nature of the whole thing, not to mention the unnerving imagery of love-me-and-hurt-me sex and pretty girls committing suicide, the latter half of the film is devoted to explaining everything that happened in the first place. And even with these "stunning" revelations, the mystery behind the book and its author are just as lackluster.
In a movie that's truly suspenseful, the mystery of the unknown is a central part of the charm. Rather than spell everything out for the viewer, a flick like this should provoke further discussion afterward, not leave you feeling like you've wasted an hour and a half of your life. When it's said and done, there's not much about "The Number 23" that actually adds up. It's ultimately nothing more than a superstition gone seriously awry that wastes the talent of actors like Carrey and Madsen.
AUDIENCE: Adults only
CAUTIONS:
Drugs/Alcohol: Social drinking.
Language/Profanity: An assortment of mild profanities and an abundance of F-words.
Sex/Nudity: There are several racy sex scenes between Fabrizia and Fingerling. While there's no nudity, Fabrizia enjoys being tied up and threatened with a knife in the process. Fabrizia also has an affair with Miles Phoenix. While they engage in sex, Fingerling watches in disbelief.
Violence: An abundance, given the movie's subject matter. There are multiple murders and suicides and plenty of blood shown throughout the film. There are also plenty of disturbing images as well, shots of people after suicide, murder-fueled dreams, etc.
Religion: One of the movie's themes is about a man's sins eventually being found out. Despite the film's questionable subject matter, there's a redemptive principle in the story. SPOILER ALERT: When Agatha discovers that Walter is Laura's killer and the writer of the mysterious book and was institutionalized because of his obsessive behavior, she emphasizes that's who he was, not who he is now, which is the perfect picture of what we're like before we know Christ. He no longer views us as who we were before we ask for forgiveness. Rather, He views us as who we are now – still flawed, but redeemed.