5 Sisters Sing Chilling Rendition of 'Way Maker'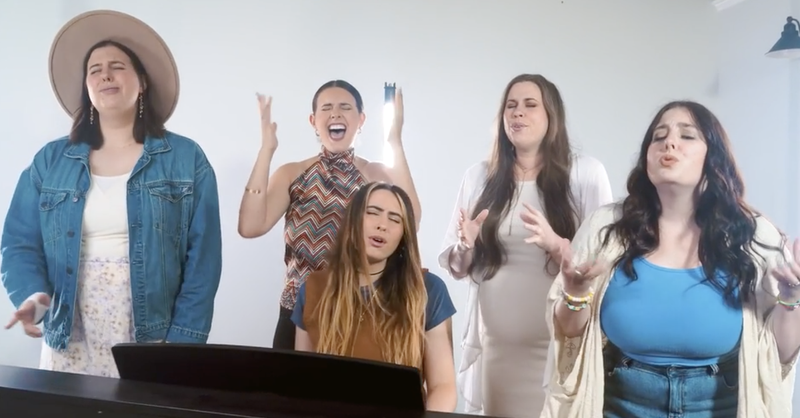 This powerful song was originally recorded by Nigerian gospel singer, Sinach. Many other artists have covered the song, including contemporary Christian artist Michael W. Smith. His version of 'Way Maker' helped propel the song to the top of the charts and give it widespread recognition. The touching words remind us all that there is hope in the name of the Lord.
"You are
Way maker, miracle worker, promise keeper
Light in the darkness, my God
That is who You are"
Cimorelli is an incredibly musical family group. The talented group is comprised of five sisters: Christina, Katherine, Lisa, Amy, and Lauren. Cimorelli has been performing together as a band for over 10 years. As Christians, the sisters enjoy using their God-given talents God to give Him glory. Through the years, they have made many beautiful covers of Christian songs including 'Oceans (Where Feet May Fail)' and 'Reckless Love'.
Today, they are praising the Lord in the most amazing way with this acoustic performance of the hit song, 'Way Maker.' At the end of the video two of the sisters share how the lyrics have impacted and comforted them in times of hardship. Lisa Cimorelli, who got married in 2020, shares her husband's near-death experience with a cancerous tumor. Waking up to find him non-responsive, she called 911 and performed CPR on her husband Chad. After being in the hospital for two weeks and getting his tumor removed, the singer's husband is recovering. Lisa shares how she played this song on repeat during those terrifying two weeks. She found her strength in the Lord's promises.
"You are here, touching every heart
I worship You, I worship You
You are here, healing every heart
I worship You, Jesus, I worship, you turning lives around"
What a beautiful display of love and praise for our King. Who else is saying amen right now?
Romans 5:1 "Therefore being justified by faith, we have peace with God through our Lord Jesus Christ."
This content originally appeared at https://www.godtube.com/watch/?v=EBC2F1NU; used with permission.
Photo credit: ©GodTube