Anthem Lights And Men's Choir Sing A Cappella Cover of 'When You Wish Upon A Star'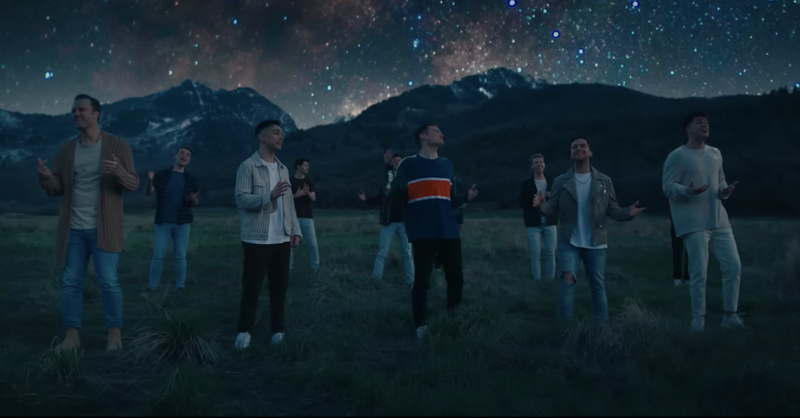 "When you wish upon a star, makes no difference who you are
Anything your heart desires will come to you, if your heart is in your dream
No request is too extreme, when you wish upon a star as dreamers do"
What an incredible video with such amazing vocals. The members of the a cappella group Vocal Point are joined by the singers of Anthem Lights, and the collaboration is just wonderful.
In the music video, the men are gathered around a campfire at the beginning underneath a beautiful starry sky. And as they sing 'When You Wish Upon A Star,' the scenery that surrounds them in the video is absolutely stunning! Their arrangement of this classic will leave you with chills.
"I could listen to these talented young men every minute of the rest of my life! Thank you for sharing your talents," writes one person after watching the music video. "May God richly bless each one of you."
"Absolutely amazing! Unbelievable sound and scenery. Love the combination of these two talented groups," another person comments online.
The a cappella group Vocal Point is from Brigham Young University, and they appeared on NBC's The Sing-Off in 2011. They finished in the top 5. And with over 100 million views on their YouTube channel, Vocal Point has become the most-watched college a cappella group in the world.
As for Anthem Lights, they are a vocal group from Nashville, TN, made up of singers Caleb Grimm, Chad Graham, Joey Stamper, and Spencer Kane. And millions around the globe follow their viral videos and performances featuring harmonies and one-of-a-kind arrangements.
We hope that you enjoyed watching this rendition of 'When You Wish Upon A Star' by these two talented groups today!
This content originally appeared at https://www.godtube.com/watch/?v=EJJ1MFNU; used with permission.
Photo credit: ©GodTube