1 Jump Ahead
Deborah Evans Price

CCM Magazine

2004

20 Jul

COMMENTS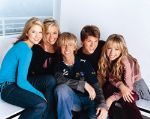 It's a story Nick Barré tells with understandable emotion in his voice. Any executive working for a Christian record label will tell you he or she hopes lives are being changed by the music being taken to the public. But for this EMI-CMG Label Group director of artist development, it couldn't get any more personal. It was after a Jump5 show that his young son, Nicholas, accepted Christ.
"We pray with our children every night. We read Bible stories. We go to church and Sunday school," Barré says of his family life, "But this past December, after a Jump5 concert, where one of the members really encouraged kids to have a personal relationship with Christ, my 6-year-old said, 'Dad, I want to ask Jesus into my heart.'"
Jump5 may not be the most progressive modern rock outfit in Christian music or the most experienced worship leaders, but few acts in the Christian community are having the impact on the younger generation in mainstream culture or in the church that these five teens have had during the past few years.
Since emerging onto the scene four years ago, Jump5 — featuring siblings Brittany and Brandon Hargest, Chris Fedun, Lesley Moore and the recently departed Libby Hodges — has amassed album sales in excess of 800,000 copies via five albums, including a Christmas project and a collection of remixes. And 2002's "All the Time in the World" has sold more than 320,000 copies alone, according to SoundScan.
It's the combination of ministry and high-energy entertainment that fuels Jump5's success. And it's that high-energy entertainment that has made Jump5 a staple on Radio Disney, having already landed an astounding eight songs in rotation on the network. The group has performed on several "Radio Disney Live!" tours alongside popular teen acts, including Aaron Carter and has received exposure on The Disney Channel, as well as ABC Family television and Nickelodeon. Jump5 has also been featured on the soundtracks of "The Lizzie McGuire Movie" and "Kim Possible," recently recorded a song to be used in the upcoming Disney flick "Sleep Over" and has been showcased on the DVDs for "Lilo & Stitch" and "Beauty & the Beast." As if that weren't enough, Jump5 has performed at the White House and the 2003 Macy's Thanksgiving Day Parade.
Jump5's formation was set in motion when several young friends began performing for local church functions. "At the beginning we called ourselves Fresh Start. That name kind of reminds me of kitty litter," says Brandon with a laugh. "We started out doing Sunday school songs for other kids and Bible study things whenever they needed it."
When Libby's mother realized the potential for the kids to really reach other youngsters with the gospel, auditions were held; and the lineup of Chris, Brandon, Brittany, Lesley and Libby became Jump5. Libby recently announced her departure from Jump5 to return to high school. Though already working on its next album, the group is deciding whether to enlist a replacement for Libby or simply continue on as a four-piece act.
With Libby leaving to assume the life of a regular high school student, did any other Jump5 members consider jumping ship? "We didn't want to quit," says  Brandon. "We still wanted to go on and make records and sing for people. It didn't enter my mind."
Lesley says she doesn't want to quit but can empathize with Libby's decision. "It wasn't a bad breakup or anything like that," explains the 17-year-old. "We just want her to be happy. We didn't want her to keep going if she wasn't going to be happy with it. She wanted to go back to high school. Not that she wasn't happy, but she missed school so much. I think we all miss school. I went to public school, and I miss it. When I come back home, I'm with my friends and family 24/7."
Chris, 18, recently graduated but wasn't able to walk with his class to receive his diploma. However, he has no regrets. He's just happy school is over. "When we were on the road, we'd have to wake up really early in the morning to start school. Then we'd do soundcheck and meet & greets. Then we'd have a show, and we usually don't get done with the shows until really, really late because we sign autographs until everyone is gone."
Brandon admits it's not always been an easy road. "Yeah, there are some sacrifices you have to make — like spending time with friends. You are going to miss that, but we get so much more. We get to see people looking up to us and learning about the Lord. It's great to know you made a change in people's lives while you are still a kid. I can't believe we get to do this at this early age. I thank the Lord every day that He's given us this opportunity, and I would not change it for anything."
While the members are certainly having an impact on their fans, Barré says the label has never tried to make Jump5 something it wasn't — spiritually speaking. "One of the things I'm most proud of about the way we have introduced Jump5 and presented them is that it's been age appropriate," he says. "We've not pretended they are spiritual giants, and they have all the spiritual answers. They are real kids and have relationships with the Lord; but at the same time, they are growing and developing. So we knew that, early on, to present a 12-year-old child as a spiritual authority would be completely inaccurate.
"It's honest and true to who they are. I think the temptation is always to say that this artist has everything figured out; but you remember when you were 14 or 15, it was just getting a handle on what's really important." The label's goal for them is simply to let them be themselves, make the best music they can and share what God is doing in their lives.
"There was a letter by a girl younger than me," recalls Chris. "She wanted to thank us because she was on the verge of committing suicide. She said, 'I listened to your music, and I came to your concert; and you guys showed so much hope and have so much faith. I didn't know what that was.'"
Audience reaction fuels many memories for the group; one in particular will always be special to Chris. "It was in Murfreesboro [Tenn.]. It was when Libby was still with us," he says. "She was giving her testimony and, all of a sudden, these little kids started shouting out 'We love Jesus!' It was Libby's last time to talk in front of [an audience] because she knew she was going to leave the group. It was such an amazing ending."
One thing about young acts is that they grow up, and that transition is usually difficult as the group begins outgrowing its audience. "All of our music tastes have evolved over the past four years," says Brandon. "We've all grown up in our tastes, and our music in Jump5 is also changing. It's not drastically changing because we don't want to leave the fans out; but as our fans are changing, our music needs to grow up with them, too. We want to keep our old fans and get new fans in the process."
The members of Jump5 are hoping their new album, due out Sept. 21, will showcase them as songwriters. Brandon has written on a previous album; but, for the most part, the group has relied on outside material. "We've had a little more input on everything," Lesley says of the new album, tentatively titled "Dreaming in Color." "We're still in the process of choosing songs, but everybody has written a song or two for the album. It's been a cool experience. We all wrote one together, and then we did our separate ones."
Though some things have changed, one thing has not — the group's mission. "Our taste in music has changed a lot, but we know why we are making this music," says Chris. "We are making it for our fans."

© 2004 CCM Magazine.  All rights reserved.  Used with permission.  Click here to subscribe.