15 Things You Probably Didn't Know About: Casting Crowns
Michael Nolan

CCM Magazine

2004

8 Nov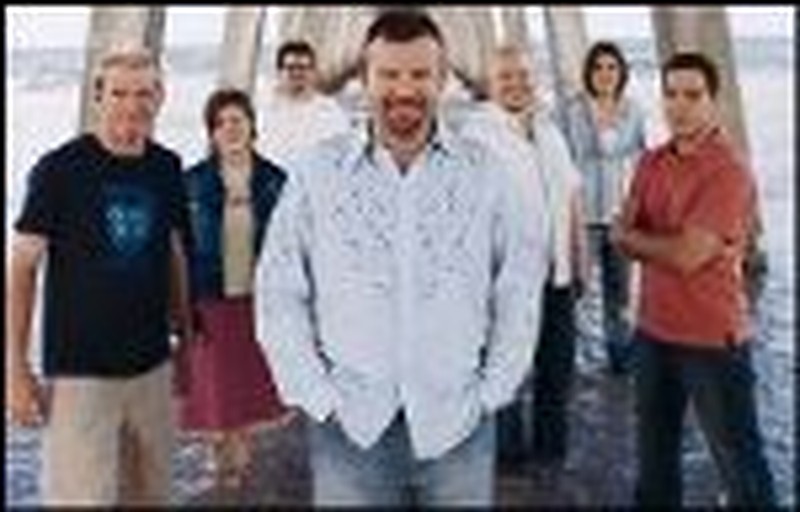 No one has been more surprised by the record-smashing rise of Casting Crowns (Beach Street Records) than, uh, the seven members of Casting Crowns. They're the fastest selling debut artist ever in Christian music with sales of their self-titled release surpassing 800,000 copies in less than a year. They also made history in late spring when their song "Who Am I" became the first song to simultaneously hold the No. 1 position on Christian Radio and Retail Weekly's Adult Contemporary, Inspirational and Christian Hit Radio charts.
Their follow-up release, a combination CD/DVD titled "Live from Atlanta," finds Mark Hall, Chris Huffman, Melodee DeVeVo, Juan DeVeVo, Andy Williams, Megan Garrett and Hector Cervantes combining five favorites from their debut with one new song in a concert performed for a passionate, hometown crowd.
We asked them to stop spinning from a whirlwind of activity long enough to answer a few questions.
15. RATTLING CAGES
It seems the majority of songs you hear on Christian radio lean toward consolation rather than confrontation. And then along comes the cage-rattling "If We Are the Body." "Honestly, I never knew my music was hard-hitting until I started reading it in magazines. It just comes out that way for me," explains Mark, the 2004 Dove Award winning "Songwriter of the Year." "As believers, we speak, act and write out of our spiritual gifts, and that is what makes Christian music so incredible. The same God who used John the Baptist also used Barnabas."
14. DON'T FIDDLE WITH IT
Don't try to come between Melodee and her violin. Because it's 200 years old, she is extremely protective of it. Her bandmates report that she has a bulletproof, climate-controlled case that's nicer than their bus. She won't allow it out of her sight — even if the band takes a walk outside the bus.
 
13. SORRY WE ASKED
 Although the band members have plenty of ways to amuse themselves on tour, they have a rather unusual distraction. The Crowns say that Andy shows his bare belly to any and everyone.
12. JUST FOLLOWING ORDERS
The gang never gets into arguments about where they'll stop to eat when on the road. They have a simple default plan:  They go wherever Mark's wife/road manager, Melanie, tells them to go.
11. OH, MERCY ME
What's it like to be easily recognized by Christian audiences? Mark was approached by a girl who said she really loved his music, especially the song "Spoken For." Mark graciously told her, "I like that song, too; but it's MercyMe's."
10. SO, OF COURSE, THEY BECAME MUSICIANS
Most artists, it seems, don't take a straight path from would-be musician to full-time artist. But such is the case with Casting Crowns' crew. Mark was (and is) a youth pastor. Hector was a graphic designer for the church. Andy delivered office supplies and did some interior design. Chris did car detailing. Megan was the front office manager for a physical therapist. Juan edited local cable TV shows. Melodee taught violin lessons and was a real estate agent.
 
9. PRE-DEAL PLAN
Long before "If We Are the Body" took off, Casting Crowns was planning its foray into the video world. Carl Horstmann, owner of Triple Horse Productions and a member of their church in Atlanta, approached them about creating a live worship video prior to signing their record deal. "After God broadened the ministry of Casting Crowns, Carl still donated much time and effort because he believed in our ministry and our message," affirms Mark.
8. "DREAM" TO REALITY
The DVD features its first conceptual music video, a take on the band's new song "American Dream."
7. SUNDAY RESERVATIONS
Except in rare circumstances, the group plans its tour dates so the band members can make it home for Sunday morning worship.
6.  CHECK IT OUT
A Casting Crowns concert is intended to encourage full audience participation. To that end, the lyrics to every song are displayed on a screen. "We feel this makes our concerts more interactive and creates an environment for participation," explains Mark. "We also share the gospel at every concert."
 
5. WHEN IN ATLANTA
Yes, there's a zoo, the Braves, Underground Atlanta and the tour of the Coca-Cola Museum; but, according to Casting Crowns, if you want to act like an in-the-know local, check out the Lenora Park Frisbee Golf Course.
4. ALL-AGES CONCERT
Casting Crowns desires to reach out to all ages. One night in Tennessee the crew of seven got confirmation that they're on the right track. "We saw an 8-year-old girl walk the aisle during the 'invitation' and a senior adult lady come down right behind her. God showed us early on that He would use this ministry to reach out to all ages," Mark recalls. 
 
3. THINKING AHEAD
With their upcoming CD/DVD barely completed, they're already considering what's next. "Right now I am collecting ideas and praying about how God wants to link them together," says Mark. "I'm listening a lot right now. The band will be meeting soon and walking through each other's ideas. I also talk with [producers] Mark [Miller] and Steven [Curtis Chapman] about the songs, and we will listen through them together."
2. SHOOTING STRAIGHT
"A youth pastor is living down there with the kids. Their hands are dirty, and their knees are worn," says Mark. "There is urgency to what they do because they know that they may only get one shot at a kid. I think that urgency comes through in our songs. Kids are hurting from home, school and every relationship in between. If they stop for four minutes and listen to my song, I don't want there to be any mistake about what I'm saying and Who I'm talking about. If anything, youth ministry has taught me to get to the point and shoot straight."
1. FELLOWSHIP OF SUFFERING
Mark has openly discussed his struggles with dyslexia and Attention Deficit Disorder with hundreds of students and adults "who share in the fellowship of suffering in these areas. God is encouraging them to open up and share their weaknesses with others, and they are beginning to see that God doesn't need them but that He wants them."

© 2004 CCM Magazine.  All rights reserved.  Used with permission.  Click here to subscribe.