15 Things You Probably Didn't Know About Superchic[k]
Michael Nolan

CCM Magazine

2004

28 Jun

COMMENTS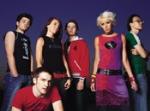 Not only has the band rocked radio with its laser-sharp messages to teenagers, it's also a Hollywood heavy-hitter. Since Superchic[k] was hatched in 2001, its songs have been heard on more than 40 (Yes, you read right… 40!) films and television shows, including "Legally Blonde", "Legally Blonde 2", "Confessions of a Teenage Drama Queen", MTV's "The Real World", "Road Rules" and CBS' "Joan of Arcadia."
In the midst of touring and working on their fourth album, due in stores this fall, Max Hsu, Tricia and Melissa Brock, Matt Dally, Dave Ghazarian and Brandon Estelle took a few minutes to check in with us.
15. By Any Other Name
"When we were first sticking our heads out of the basement to approach record companies about Superchic[k], a certain A&R guy called us back after hearing the demo and said, 'I really love this 'super-sheik' stuff!'" offers Dave. "That's when we put the 'k' in brackets at the end of the name."
14. But That [k] Didn't Make Everything O.K.
Even though Max describes Superchic[k] as a gender-neutral concept, "When I wear Superchic[k] T-shirts to the mall, teenage girls snicker at me."
13. The Barlow Questions
When your name is Superchic[k], and you record a song called "Barlow Girls," you're asking for trouble — or the same question 100 times a day. "Everyone asks if Tricia and Melissa's last name is Barlow, and then we say, 'No' and tell them the whole story," says Brandon. The solution: "We were thinking about redoing the song with lyrics in English to clear up the confusion," quips Max.
12. Feminine Perspective
When Max and Dave were in the band Church of Rhythm, it was an all-guy road show. "There was a certain amount of horseplay and pranking that just doesn't seem to happen when girls are around," observes Max. "This last tour we've had Joy Williams and a merchandising girl traveling with us. At night it starts to feel like 'The View.'"
11. Boys Will Be Boys
"Being in an all-guy band had its good and bad points," philosophizes Dave. "Much like being in an all-guy Bible study or prayer group, there is more freedom to open up to each other at any time and share concerns that are specific to guys. On the other hand, the girls don't like it so much when we stop the van in the middle of the highway so two of us can get out on the side of the road for a spontaneous wrestling match."
10. Contents Under Pressure
Tricia reveals that Max has a "stressed-out walk," which signals that he's uptight. "When you see him walking 'the walk,' you know that he's really serious about whatever he's about to say, so we all try to lighten things by teasing him about it!"
9. Heroes
Who does the band think is super?
Tricia: "My grandpa. I love to listen to him telling stories about life. He knows so much about everything, and he's been through so much! Also, I found my love for oldies [music] through him!"

Melissa: "My dad. He's been through so much in his life, both physically and with work, but he's never failed to love God and care about people." Matt: "My dad and my brother Ben."

Brandon: "My brother."

Dave: "The Fonz."

Max: "I went to college with this guy I really looked up to; His name was Jay Swartzendruber. I have no idea what ever happened to him." (Note: Jay is the managing editor of CCM, and he had been wondering what happened to that curious guy Max, who followed him around campus.)
8. Food Fight
The band disagrees on restaurant choices but agrees that Tricia has ultimate control. "When Tricia is hungry, she is an unstoppable force to be reckoned with," Dave confesses. "She gets a taste for a certain restaurant and all hope for eating at Popeye's Chicken is over. Usually she craves Subway, McDonalds or Red Lobster. Don't mess with her ice cream craving either. Sometimes I would be driving the van and pass a Baskin Robbins, pretending not to see it, and it would make her boil. She still talks about it years later."
7. Nuggets of … Wisdom?
"Melissa eats all of her food in the form of 'nuggets,'" rants Dave. "If a mini form of any kind of food exists, you can be sure that is what Melissa will order. I think I've seen it all. Corn dog nuggets, pizza nuggets, chicken nuggets, tater tots (which are kind of like potato nuggets), shrimp (also nugget-sized) and, yes, even waffle nuggets! I didn't even know they existed, but she found them!"
6. Who Booked This Gig?
Superchic[k] has landed in some unusual venues with its near-constant touring. "We did an acoustic set at Best Buy," recalls Melissa. "It was unusual because it was a different place to play and because we are not usually an acoustic band." Adds Matt, "And there was that wave pool in Arkansas."
5. Riffs (Not the Musical Kind)
The girls love incense and candles; the guys think it smells like something's on fire. The girls dig SpongeBob; the guys find him "evil — or at least stupid," Tricia laments. Max divides the world into two groups: coffee drinkers (like caffeine freak Melissa) and Christians.
4. Well-Worn Bus Movies
Brandon recalls "Saturday Night Live — The Best of Will Ferrell" as a previous top pick. Dave says that some movies, such as "Mr. Deeds" and "Zoolander" have been committed to memory so that "everything we say throughout the day consists of quotes from 'the movie.'"
3. The Making of a Superchic[k] Song
"I work out a bunch of rough chorus ideas first. It's all about the hook for me," explains Max, "and I test Tricia's vocal on them. If the chorus vocal works, I toss it to the rest of the band to write around. As soon as we have a set of verse/chorus combos that we feel work, we call those the songs and spend as much time as we have before deadline trying to give them their own unique sonic footprint and still feel Superchic[k]."
2. Before Church Work
Prior to being in Church of Rhythm, Max teamed up with Ian Eskelin (who later formed All-Star United) in a band called Zero, whose only album, "Ravenous," debuted in 1992.
1. Reminders of Why They Do What They Do
"There are definite times when I wonder if I'm where I am supposed to be, if I'm making an impact in people's lives," confesses Tricia, "and always right when I need it, God brings complete strangers into my life to encourage me. Having a parent thank me for being a positive role model to her daughters, or a dad say that our songs have encouraged him through losing a wife and raising his three daughters alone. ... That's God and not me, and I know that those days I am where God has called me."

© 2004 CCM Magazine.  All rights reserved.  Used with permission.  Click here to subscribe.